Blog, Recipe Box, Spices and Condiment Recipes
Recipe Box: Wild Greens Pesto
The other day, I was seeking out recipes where I could use my newly finished Fermented Citrus and I came across this delicious Grilled Bread with Thyme Pesto and Preserved Lemon Cream on Food52.  Wow!  That sounded so delicious that I immediately set out to not make that recipe at all, and instead to make some pesto myself.…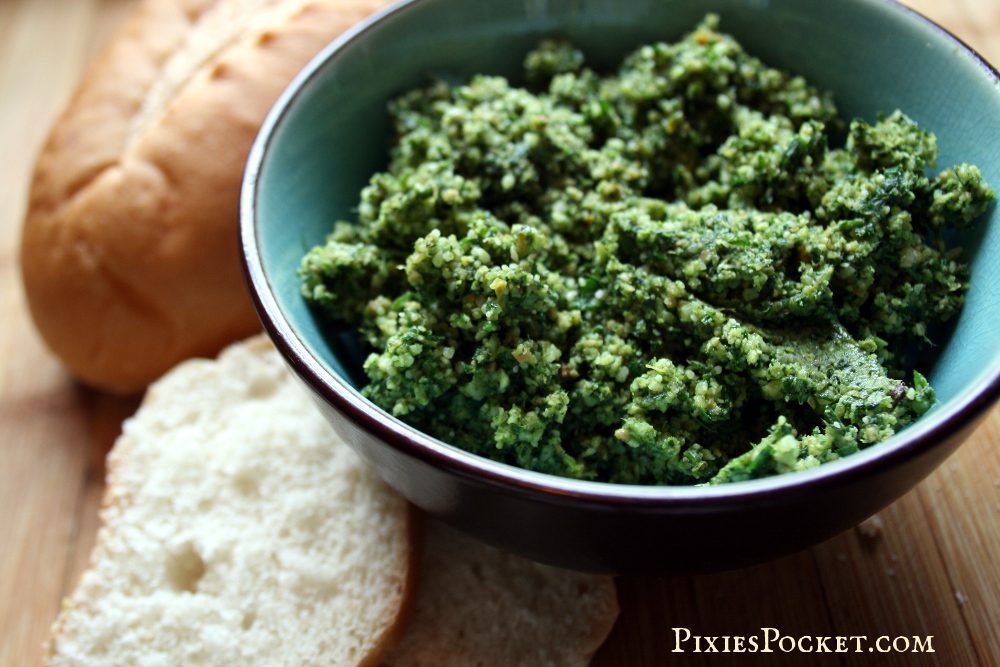 The other day, I was seeking out recipes where I could use my newly finished Fermented Citrus and I came across this delicious Grilled Bread with Thyme Pesto and Preserved Lemon Cream on Food52.  Wow!  That sounded so delicious that I immediately set out to not make that recipe at all, and instead to make some pesto myself.  Their recipe was my inspiration, but I had to come up with my own recipe since I didn't have everything they called for. That's what I love about pesto. It's quite flexible and forgiving!
Wild Greens Pesto
2 cups of greens (I had a mix of stinging nettles, bittercress, wooly lamb's ear, baby spinach, kale, chickweed, and carrot greens)
1 tbsp minced fresh oregano  (I used a lovely Cuban Oregano, which isn't exactly Oregano. Nor is it from Cuba.)
3 fat cloves of garlic
1/8 cup roasted pumpkin seeds
1/8 cup roasted sunflower seeds
Splash of lemon juice (or 1 tbsp minced fermented lemon)
Hard cheese such as parmesan (reggiano!) to taste
Olive oil
Salt & Pepper
If you are using nettles in your wild pesto, don't forget to blanch them for a minute or two before proceeding with the recipe to remove the sting!
Rough chop the greens and oregano and add them to your food processor (or mortar and pestle). Toss in the garlic cloves and seeds/nuts and blend. Add a splash of lemon juice or fermented lemon rind to brighten up the color and flavor alike.
Add olive oil one tablespoon or so at a time until you have your preferred texture. Want a sauce? Add more. Want a paste? Add less!
Flavor to taste with salt, pepper, and the hard cheese.
Ta-da!  That's it.  I prefer to wait a day or so to use my pesto so the flavors can meld. You can also freeze any excess for use later on in the year!
**Foraging Notes: If you want to learn more about wild edible greens in your yard, check these links out! Remember, NEVER forage or wildcraft unless you have a competent guide or know what you are looking for. NEVER gather in areas that are likely to have been sprayed with herbicides.
Hi! I'm Amber Pixie, and this is my site. Enjoy the recipes, information, posts, and please feel free to message me if you have questions!