Blog, Gardening, Recipe Box
Making Suet – a recipe for your feathered friends!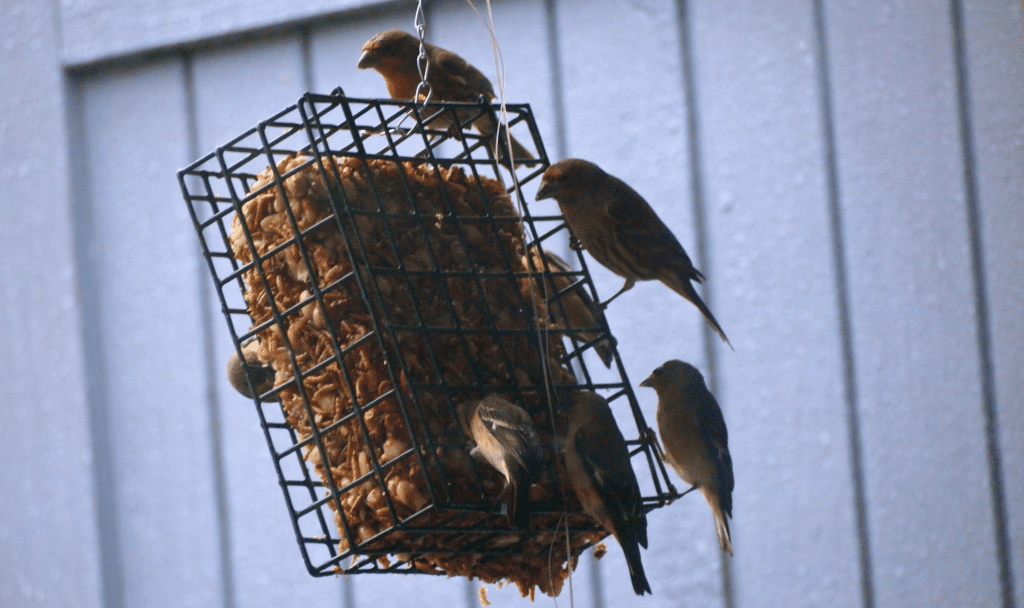 *shiver*
It's cold, outside. I can feel it leeching through both of the double-paned windows and clinging to my joints…pooling like a fog on the floor and setting my feet to ache.
Just a couple of days ago, I remember quite distinctly, there was a blissful, sweet, early spring warmth! It's such a tease to get that first taste of the days certain to come once that bugger February gets the hint that you don't want him around anymore.
I drove with windows down, grinning like a fool in a thin hoodie jacket. I danced! I dug up around my gardenia and added some coffee grounds to the soil and watered her…and then had to wrap her back up before this chill settled in again.
Nonetheless, those warm days got the whole household upturned, cleaning and rearranging, our windows opened to the sweet breeze blowing over the hills and up to our ridge. Full of joy and motivation, we decided to finally complete a project we'd planned back in fall – making suet to feed the birds! 
Just in case you aren't sure, suet is those big old waxy blocks you can buy at the store, stuffed full of seeds and colorful bits, for a couple dollars each. You put the suet block in a wire cage and hang it in your tree and watch the birds go to town…
Anyone can make suet! All you need is an overabundance of bacon grease and enthusiasm! And well, a few more ingredients.
How to make Suet Blocks for Birds
Ingredients:
1 cup bacon grease (rendered fat is better as it is lower in salt)
1 cup peanut butter
3 cups of unbleached cornmeal
2-3 cups birdseed
Optional: oats, wheat flour, dried fruit, a bit of honey, dried mealworms.
Baking dish
Waxed paper
On low heat, melt the grease/fat and the peanut butter.
Once it is all melted together, stir in just about the cornmeal and a couple cups of birdseed. Then stir in whatever else you think those birdies might want to nibble on! Oats and wheat flour are great additions if your suet seems too runny. Dried fruit like raisins or cranberries are healthy sugars for a bird's diet, and some folks even add a bit of honey to the mix at the start of spring to give the birds a sugar boost.
When it's all mixed together evenly, just line a baking pan with waxed paper and pour the suet mix in. Tamp it down evenly all through the pan and pop it in the refrigerator for a couple of hours to harden.
Cut the suet into an appropriate size and shape for your bird-feeding apparatus and voila! You can also just set it on a stump, although any ground-dwelling critters like 'possums and raccoons might steal away with it.
The extra suet stores well in the freezer in a plastic bag. I suggest you use the waxed paper in between each block to make life easier when you need to grab a new one for the birdies.
Birds of all breeds go NUTS over this when you hang it in a tree! Each block I offer them only lasts for one day when I put it up, so I've only been feeding them suet on the really cold days, like today.
*sigh*
The full moon is almost here and time marches on, bringing eventual spring.  I'll have to keep the birds well fed and make good friends so they won't eat my garden once it's warm!
birds eating suet, image credit: Sarah Sammis
---
Want to know a few more ways to help out the birdies?
 Patrick over at Survival at Home has a wonderful guide to suet making and DIY bird-feeders!
6 Simple Homemade Bird Suet Recipes from Backyard Chirper
Hi! I'm Amber Pixie, and this is my site. Enjoy the recipes, information, posts, and please feel free to message me if you have questions!