Wild Greens Pesto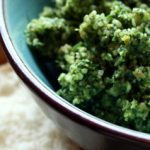 If you are using nettles in your wild pesto, don't forget to blanch them for a minute or two before proceeding with the recipe to remove their sting!
Ingredients
2 cups

of greens & herbs (I used a mix of stinging nettles, bittercress, wooly lamb's ear, baby spinach, kale, chickweed, carrot greens, oregano, thyme, and basil.)

3

cloves of garlic, minced (lacto-fermented garlic is even better)

1/4 cup

of seeds or nuts, chopped (pine nuts, pumpkin seeds, sunflower seeds, walnuts, almonds, etc)
Splash of lemon juice (or 1 tbsp minced fermented lemon)
Grated hard cheese, such as parmesan (optional)
Olive oil
Salt & Pepper
Instructions
Rough chop the greens and add them to your food processor or mortar and pestle. Toss in the minced garlic and seeds/nuts and blend it all together. Add a splash of lemon juice or fermented lemon rind to brighten up the color and flavor. Add olive oil a bit at a time until you reach your preferred texture. Do you want a sauce-like pesto? Add more. Want a paste? Add less! Flavor to your tastes with salt, pepper, and hard cheese.
Notes
That's all it takes!  Use your pesto within a day or two and keep it in the fridge. You can also freeze pesto in ice cube trays to make additions to soups, pasta sauces, pizzas, or other goodies all year-round. I use one-cup silicone ice cube trays for easy portioning.