Fermentation Recipes, Fermented Food, Recipe Box
Lacto-Fermented Garlic Recipe
Fermenting garlic cloves is easy and fun, plus it is a great way to use up extra garlic without it going to waste!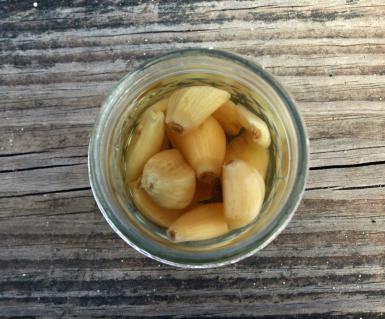 If you ever find yourself with a spare clove or two of garlic, consider trying a super-simple method of preserving it by fermenting it in salt brine!
Lacto-fermented garlic is awesome. The fermentation process makes the flavor and medicinal qualities of the garlic more available. Fermented garlic cloves dice up and cook down just like fresh garlic, and you won't waste those last few cloves from a used garlic bulb.
My favorite part about making lacto-fermented garlic is the leftover garlic-infused, salted brine. A few drops of the garlic brine find their way into just about every savory recipe I make, from dressings to Bloody Mary cocktails!
Want to learn more? Check out my whole article with a recipe on About:
http://foodpreservation.about.com/od/LactoFermentation/r/Lacto-fermented-Garlic-Recipe.htm
Get updates from Pixie's Pocket: brewing and herbs in your inbox:
Hi! I'm Amber Pixie, and this is my site. Enjoy the recipes, information, posts, and please feel free to message me if you have questions!