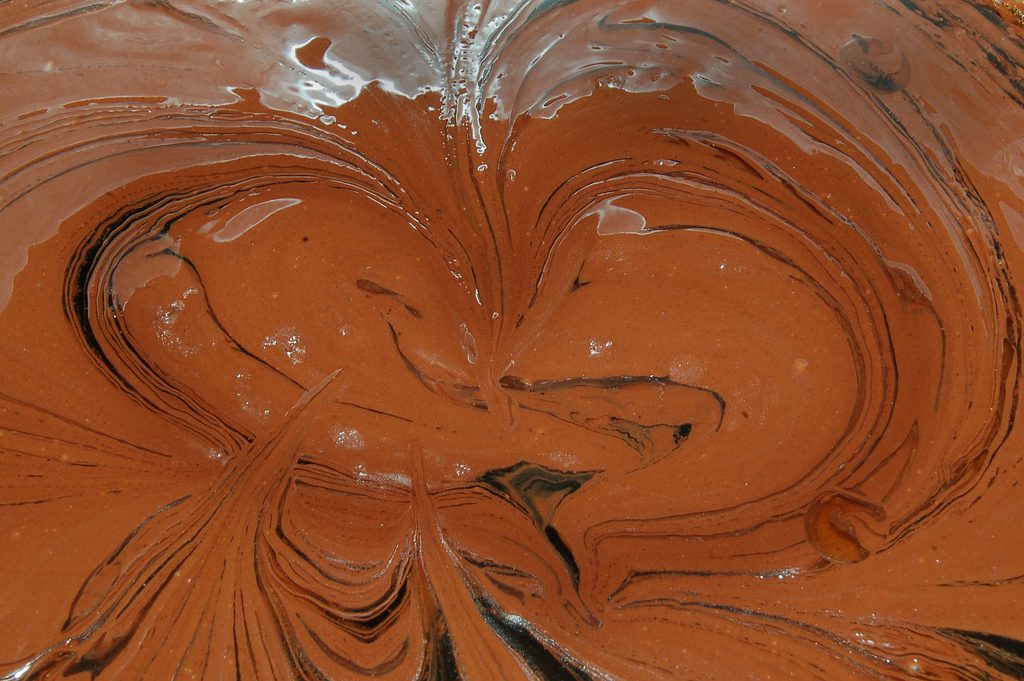 2017 update: I have not made this honey to sell in a long time, but if you want some, I suggest you visit the Asheville Bee Charmer. I taught them how to make this recipe!   Buy their Cocoa Honey
---
Today, I had to whip up a whole new batch of what is quickly becoming one of the most popular items in the Pixie's Pocket shop!
And the excited customers are not wrong! The superbly decadent Dark Cocoa Honey is indeed a delight for the senses.
The magic begins with Haw Creek wildflower honey, which is gently warmed.  Then I slowly add the shaved 65% dark organic chocolate into the pan and watch them dissolve into each other…they dance and form beautiful swirls and spirals as I stir them together.
After it is all joined together into a solid golden brown syrup and blended with the powdered dark cocoa, it is drizzled into the jars, onto a bed of cocoa nibs and Madagascar vanilla bean.
Once the Dark Cocoa Honey cools, it's texture is more reminiscent of frosting than honey – it is quite thick and creamy! It's great for toast, for heating and pouring over ice cream, for just about anything you put it on…which brings me to the most popular serving suggestion for the cocoa honey:
Warm the honey VERY gently. You can microwave the whole jar it by taking the lid off and putting it in for a mere couple of seconds, or you put the jar into an empty, heat-safe bowl and pouring boiling water from a kettle into the bowl.
In both cases, please allow it to cool for a moment, and then test the temperature.
Dip a soft paintbrush into the honey, and proceed to decorate the bare skin of your loved one's body! Hee hee…now make sure you clean up your mess!
This honey would make a great gift for a bridal shower, wedding gift, honeymoon suite appetizer, or any sort of experience where luxuriousness is the number one goal.
Hi! I'm Amber Pixie, and this is my site. Enjoy the recipes, information, posts, and please feel free to message me if you have questions!