A rich treat made with honey and three different forms of chocolate -so simple, yet so delicious!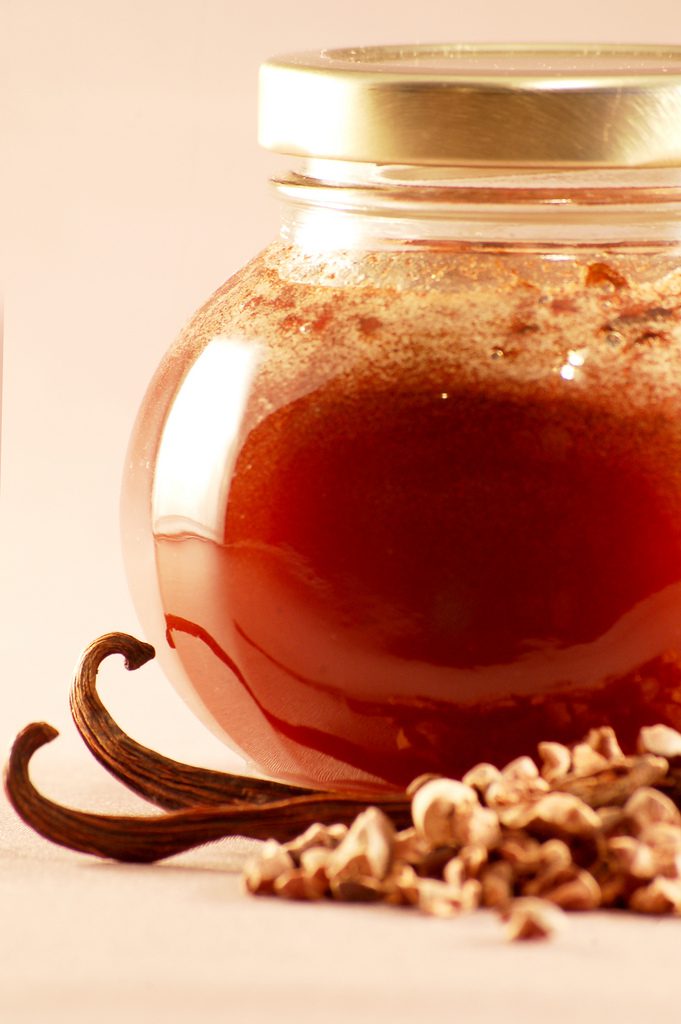 ---
Back in 2010 when I sold infused honey online and in local markets, I made a name for myself with one very popular honey: decadent, dark cocoa honey. All I had to do was to put out a jar for sampling and boom! The wee jars would just fly off of the shelves!
That was fun, but I'm no longer selling honey blends. I shared my tricks with the folks at Asheville Bee Charmer and they now make amazing infused honey (including a cocoa honey!). I still make this one every now and then to give as treats during the holidays or to give as a deliciously naughty gift for bridal showers and honeymoon parties – a special serving suggestion is included below the recipe.
Print
Dark Cocoa Infused Honey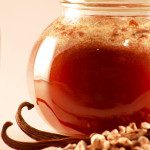 If you like dark chocolate, this is the treat for you! Beautiful wildflower honey is infused with cocoa and dark chocolate to make a thick, frosting-like treat that is good right off of the spoon.
Ingredients
12oz

of honey, or

1 cup

2 tablespoons

of powdered cocoa

2

squares of dark chocolate bar, pref. 70% or more

1

vanilla bean

1 tbsp

cocoa nibs (optional)
Instructions
Use a double boiler to gently warm the honey. You don't want it to boil or simmer, just warm enough to blend and melt in the ingredients.
Shave the two squares of the dark chocolate bar using a grater or chop it finely. Stir the chocolate into the warm honey and give it a stir. Enjoy the lovely swirling of the chocolate and honey as they blend!
Sprinkle in the cocoa powder and stir it in. It will take a little while for all of the lumps to break apart.
Once it is all blended, turn off the heat and get the jar ready. Add the vanilla bean (chopped in half) and the cocoa nibs to the jar and cover it with the cocoa honey. Put a lid on the jar and let it set for a few hours for best results.
Serving Suggestions:
Once the cocoa honey cools, the texture is more reminiscent of frosting than honey – it is quite thick and creamy! It's great on toast, perfect for heating and pouring over ice cream – honestly, it improves just about anything you put it on.
So is it any surprise that the most popular serving suggestion for the cocoa honey is also the naughtiest?
How to safely apply cocoa honey to your lover:
You're going to want to gently warm the honey. The safest way is to place the jar into an empty, heat-safe bowl and pour boiling water from a kettle into the bowl.
Use a chopstick or spoon to stir the cocoa honey to ensure that it is warm and well-blended. Test the temperature carefully before you proceed – this should be titillating, not scalding!
Dip your fingertips or a soft paintbrush into the honey and decorate the bare skin of your loved one's body! Hee hee…now, don't forget to clean up your mess!
Make a big batch of this to share with friends, naughty or not. This honey makes a great gift for any sort of experience where luxuriousness is the number one goal. One of my best customers admitted to lounging in her recliner with her shows, a jar of this honey, and a spoon. Live your best life!
[content-egg module=Amazon]
Get updates from Pixie's Pocket: brewing and herbs in your inbox:
Hi! I'm Amber Pixie, and this is my site. Enjoy the recipes, information, posts, and please feel free to message me if you have questions!