Blog, Booze Recipes, Recipe Box, Sweet Stuff Recipes
Recipe Box: Spiced Cranberry Cordial
Tart cranberries are excellent for more than just Thanksgiving dinner. These sweet treats make an excellent liqueur.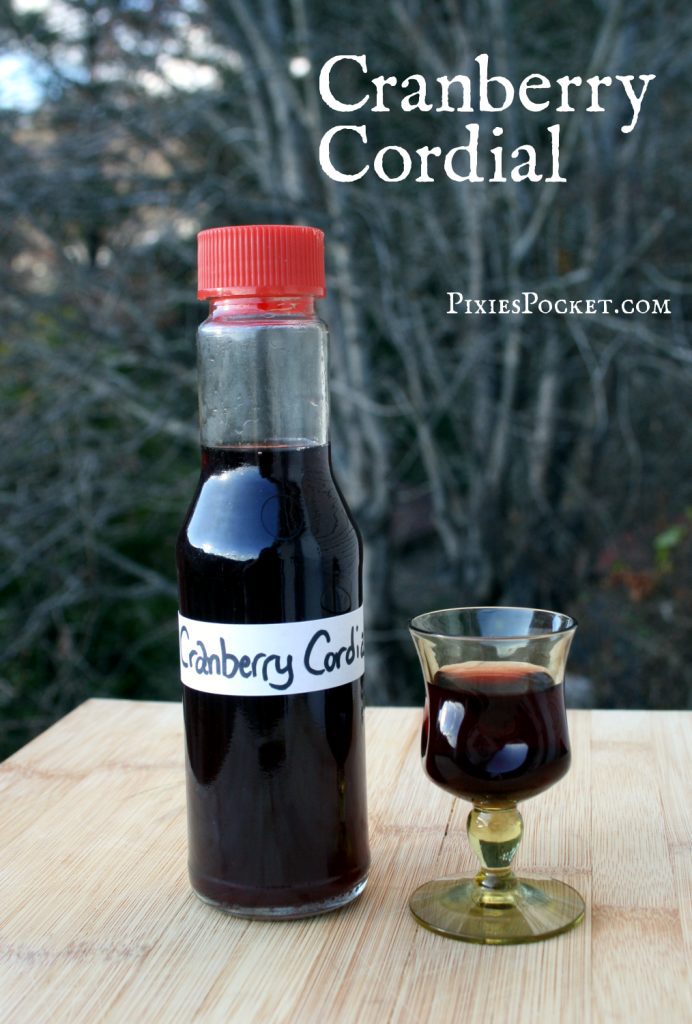 Ok, frugal booze hounds, here's a tip from the Pixie: watch out for cranberries on sale at your grocery store between December and January – RIGHT NOW!
This is the prime time to find cranberries on sale – they hit the shelves around Thanksgiving but after Christmas, the prices here in Western North Carolina drop from $5 per bag down to $2. I buy them up and freeze them – they'll keep well for many months! One day I'll save enough to make a jug of wine…
Cranberries are tart, potent, and can be used to make many delicious things. Luckily for us, they are also full of antioxidants, vitamin C, and tannins!
I was poking around in my freezer the other day and found one long-lost bag of cranberries tucked in the back corner. I let them thaw overnight in the fridge and started them as a cordial the following morning.
Here's how I made my spiced cranberry cordial, but feel free to play with the recipe, add things, and make it your own! If you have never made a tincture, cordial, or elixir before, this post might be helpful to you. It is easy, I promise!
Cranberry Cordial Recipe
Now, this cranberry cordial recipe is quite malleable. More than an exact recipe, I'm sharing a technique with a few simple guidelines.
The variations are endless. Add ginger root, star anise, black pepper, cloves, cinnamon, and any other herbs or spices that you think might blend well with the tart, astringent cranberries.
You can also play with the sugar syrup to change the end flavor of the cordial – white sugar makes a very neutral, highly sweet simple syrup, while brown sugar adds a depth of flavor from the molasses. A honey simple syrup is more cloying and rich but gives a great buffer to the tart berries. It is worth it to make this a few times, and try experimenting! Here are a few recipes for simple syrups to get you started.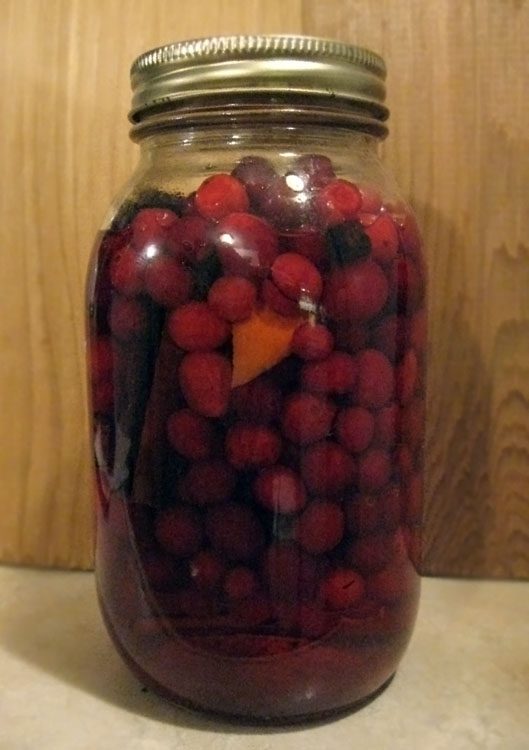 Ingredients
3 cups Cranberries (or 1 12oz bag of cranberries)
1 stick Cinnamon
1 piece Star Anise
1 piece Dried Orange Peel (I dry them myself year-round for teas and recipes!)
1 pint of Vodka (or Brandy, but you won't get the lovely red color from the cranberries)
Other spices (Ginger, cloves, fennel…anything can go here that you wish to add!)
Directions
Wash and pick through the cranberries to ensure they are in good shape. Toss out any gross berries and put the good ones in a quart jar.
Mash the cranberries in the jar using a wooden spoon. It might take some work, but it's a good way to get rid of stress! Add a half cup of sugar, stir it, shake it up, and let it sit for a bit. The sugar will draw the moisture out from the cranberries.
Add the cinnamon stick, anise, orange, and other spices into the jar. Cover it over with your booze of choice.
Put a cap on the jar and label it with the date and ingredients. Stash the jar in a cabinet and wait for at least a week to let the flavors meld. I prefer leaving mine for a month or more!
Strain the vodka from the jar through a muslin bag or cheesecloth, and don't forget to mash the cranberries so you don't miss a drop!
Make a sugar syrup to add to the strained cranberry cordial and sweeten it to your taste.
Label, bottle, and enjoy your delicious cordial throughout the year!
Get updates from Pixie's Pocket: brewing and herbs in your inbox:
Hi! I'm Amber Pixie, and this is my site. Enjoy the recipes, information, posts, and please feel free to message me if you have questions!