Blog, Canning & Preserving, Fermentation Recipes, Fermented Food
Lacto-fermented Cranberry Apple Butternut Relish
Cranberries are delicious – their tart, sometimes bitter flavor can enhance most any meal, and they blend so well with both cinnamon and something sweet. I have a tradition of making a cranberry cordial every year, but this autumn I decided to try something a little different. Following my current trend of fermenting anything that isn't glued…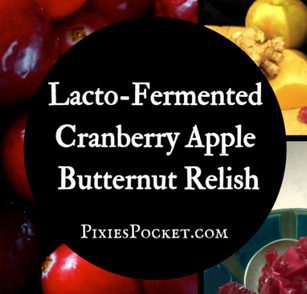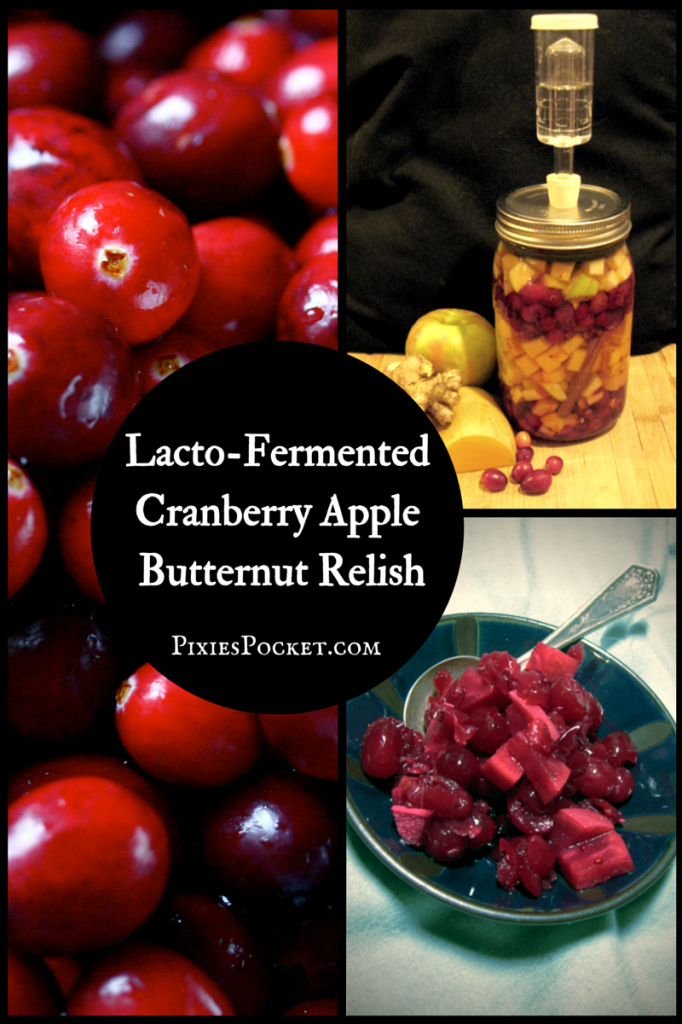 Cranberries are delicious – their tart, sometimes bitter flavor can enhance most any meal, and they blend so well with both cinnamon and something sweet. I have a tradition of making a cranberry cordial every year, but this autumn I decided to try something a little different. Following my current trend of fermenting anything that isn't glued down in the kitchen, you can guess what I did next.
As usual, my recipes tend to be made on the fly and they are based on whatever happens to be in my fridge or pantry at the moment. Alongside the cranberries, I had most of a butternut squash and some nice firm Pink Lady apples from Mother Earth Produce. I'm quite pleased with how it turned out, but I'm sure you could easily substitute ingredients without any problems as long as the salinity is correct.
---
Lacto-Fermented Cranberry Apple Butternut Relish
2 cups cranberries (1 bag)
2-inch thumb of ginger, peeled and minced
1 firm apple, diced
1 cup of peeled butternut squash, diced (reserve one good long slice of peel)
1 cinnamon stick
2 star anise pods
Wide mouth quart jar
My recipe was fermented in a wide mouth quart jar using the salt brine method of lacto-fermentation. I use Himalayan Sea Salt and the lids and supplies offered by Fermentools, although any fermentation method that you prefer should work.
Pulse the cranberries and ginger together in a food processor or blender to bust up the cranberries a bit but don't puree it – leave some texture.
Add the cranberries and ginger to the quart jar. I layered mine with the butternut squash and apples so that it would look fancy, but that is totally not required.
Push in the cinnamon stick and star anise pods.
Slide the long strip of butternut squash peel into the jar. The skin has beneficial buggies to help start the fermentation.
Prepare a 2% salt brine, pour into the jar to cover the fruit.
Add the weight to push everything under the brine. (the most important thing!)
Add the Fermentools seal, lid, band, and airlock.
Label the jar, sit back, and let it work its magic.
After one day, the brine should be pinkish from the cranberries. It will continue to darken as the process goes on.
It will take a few days for the bubbles to start in this jar, but once it starts going, beware!  I had to change the airlock three times during the fermentation process due to the bubbles forcing the pink brine up into the airlock.
A day or two after bubbles have started to appear, open the lid and taste a piece of fruit to see how you like it – from here on, it is up to you!  Taste every few days until you like the texture and flavor of your ferment.
Once you are satisfied, swap out your fermenting lid for a regular storage lid and stick it in the fridge.
To serve, strain the salty, tangy scarlet colored brine from the relish and put it aside to make an awesome cocktail or use it in shrubs, smoothies, or salad dressing. From there, the strained relish is delicious as it is!  It fits in really well on a cheese board alongside bleu cheese or a sharp crumbly aged cheddar.
You can also blend the relish with some brown sugar to make a more traditionally sweet cranberry sauce. Even the picky eaters admitted that they liked it!
My next step is one of my favorite Thanksgiving traditions…the day-after leftover sandwich made with turkey, mashed potatoes, cranberry sauce, mayonnaise, and a bit of salt.
Here are a few other fermented cranberry recipes from other bloggers:
Cultured Cranberry & Pomegranate Sauce from Musings of a Modern Hippie (fermented using kombucha)
Cultured Cranberry Sauce from Little Owl Crunchy Mama (lacto-fermentation)
Lacto-fermented Cranberry Apple Relish from Learning and Yearning (lacto-fermentation)
Lacto-fermented Cranberry Sauce from Gnowfglins (fermented with whey)
Get updates from Pixie's Pocket: brewing and herbs in your inbox:
Hi! I'm Amber Pixie, and this is my site. Enjoy the recipes, information, posts, and please feel free to message me if you have questions!