Mother Earth Produce: From Local Farms to Your Front Door
For years, I was a meat and potatoes kind of girl. I even called myself a "pastatarian" years before the Flying Spaghetti Monster became a thing. It wasn't until after I turned 21 that my tastes began to change, allowing a wider experience in food than ever before…sushi, seaweed, spinach greens, salads, and all sorts…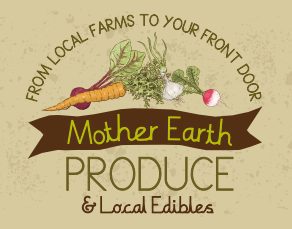 For years, I was a meat and potatoes kind of girl. I even called myself a "pastatarian" years before the Flying Spaghetti Monster became a thing.
It wasn't until after I turned 21 that my tastes began to change, allowing a wider experience in food than ever before…sushi, seaweed, spinach greens, salads, and all sorts of different foods became a delight rather than something I felt obliged to choke down for health's sake. I blame my grandmother, though I love her, for she fed me for many years, and her main technique in the kitchen consisted of boiling everything that she cooked. Spinach, carrots, even chicken breasts…all boiled in plain water to remove all of those pesky flavors or unique textures.
So it is with great joy and relish that I now love to chomp into crispy, sweet carrots, nibble on a crunchy salad, and devour thick asparagus spears grilled to perfection with salt and olive oil…it is safe to say that I'm a converted veggie fan!
I moved to Asheville years ago (like so many others) with the intent to dive headfirst into the local food scene: eat farm-to-table, buy sides of sustainably raised beef and pork, and invest into a CSA share immediately! But as this trickster of a town can do to you, we found ourselves turned around – our plans went poof along with the job offers that helped bring us here, and there was no money to spend on healthy eating. Ramen, beans, rice, and potatoes kept us going while a CSA share seemed such an expensive and far away goal.
All of that changed when I found out about Mother Earth Produce!
Mother Earth Produce makes it easy to start switching your eating habits. Since you can order without a contract or commitment, you can order as often as your budget will allow. They don't require a large, single payment from their customers like a traditional CSA. You choose what you want delivered and how often, and pay per delivery! For just around $30 each week, I can get a customizable box of fresh, organic veggies dropped off at my door whether I'm home or not.
Every single week I get an email with the current menu of available products. The veggies are sourced locally as often as possible, but in the winter you might get a Florida or California organic, non-GMO orange or two. They offer more than produce, much more! You can get Roots Hummus, Brick Oven Bread (and Gluten Free Breads), Manna Meal Kits, local eggs, meat, cheese, and other Asheville products added to your bin each week.
Sometimes I'll get a bin and be stumped by what to do with a certain veggie (Kohlrabi? Watermelon Radish? Fennel bulb? ) and that inspires me to find new recipes to try. Also, while I was not that big of a beet or kale fan initially, I now look forward to those mineral-rich, nutritious vegetables in my salads and on my dinner plate now that I've better learned how to cook with them. To help other folks with the same dilemma, Mother Earth Produce now includes recipes in their bins from Carolina Girl Cooks, featuring the veggies in the current menu.
Many of my favorite recent projects were made with Mother Earth Produce boxes: Lacto-Fermented Cranberry Relish and Apple-Daikon Radish Sauerkraut are just a few.
Mother Earth Produce probably delivers in your area if you are around my neck of the woods…they cover Asheville, Greenville, Spartanburg, and surrounding areas. If you discover that they don't serve your locale yet, nudge your neighbors and give them a reason to come chugging up your hill with delicious food for your household!
Use the code PP2015 during checkout to save $10 off of your first order!
Give them some love:
Register for their site and check out the menus!
Get updates from Pixie's Pocket: brewing and herbs in your inbox:
Hi! I'm Amber Pixie, and this is my site. Enjoy the recipes, information, posts, and please feel free to message me if you have questions!