Blog, Fermentation Recipes, Fermented Food, Recipe Box
Recipe Box: Lacto-fermented Watermelon Radish & Citrus Pickle
The fermenting bug got me again!   It starts when I realize that I have a wide-mouthed jar that isn't being put to use, and the next thing I know I'm looking to see what I have in my pantry or fridge that I can try to ferment. Out comes the Fermentools and the magic…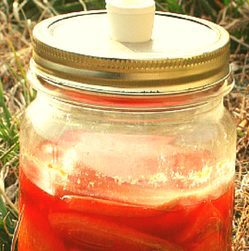 The fermenting bug got me again!  
It starts when I realize that I have a wide-mouthed jar that isn't being put to use, and the next thing I know I'm looking to see what I have in my pantry or fridge that I can try to ferment. Out comes the Fermentools and the magic begins!
This time around, I came across a green, bulbous root that I had received from my Mother Earth Produce box. I had no idea what it was and had to look up my records to recall what had been delivered. The odd green root turned out to be a watermelon radish! These radishes don't look like much at all from the outside, but when you slice it open?
MAGIC.
As far as flavor goes, these beauties are mellow and sweet, rather like a daikon radish instead of the sharp bite one expects from a red radish. When I made the Apple & Daikon Radish Sauerkraut, I found that daikon was perfect in this sort of fermented pickles, maintaining a bit of a crunch while absorbing the flavors of the ferment like a sponge. I figured that I could expect this radish to do the same. (spoiler: I was right)
I realized that I also had an overabundance of lemons and oranges, and having heard of making preserved lemons from The Nourished Kitchen, I decided that I'd combine the two ingredients together to make a sweet and sour ferment. Without further ado, I present to you: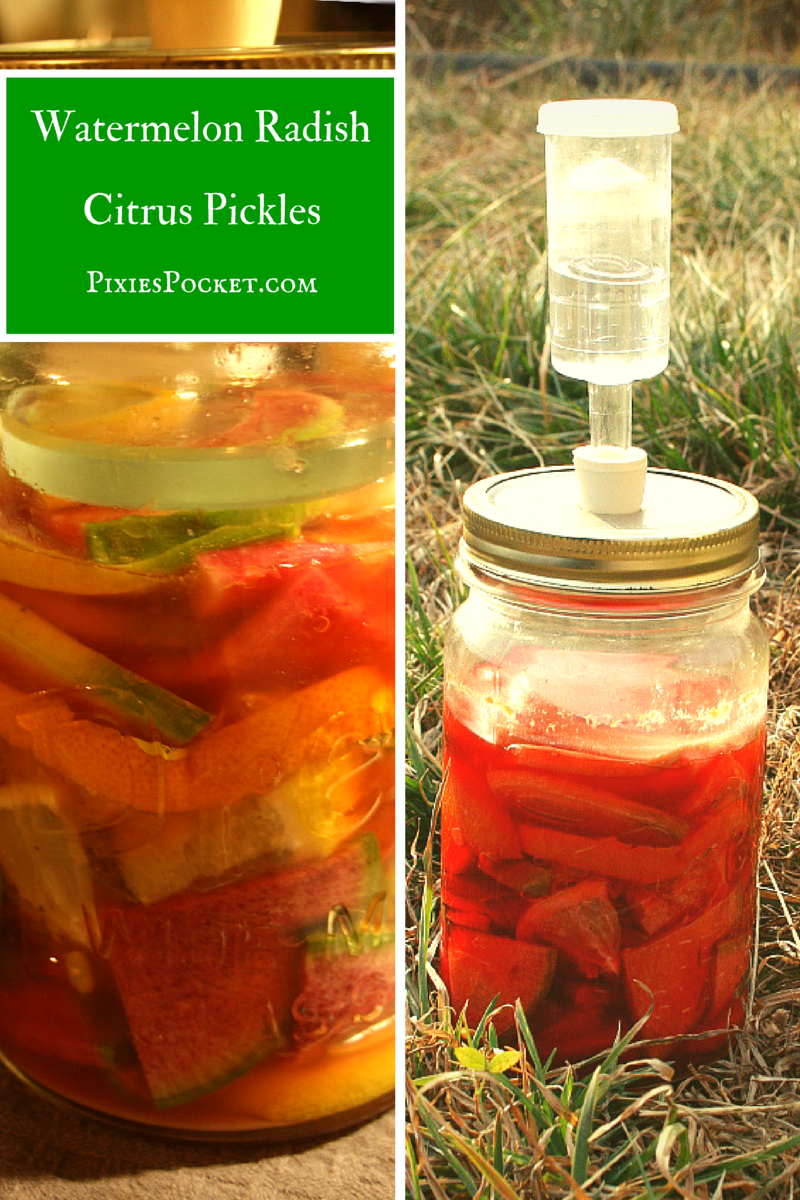 Watermelon Radish & Citrus Pickle Recipe
This recipe is for a one-quart batch but you can scale it upwards easily or otherwise tweak it to your liking. As you can see in the pictures, I used a kit from Fermentools and a wide-mouthed quart jar. You can shop their kits and salts and other fermenting supplies here!
1 Lemon
1 Orange
1 Watermelon Radish (or as much as will fit in the jar!)
Himalayan salt (between 2-3 tablespoons)
Start by slicing the lemon and orange. Try to keep their sizes uniform so that everything ferments and softens at the same rate. Reserve the spilled juice if you can so that you can pour it into the jar.
Slice the watermelon radish about the same size as the citrus slices. Appreciate their lovely color and fresh flavor while you do so!
Sprinkle a bit of salt on the bottom of the jar and add your first citrus slice or two. Add more salt, and layer on a slice of watermelon radish. Repeat the salt, fruit, and radish layers until the jar is full.
Add the glass weight to the top of your jar, and press down on it using a kraut tamper or similar thing. This helps to squeeze out the juice of the fruit so it can create a brine. If the pressing action doesn't get enough brine to cover everything in the jar, make an extra 2% brine to pour in (more about salt and brines here).
Next comes the waiting!  
Let it sit, and taste it every 3-5 days or so until you approve of the flavor and texture of the radish and rind. Once you are happy with it, just switch out the Fermentools lid and put on a normal one, label the jar, and store it in the fridge.
[content-egg module=Amazon template=grid]
How do you use preserved lemon and watermelon radish?
I dice a little bit of fruit and radish here and there and toss it in with a fresh salad, use in recipes, or chop it into a relish. Sprinkle a spoonful of diced ferment onto fish before baking or add it to soups or tagines for a lemony, bitter, salty tang that just wakes up the taste buds! It is totally safe to eat citrus peels, and in fact, it is GOOD for you!
Here are a few suggested other recipes for fermented citrus:
The Kitchn: 5 Ways to Use Up a Jar of Preserved Lemons
The Kitchn: Chicken Tagine with Preserved Lemon
Chowhound: Moroccan-Style Preserved Lemon Salad Dressing
RachelWhite.me: Preserved Lemon Relish
Get updates from Pixie's Pocket: brewing and herbs in your inbox:
Hi! I'm Amber Pixie, and this is my site. Enjoy the recipes, information, posts, and please feel free to message me if you have questions!