Canning & Preserving, Fermentation Recipes, Fermented Food, Recipe Box
Apple Daikon Radish Sauerkraut Recipe
I used to despise sauerkraut, but finally trying a crunchy, home-fermented version changed my palate forever.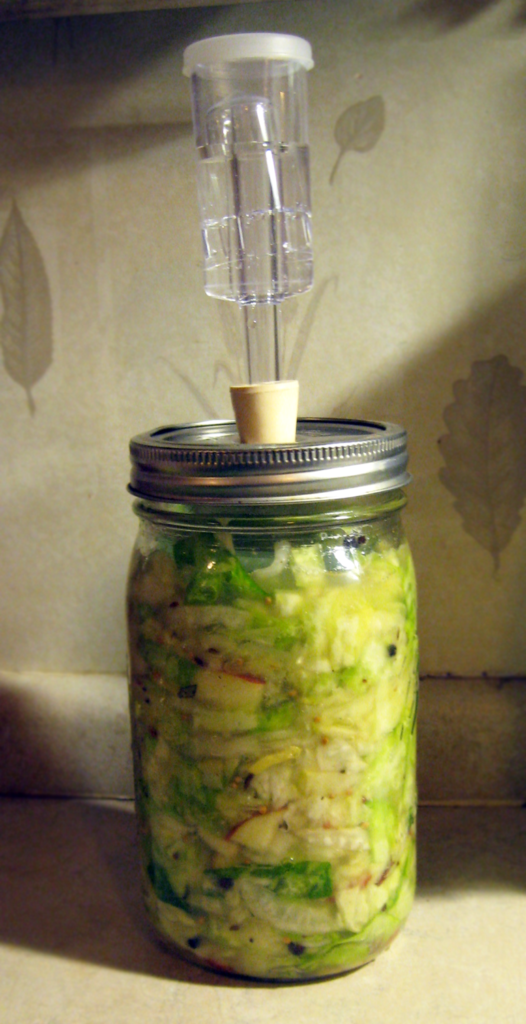 Sauerkraut.
The very word used to make my nose wrinkle and my jaw clamp shut, lips sealed, and my little curly head shake an adamant "No!" at the dinner table. I watched my Granddad spoon it over his hotdog while I wondered what in the world was wrong with adults to make them eat anything that smelled like that.
So, fast forward to last winter, and sit with me in my kitchen. I'd just been beginning to get brave enough to try fermenting foods. When you begin that learning process the first recipe that you see referenced in all of the cookbooks is sauerkraut. I felt my nose start to wrinkle up out of habit, but then I stopped myself – it had been a decade (or two) since I had tried sauerkraut. Maybe I shouldn't assume I hate it anymore! My tastes have changed, and I even like beer…why not fermented cabbage?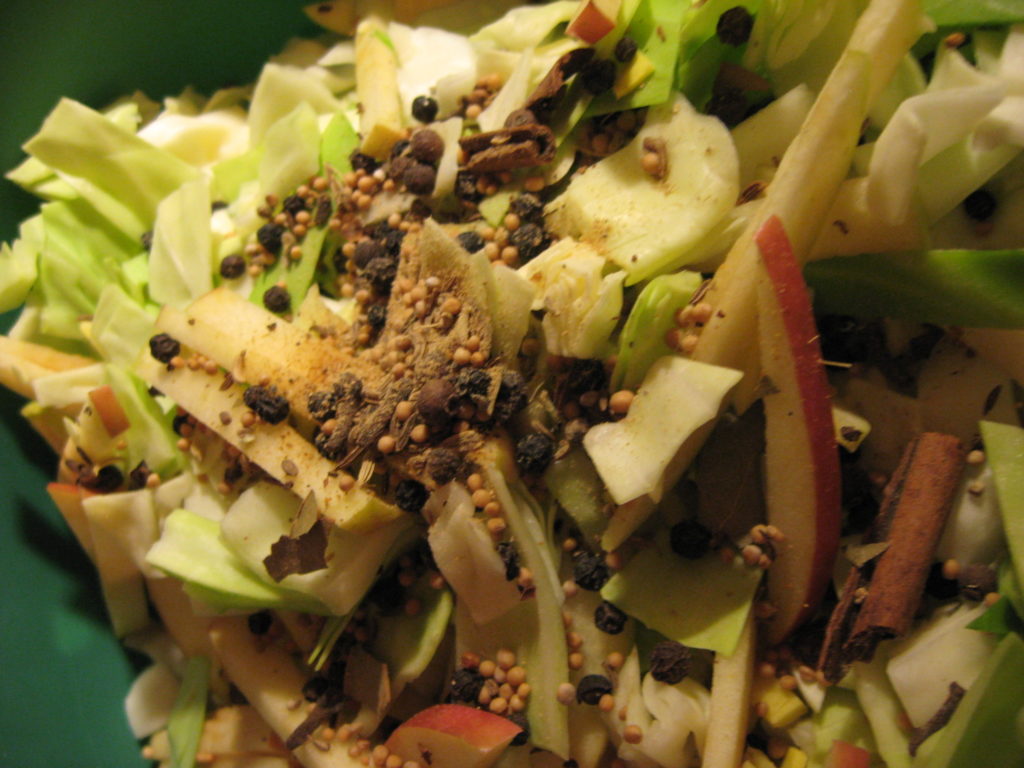 I spent a bit of time with Fermentation on Wheels and the Fermenter's Club last March and we all made one big batch o'kraut together and brought it home in jars. Tasting the fresh cabbage and seasonings going in was delicious, and so was the final product once it was done bubbling and fermenting.
Forever gone was the association of sauerkraut being sloppy, soggy, vinegary strings of cabbage, and in its place was a crunchy, salty, sour, and probiotic-packed punch of flavor! I've even found myself adding it to miso soup and grilled cheese sandwiches, as well as on sausages and corned beef.
Now that I'm fully on board with the magic that is sauerkraut, I've been having fun with it. Here's a twist on the basic cabbage and salt recipe using apples and a daikon radish or two. The cabbage soaks up some of the sweet, tart flavors of the apples leaving a salty, sour, sweet fresh crunch that really rocks the palate!
Apple & Daikon Radish Sauerkraut
This recipe is for a one-quart batch but you can scale it upwards easily. I used a kit from Fermentools and a wide-mouthed quart jar. You can shop their kits and salts and other fermenting supplies here.
1/2 head of green cabbage
1 pink lady apple (or any firm, flavorful apple)
2 small to medium daikon radishes (and some of the crisp green stems)
1 tablespoon Himalayan salt
2 tablespoon Pickling Blend (recipe here!)
Start by getting a big mixing bowl and chop up your head of cabbage into relatively consistent thin strips. A mandoline will make quick work of this, but watch your fingers!
Cut the unpeeled apples and radishes into julienne strips as well, trying to match somewhat to the size of cabbage strips. Add it to the bowl of cabbage.
Sprinkle the salt and pickling spice blend evenly over the veggies. Use your hands to massage and mix the salt and spices into the veggies, and then use a tamper to really pound it and mash them all together. The salt will begin to release the moisture from the veggies, making its own brine.
Add the veggies into the jar by a handful at a time, tamp it down, add another handful and tamp, and so on until the jar was full. Place your weight on top of the veggies and press down hard with the tamper, pushing the brine to the surface and leaving all of the veggies submerged. On goes the lid, airlock, and the rest of the fermenting kit (or your preferred method).
Next is the hard part…the waiting. For weeks. It could even take months with bigger batches!
How do you know when it sauerkraut is done? Just taste it!
Every week or so, open the sauerkraut and use a pair of chopsticks to pull up the glass weight and pull out a taste of the fermenting cabbage. Once the flavors and textures have meshed and everything tastes good to me (one month average, in my experience), remove the glass weight, put a normal lid on it, and put it in the fridge to enjoy for months!
---
Sauerkraut Recipes
Get updates from Pixie's Pocket: brewing and herbs in your inbox:
Hi! I'm Amber Pixie, and this is my site. Enjoy the recipes, information, posts, and please feel free to message me if you have questions!