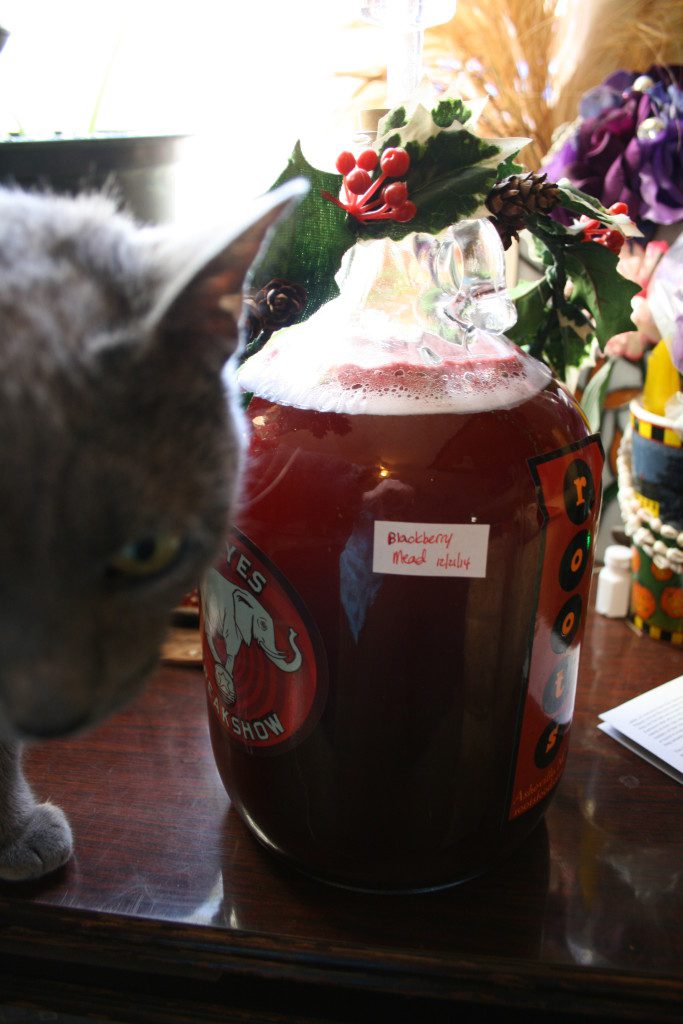 The Hollydaze are quiet around the Pixi household. With all the time off from the day job, I've been tidying the kitchen and checking in on various projects. There's also been many extra cups of coffee (many with eggnog and brandy!) and other warm beverages, curled up with a blanket and a book. It's been a nice, lazy few days!
T'is the season for plant and seed catalogs to appear! I just got my lovely Sow True Seed catalog in the mail this week. Between that and the solstice passing, I'm starting to dream of spring greens in the back of my mind and taking stock of my inventory of seeds.
Other than the seed catalog, I've been reading a few good books about food; "Bitter" by Jennifer McLagan and "Artisan Drinks" by Lindy Wildsmith, and enjoying them both. I'll share some thoughts and maybe a giveaway along with reviews, soon!
Reading about bitters and brewing both reminded me to dig the frozen blackberries from this summer out of my freezer and make a batch of blackberry mead. It is *quite* lively and bubbling madly! I tried to get a good picture to share, but Akasha decided you'd rather see her. Cats. What can you do?
The day after Christmas was so lovely that Eric and I grabbed the dog (Sandy) and off we went to walk in a local park. Sandy didn't care about the other dogs and preferred just to amble about with us while I took pictures of chickweed and such. Afterwards, we rewarded ourselves with a pint at Asheville Pizza & Brewing Company in downtown. All in all, a very nice lazy Christmas!
(click each image below to see it larger, if you wish!)
Otherwhere on the webs:
If you've been way more busy and stressed than I have this holiday season, you might need a laugh. If you haven't read "Hyperbole & a Half before, you might want to do yourself a favor and have a giggle: The Year Kenny Loggins Ruined Christmas. Don't drink anything while you read or you might get your sinuses flushed.
Check out my most Recent Pins! Here's a few of my favorites:
I've learned that you can't put "butter" and "whisky" in the same pin without me repinning it.
Same with "salted" and "caramel"…
Sponsor:
This weekly post is brought to you by Doktor Nix's Mercantile: Your place to fill your desire for chainmaille, corsetry, patches, braclets, steampunk bits anddrink cup sleeves that say "Poison" in sexy letters. Go, indulge your sexy dark side, and shop!

Hi! I'm Amber Pixie, and this is my site. Enjoy the recipes, information, posts, and please feel free to message me if you have questions!