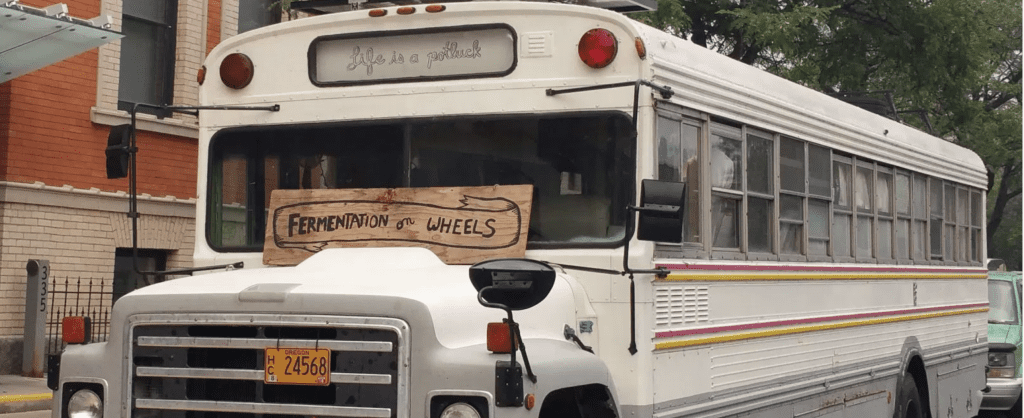 Are they coming to your neighborhood?
They'll be in mine, soon!  
What is Fermentation on Wheels?
Fermentation on Wheels is a community of gastronomic nomads with a mission to eat thoughtfully, teach fermentation, and connect people with their local food source. We are traveling the U.S.A. by school bus to harvest produce alongside small-scale farmers, hold workshops on the importance of fermentation and micro-agriculture, and inspire.
April 5th and April 6th, you can find "Fermentation on Wheels" visiting Green Hill Urban Farm in Asheville, North Carolina along with Fermenter's Club.  Green Hill Urban Farm is located in the West Asheville suburbs, and they seek to provide biodiverse, sustainable agriculture for the local folks.  On their four or so acres, there are ducks, a huge greenhouse, a pick-your-own fruit section, and they have CSA packages as well!
Fermenter's Club is joining the bus trip between April 4 through 13.  They'll help put on the April 5th "Fermentation Workshop" and the April 6th "Fermented Foods Potluck."
If you aren't around Asheville, check out their schedule to see when they'll be in your neck of the woods. Even better, if you have a farm for them to come play around in, let them know!  Donate supplies or money, or join them for a while on their journey!
Related Products
Last updated on September 19, 2019 1:24 am
Hi! I'm Amber Pixie, and this is my site. Enjoy the recipes, information, posts, and please feel free to message me if you have questions!