This year was the 25th anniversary of the Asheville Herb Festival.  I have attended every year but one since we moved to Asheville. It's a great gathering of likeminded herb and sustainability-focused vendors and I always run into friends there, like my friend Celeste, and Ashley, Glenn & Huxley, and a few other dear ones who…

This year was the 25th anniversary of the Asheville Herb Festival.  I have attended every year but one since we moved to Asheville. It's a great gathering of likeminded herb and sustainability-focused vendors and I always run into friends there, like my friend Celeste, and Ashley, Glenn & Huxley, and a few other dear ones who startled me back into reality with hugs and greetings as I was staring entranced at plants. And of course, it was great to hug Shannon from the since-closed House of Herbs in Candler –  I miss her and her shop! <3
Memorable Vendors:
I spend some time in the booth for Bee City USA and the Center for Honeybee Research – a subject you all know is near and dear to my heart! I left my name on the volunteer list and hope to hear from them soon!
Sow True Seeds was there, and I left my name in a free raffle box they had set up, where the winner gets $25 worth of seeds! Too cool. *fingers crossed*
Red Moon Herbs was right on time for me…their tables offered oatstraw and mint infusion and nettles and mint infusion! Yum. I gulped one of each, unabashedly. I also got a copy of the new Susun Weed book, Down There!, which covers the health and wellness of our often overlooked pelvic area and genitals. A review will come later! My purchase also qualified me for a free tincture, and so I got some Holy Basil since I've never worked with it before.
It was nice to run into Mudluscious Pottery & Gardens there – Cindy and Rob are sweet people who I enjoyed setting up near at the YMCA Winter Market a few years back. They have lovely pottery and were quickly running low on stock even on Saturday!
Of the native medicinal nurseries, NC Ginseng & Goldenseal Company (Eagle Feather Farm) was my favorite, with ginseng, goldenseal, cat's claw, trillium, and other gorgeous and useful plants.
I also really enjoyed checking out the Carnivorous Plant Connection. I wonder if a pitcher plant will grow well indoors, or a venus fly trap? I should research some more and find out, cause I was certainly fascinated by the carnivorous plants, and have a mess of fruit flies and such to deal with over the spring and summer…
[clear]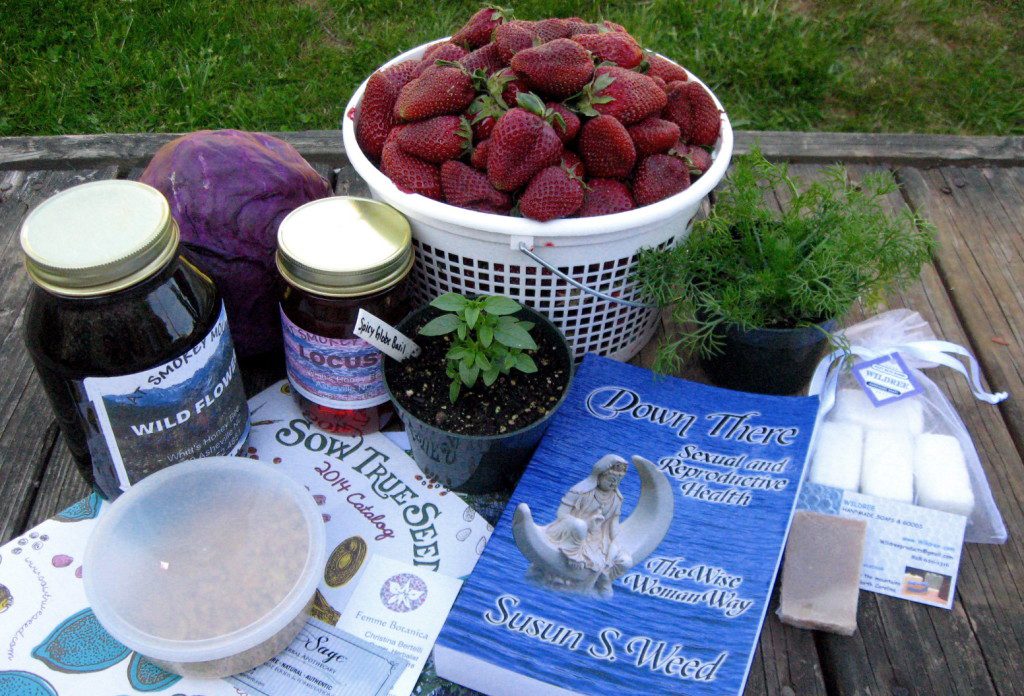 Here's my "haul" from this year's festival:
Bucket of South Carolina strawberries
Baby Chamomile Plant
Spicy Globe Basil Plant
1 local red cabbage
2 jars of honey, one wildflower, and the other locust
1 tub o'bee pollen
Sow True Seed catalog
"Down There" by Susun Weed (and holy basil tincture, not pictured)
Vanilla bath bombs and "Limestone" soap (coconut, ginger, lime oils) from Wildree Soaps.
---
If any of you folks are within a two or three-hour drive of Asheville, put this event on your calendar for next year. It's three days of gorgeous plant starts with awesome local producers.  Now, get offline and get in your garden!
Get updates from Pixie's Pocket: brewing and herbs in your inbox:
Hi! I'm Amber Pixie, and this is my site. Enjoy the recipes, information, posts, and please feel free to message me if you have questions!