Part one of an experiment in which I attempt to grow potatoes in various containers.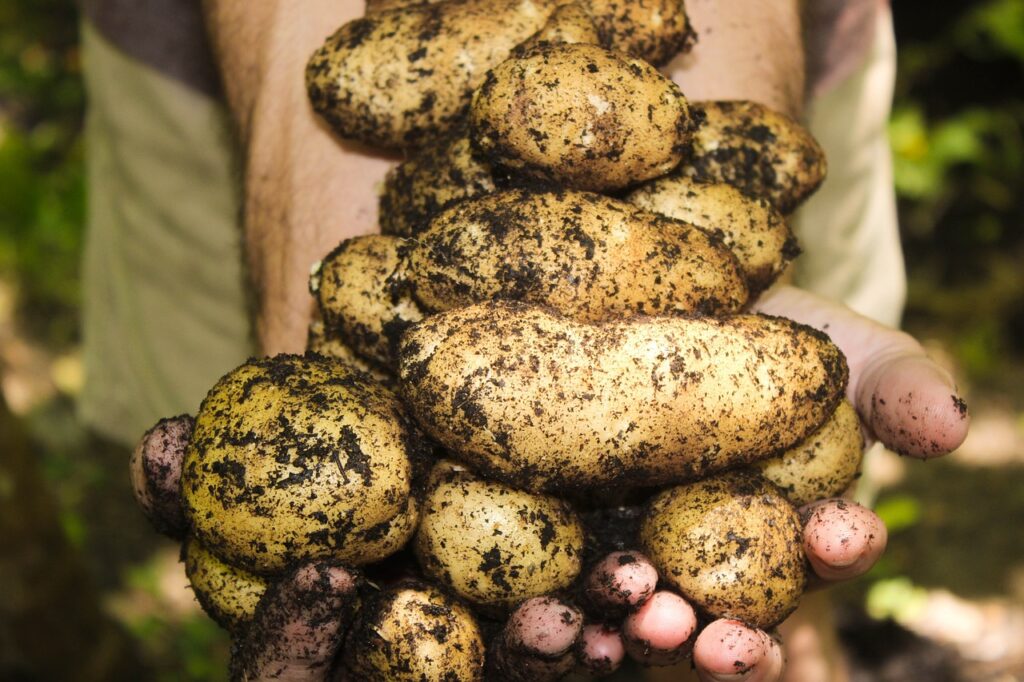 I recall my grandfather growing potatoes in the garden when I was a kid. He was recently retired and happily industrious in the backyard of my suburban home. Granddad grew a nice garden of tomatoes, cucumbers, zucchini, and other basic veggies that I wasn't allowed to fuss with since I was a clumsy five-year-old. The job that I was given was to help harvest the potatoes! He'd go through and turn over the row and I'd dig through and pull out the fist-sized taters and put them in a bucket.
There have been a few decades since those summers and now I want to grow potatoes myself!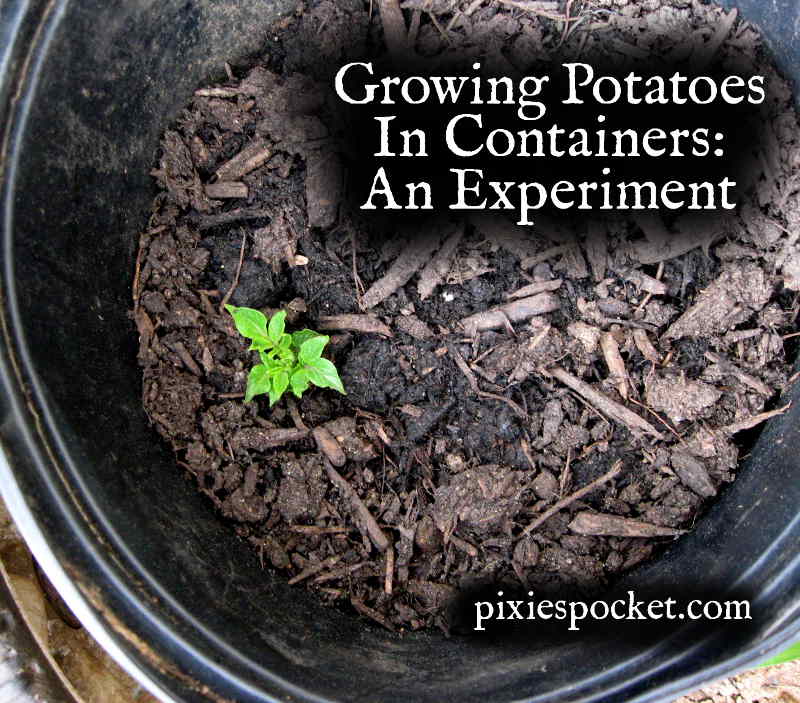 Growing Potatoes In Containers
I've been researching methods of growing potatoes in a different way than my grandpa did. Since our yard is not suited for digging into right now, we tend to grow most of our food in containers.
So, when I realized that it was finally and truly spring and that I had three neglected potatoes that had sprouted in my cabinet, it was time to start my first potato crop!
Preparing Sprouted Potatoes
If you have some non-rotted, wrinkly sprouting potatoes, you can likely use them to grow a new generation of taters! If there's any smell of rot, just toss them out. Not sure if they are rotted? Trust me, you will know. One whiff of potato rot is enough to keel someone over and make them cry for mercy.
Grab a tater with sprouts for eyes, and chop them up. Lay them down somewhere, not touching, in a single layer, to dry for about a day or so. This seals the skin of the cut area so that you have less chance of rot when planted. Full disclosure: my life got busy and my potatoes rested for four days. I occasionally spritzed them with water to keep them from drying completely out.
In the meantime, I went to the store and bought soil. I had to buy dirt since I haven't been the best at keeping up with compost. I got a few bags of potting soil and a bag of organic compost to add some oomph to the mixture!
Planting Potatoes in Bags
Why bags? Great question. I chose this technique because as I researched different ways of growing taters, I noticed that some people had great success with bags. Others, not so much. So why not test it out and see what happens? I am too lazy (and constructionally inept) to build a potato box, and I don't like the idea of planting in tires.
When I mentioned the idea of growing potatoes in burlap sacks to my love, he recalled a shop that sold them for a few bucks each and then brought me five of them the next day!
I had an extra large plant pot into which I dumped both bags of potting soil and the bag of compost. I mixed the soil well and then added about six inches or so of dirt into each bag. I filled the burlap sacks and on a whim, also planted some potatoes back into one of the plastic bags that the soil came in.
Next, I rolled the sides down and placed the potatoes on top of the dirt. I'm pretty sure I put too many taters in each sack, but since this is an experiment, I guess we'll find out, eh?
Six of the potatoes went into each bag and they were covered up completely with soil. This left two or three tiny potatoes, so I decided to try growing those in a two-gallon black plastic pot. All of these bags and pots were plopped down in a safe spot that gets only partial sun, as I don't want them to dry out as so often happens to our plants in pots on our little sunny, windy ridge.
I've not had to water them too often as the wet April weather has been happy to oblige. Drainage hasn't been an issue since the burlap sack is obviously porous, and the plastic bag and bucket have small drainage holes in them already.
What do you think will happen?
Get updates from Pixie's Pocket: brewing and herbs in your inbox:
Hi! I'm Amber Pixie, and this is my site. Enjoy the recipes, information, posts, and please feel free to message me if you have questions!