Book Review: The Nourished Kitchen by Jennifer McGruther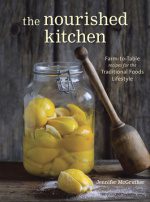 One of the most recent books that's found its way to my doorstep was the lovely The Nourished Kitchen by Jennifer McGruther. I totally did a little happy dance when it arrived, too!
I've been following The Nourished Kitchen site for a few years now and was quite pleased to see such a lovely compilation of the practical, nourishing recipes that I've come to expect. There are more than 150 recipes in this beautifully arranged book with sections dedicated to explaining the "traditional foods" philosophy that Jennifer McGruther practices. The farm-to-table recipes focus on whole grains, bone broths, raw dairy, wholesome fats, organ meats, and fermented foods.
And it was perfect timing, too. Just after The Nourished Kitchen arrived and I began diving into it, my CSA box arrived with a large bunch of beautiful radishes among the goodies inside. I was not thrilled, and was already picturing them wilting away in my fridge. I'm not keen on fresh radishes, but The Nourished Kitchen provided me with two ways to prepare them that won me over: a roasted radish recipe and a fermented radish recipe.
The oven-roasted radishes were good – the roasting caramelizes the sugars and takes the sharp bite away and with the addition of butter and salt they made my tummy happy, but the real winner was the fermented radish recipe. I am still rather new with making my own lacto-fermented goodies but found The Nourished Kitchen to be a gentle guide through this recipe, from making my own pickling spice blend to mixing the salt brine. Overall, I found the process easier than expected and less than a week later, had delicious crunchy radishes with a hint of sweet spice. I've been eating radish chunks out of the jar with chopsticks ever since!
I've also gotten a bit braver after reading this book, and was able to put my past cheese disaster behind me and try again. I've made a whole slew of yogurt cheese and am even considering trying out clabber and real buttermilk with raw, local milk. Even offal and organ meats don't seem as scary after reading some recipes in this book that made my stomach start growling!
I loved my copy of this book so much that I've already given it away to a dear friend and am about to order another copy for myself. You can get your own copy here from Amazon, from Biblio, or use Indiebound to find a bookshop near you if you are in the US.
Find The Nourished Kitchen:
---
I received this book from Blogging for Books for this review (and felt like I won the lottery!), and the book purchasing links are affiliate links. They add no cost to you, but I get a small percentage to help keep Pixie's Pocket running! Thank you!