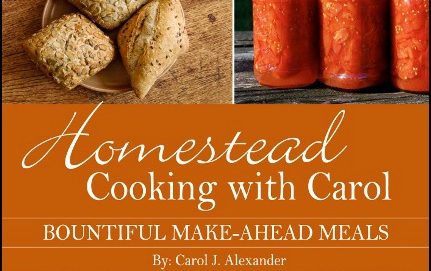 Lucky little pixie that I am, I was a winner in a giveaway on EverythingHomeWithCarol.com in early 2013. As my prize, I was given a free copy of the ebook, "Homestead Cooking with Carol: Bountiful Make-ahead Meals" by Carol J. Alexander.
Now, I might not have my dream homestead yet, nor do I have children, but I do the cooking for my husband and myself. We feel healthier when we avoid heavily processed foods and avoid fast food and boxed food; however, with our different schedules, it can be as late as 8pm before I am able to begin dinner.  It is hard to eat a healthy, balanced dinner without a solid routine and more make-ahead meals is something I've been doing here and there.
When I do have time to make dinner, I make more than we two will eat in one sitting.  I portion the leftovers and seal them in food-saver bags or a mason jar to store in the freezer.  Instant lunch, just add heat. But that's kind of 101 compared to Carol's methods – I fell in love with the chapter titled: "Eighteen Meals from One Ham: The Fine Art of Stretching Meat."
Carol's first chapter convinced me to face my nerves and obtain a pressure cooker this year and learn to use it safely. I would love to be canning my own beans, meat, and other things that you just cannot do with a water bath canner.  I find myself only using half a can of refried beans at a time when we make burritos, and oftentimes the rest gets forgotten and trashed days later. Why not make my own, seasoned as we like, and make sure it is already in portions that won't be wasted?
I'm awfully glad I won this book. If you are someone seeking to prepare healthy food from scratch with limited time and budget, I encourage you to buy a copy. Consider it an investment!
Hi! I'm Amber Pixie, and this is my site. Enjoy the recipes, information, posts, and please feel free to message me if you have questions!