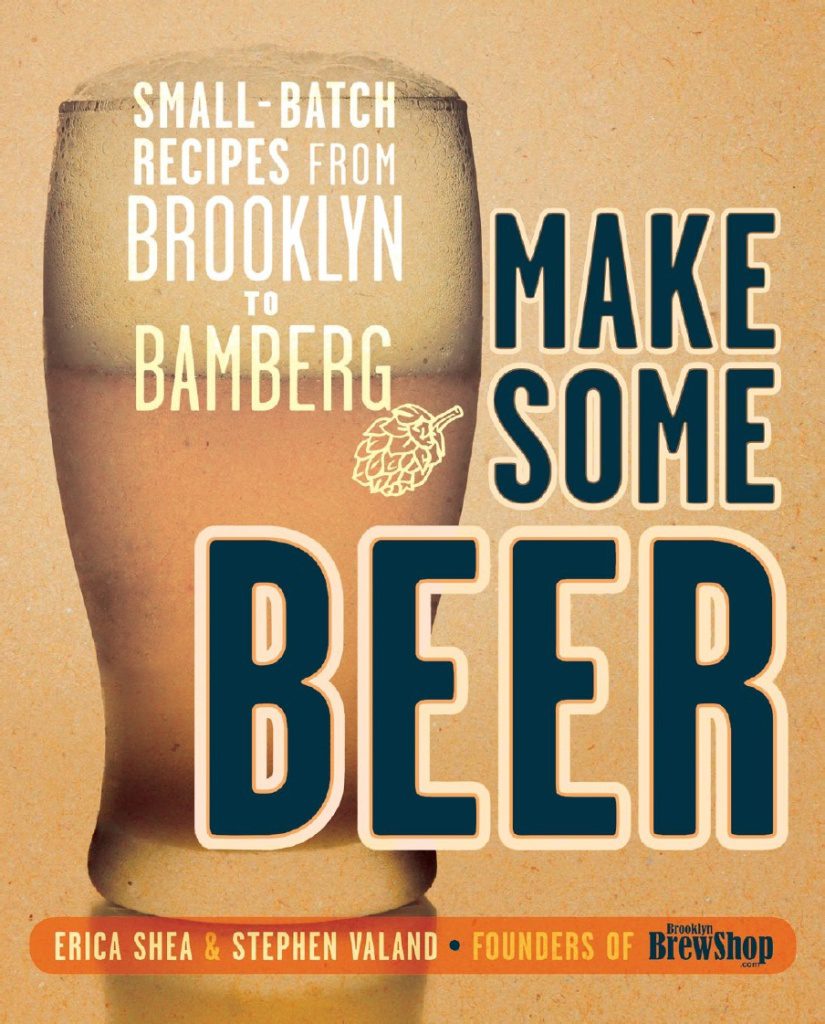 Let me start off by saying this: I live in Asheville, North Carolina. It has been voted Beer City USA for a few years, and there are, at the moment of posting, 13 craft breweries listed by the Asheville Ale Trail in and around this small mountain town. I didn't even LIKE beer when I first moved here…and now, five years later, I'm a homebrewer and somewhat of a hipster beer snob. Ok. I admitted it. That's the first step to recovery.
But when you get a book like Make Some Beer: Small-Batch Recipes from Brooklyn to Bamberg and among the list of global breweries you find two from around your town, you can't help but feel a little bit proud! (Wicked Weed Brewing & Pisgah Brewing Company)
---
The Back Story
The authors Erica Shea and Stephen Valand both had a dream of opening a brew shop. Before they took the leap, they sought inspiration by taking a world tour of breweries – tasting rare and special beers, interviewing brewers, investigating techniques and ingredients before continuing their own homebrew experimentation and opening the Brooklyn Brew Shop.
Their trip culminated in the book, Make Some Beer. Part travel journal and part cookbook, Erica and Stephen have brought these amazing flavors from around the globe to your kitchen in a simple but complete compendium of how to brew small batch beers. Each brewery on their tour is represented with their experience and quotes from the brewers, and an accompanying recipe. For example, Wicked Weed Brewing shares their recipe for a Strawberry Rhubarb Strong Ale. There's Dandelion Gruit, and Bacon Dubbels, and Chocolate Stouts. Every recipe includes suggested food pairings and a glimpse at the brewery from which it originated.
The Review
This book is best for brewers with a little bit of experience. If you are a total beginner, you might want to get a primer book that goes into the building blocks of beer and get this for future inspiration, as something to grow into.
Also, I'm a granny around the kitchen, measuring with handfuls and pinches and never totally following a recipe – I've still never bothered with hydrometers and such with my boozy brews. If you are the sort of person who needs to know the ABV and exact alcohol content, or are otherwise a strict, by-the-book brewer, this book might not be your cup of tea.
Make Some Beer has a short and sweet refresher on how to brew, including an equipment guide, ingredient guide, and even a chart showing the difference between hops, which I find quite useful. The sometimes exotic, sometimes simple recipes are a great inspiration for me to try new ingredients, yeasts, and techniques to get different results in my homebrew.
One of the reasons that I prefer brewing small batches of beers, wines, and meads is that the investment in both material and time are not as dear as those called for in the larger 5 gallon batches. Brewing one gallon beers gives you the freedom to really experiment, but if you just adore a beer recipe and want to boost your production, they've included the instructions for increasing each recipe to five delicious gallons.
A few of my favorite tidbits that really made this book stand out to me was their Spent Grain Primer, where they include five different methods for using spent grains in foods or other uses around the house. There's also a good deal of food recipes in the book, including Farmhouse Ale Risotto, Shandy Ice Pops, Pimento Beer Cheese and so many more.
This book is available on their site, or on Amazon. Grab a copy and get brewing!
I received this book from Blogging for Books for this review.
Hi! I'm Amber Pixie, and this is my site. Enjoy the recipes, information, posts, and please feel free to message me if you have questions!