Blog, Recipe Box, Spices and Condiment Recipes
Recipe Box: Spicy Citrus Salt Blend
I just hate to waste leftovers in the kitchen, don't you? My mind is often busy with trying to figure out how to repurpose the fruit or herbs that are strained from tinctures or vinegar after the infusion process is over. Some things are too pretty for the compost bin! For example, when I was…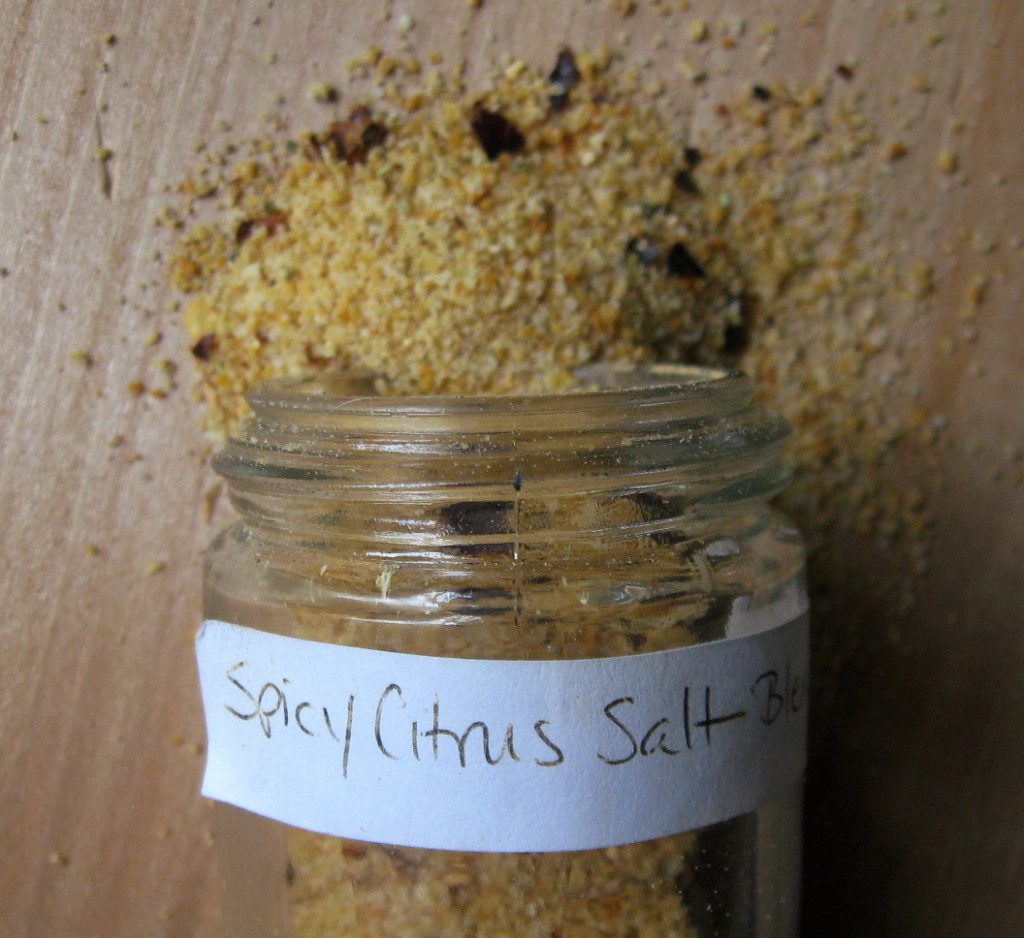 I just hate to waste leftovers in the kitchen, don't you? My mind is often busy with trying to figure out how to repurpose the fruit or herbs that are strained from tinctures or vinegar after the infusion process is over. Some things are too pretty for the compost bin!
For example, when I was making applesauce, I used the discarded peels of the fresh apples to make apple-infused spiced rum. Another time, I dehydrated some leftover diced apples and pears that I had used to make a mixed fruit vodka and they get added to cups of warm tea, cider, or mulled wine.
So when I finished my Ginger Citrus Syrup and was left with delicious, sugar-infused ginger slices and citrus fruit peels, I couldn't just waste all of that goodness, could I?
---
Spicy Citrus Salt Blend
Into the dehydrator goes the goodies, just leftovers from a previous recipe:
sugared, minced ginger
zest of an orange, lemon, and lime
After a few hours in the dehydrator, the ginger and citrus bits were no longer sticky and they crumbled easily. I let them come to room temperature.
Into my herbs-only coffee grinder went:
the dehydrated ginger and citrus
a dried chili pepper
sea salt
Grind them all for a few seconds and then give it a taste. Adjust the flavors as you like. Your imagination is the limit!
The final result of my Spicy Citrus Salt Blend is quite nice. It has a punch of citrus flavor, the salt is balanced but definitely present, and the spice is not overwhelming, and the entire blend is accented by the ginger and residual sugars from the syrup.
I use this spice on fish and chicken, primarily.  It also works well with any light flavors…basically anything you would use with white wine.
So next time you are about to toss some fruit or veggies or herbs from your latest mad scientist experiment, stop! Consider making a new seasoning blend for your pantry instead.
---
More Seasoning Blends you can make at home:
Get updates from Pixie's Pocket: brewing and herbs in your inbox:
Hi! I'm Amber Pixie, and this is my site. Enjoy the recipes, information, posts, and please feel free to message me if you have questions!