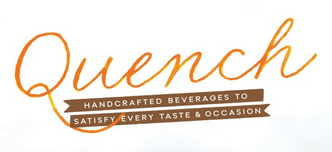 Guys! Guess what?  Ashley English of Small Measure has a book being released this month, called Quench. Focusing on handcrafted beverages, there are over 100 recipes are in this book, including two of MY mead and wine recipes (listed under the "Hard Drinks" section, of course)!
You can preorder a copy here, if you are as excited as I am.
Publisher notes: "From homemade root beer to hard cider, fresh-squeezed ginger lemonade to handcrafted Irish cream, do-it-yourself beverages are gaining interest and intrigue across the culinary spectrum. Professional mixologists and amateur home cooks alike are looking for beverages to inspire and satisfy, sourced from a variety of natural and seasonal ingredients. Quench offers the solution, covering the entire beverage range with hot, cold, fermented, infused, and cured offerings. There's something here for every palate, occasion, and need. Quench promises to help you pour a glass of whatever it is you're thirsting for."
---
In other autumnal news, we are about to have our first night that dips into the 30's here in Asheville, and so I'll be starting to dig burdock, dandelion, and chicory roots. There's other bits and bobs on my to do list as well, like making a citrus pound cake (recipe coming!) and bottling some brews.
Jane's Adventures in Dinner shares a nummy pickled peaches recipe. I want to try this, as I had my first pickled peach this summer, washed down with a swig of Woodford Reserve bourbon…now I daydream of a pickled peach pie with hard sauce. Yum!
And while you all know that I make booze, I've never *just* made soda or lightly fermented drinks like this Elderberry & Honey Soda by Ariana from "And Here We Are."  Elderberry is an amazing ally for cold and flu season, so I'll be giving this a try this weekend!
And I'm rather enchanted by the idea offered on Simple Bites for making a soup tureen out of a squash!  If we host Thanksgiving this year, I might just do that…
What's on your docket this fall, dearies? Leave a comment and let me know!
Hi! I'm Amber Pixie, and this is my site. Enjoy the recipes, information, posts, and please feel free to message me if you have questions!