Recipe Box, Smoothie Recipes, Sweet Stuff Recipes
H2PRO Probiotics + Vitamins: Recipe, Review and Giveaway!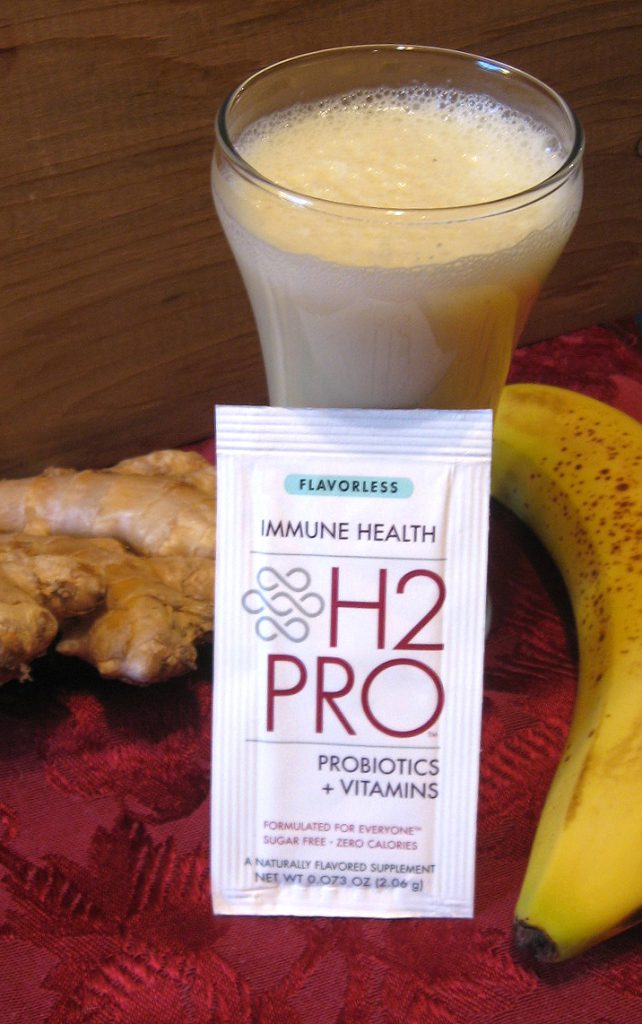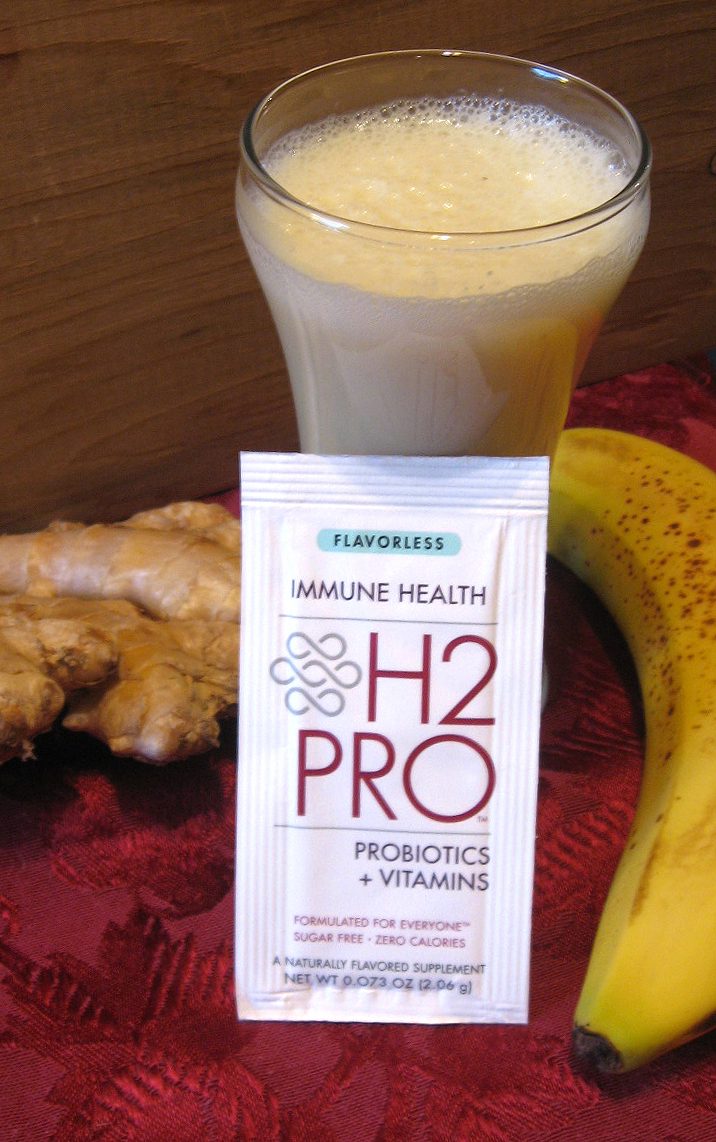 Giveaway is over!
H2PRO is awesome!
As I've talked about before, I've had chronic candida issues for a good while, and I keep it under control by minimizing my sugar intake, eating live foods and taking probiotics.
One issue that I've had with probiotic supplements is that you are supposed to keep them cold to keep them effective!  This gets difficult if I want to take a bottle of capsules with me on roadtrips, or while camping.  This is where my favorite part about H2PRO comes into play.
H2PRO is a probiotic powder that is stable at room temperature!  It comes in easy to open packets that can be added into just about anything – turn your bottle of water into a probiotic drink! I've had a chance to try the "flavorless" Immune Health blend, and it is as close to flavorless as these sort of things come! It is hardly detectable in water, and completely invisible in juice. (This makes it easy to sneak into drinks if you have picky kids!)
More than a daily vitamin…
It is a lifesaver, too!  As my regular readers know, I do enjoy indulging in boozy goodness; cordials, home brew, and the occasional whisky.
While I am generally a rather responsible pixie, sometimes the momentum of the experience grabs hold of me and I forget to ask myself the simple question "Do you really need another drink?" when surrounded by friends, conversation, and good food. And if I forget to drink water…*sigh*
When that happens, I tend to end up in pain in the morning. Oof. Hangovers are horrible.
So let's look at what hangovers really are: dehydration and subsequent nutrient loss. Alcohol dries you out, and your body is literally aching for moisture and vitamin replenishment.
What can you do to recover from the pain of severe dehydration and the imbalance you've thrown your body into if you get into such a state? Nourish yourself with a smoothie that is delicious and nutritious. Put on your hoodie, put on your sunglasses, stumble into the kitchen, and get ready to make your day better, quicker:
H2PRO Hangover Helper Smoothie Blend
1 Banana (high in potassium, these are perfect for helping hangovers!)
1/2 cup Orange Juice
One Packet of H2PRO Probiotics + Vitamins
Ginger (either 1/8 to 1/4 inch fresh, grated;  or 1/4 to1/8 tsp dried ginger powder)
1 cup Yogurt (or dairy-free alternative)
1 tablespoon or so of Honey (it isn't just a sweetener, it is a gentle wound healer…have heartburn or ulcer pain or other tummy aches? This just might help to soothe you from the inside out.)
Optional Additions: 
Raw Egg – this isn't everyone's cup of tea, but if I trust the egg is fresh, I'll crack one into a smoothie for the extra protein boost.  It blends in and you don't notice it at all, except for the richness!
Ice – some people like the sharp cold, others don't.  Add a few ice cubes if you think that the iciness is a boon!
Mix the H2PRO packet into the orange juice before adding it into the blender to ensure it is fully dissolved. Add the banana, yogurt, and the rest of the ingredients into the blender.
Brace yourself for the noise of the blender, remind yourself it is all worth it, and give it a whirl until your smoothie is well blended.
Drink slowly, carefully, and think happy thoughts in a quiet room until you start to feel good again.  Then, rehydrate with some water with a packet of H2PRO added to make a healthy probiotic drink!
---
Want to try H2PRO yourself?
You can buy H2PRO here, or enter the giveaway below to win a free box! (US residents only)
Hi! I'm Amber Pixie, and this is my site. Enjoy the recipes, information, posts, and please feel free to message me if you have questions!