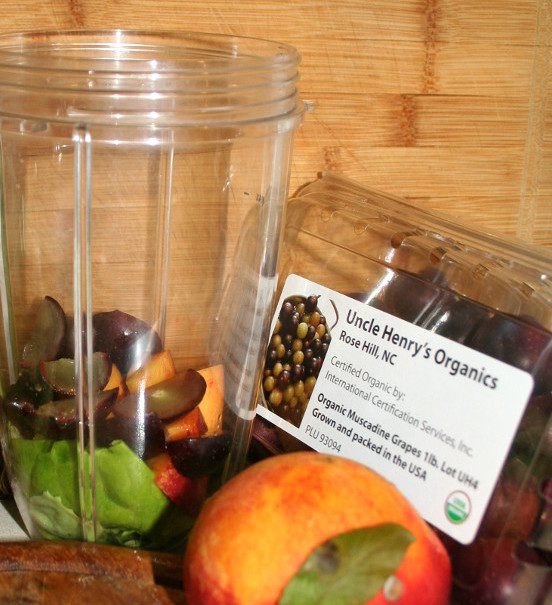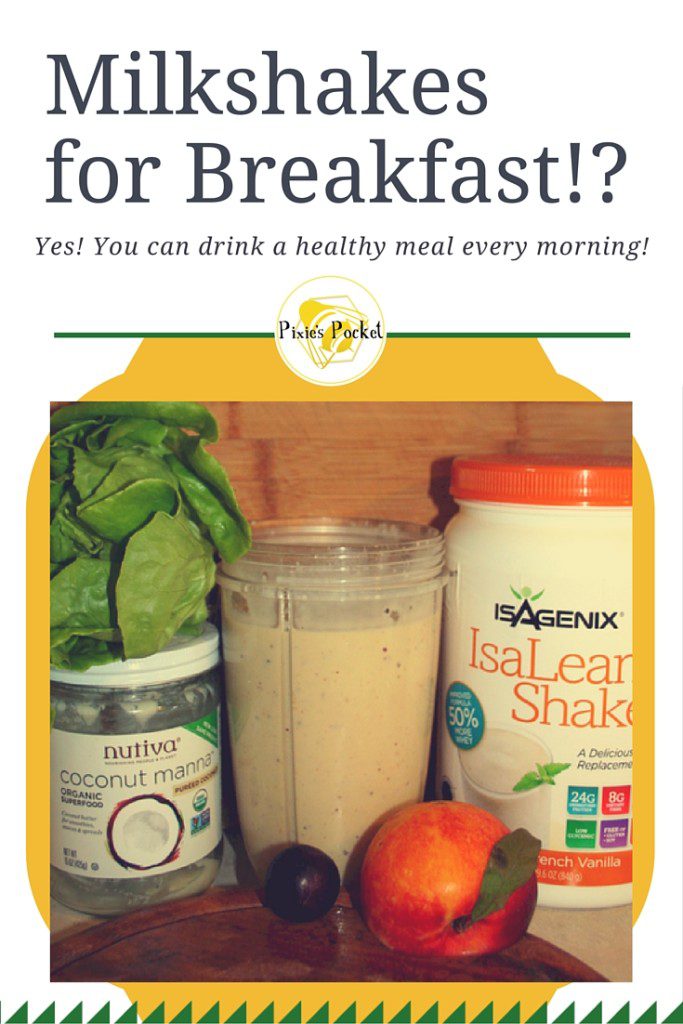 I have a tendency to make a special Sunday breakfast. I brew up a french press pot full of the good coffee that we only use for guests and our Sunday mornings. Then comes the food…something big, something heavy and hearty and generally laden with delicious carbs! It could be biscuits and gravy, or eggs and bacon, pancakes, french toast, or rich oatmeal cooked in milk and full of all kinds of goodies. Whatever we choose, you can be sure that the effort is grand, and so is the cleanup. And then the subsequent nap, which is magnificent.
But I don't have that kind of time on weekdays, and I'm not the "wake up at 4am to cook everyday" kind of person. Most of the time, I manage to do 5 minutes of yoga stretches while fending off the dog who wants to play while the coffee is brewing, and then I throw together a shake to take along with me as I run out of the front door!
It may be rushed, but it is heads and tails above my previous weekday routine, which included the coffee, dog-yoga dance, but no food. I'd end up being grumpy, eating crappy snacks to get me by, drinking too much coffee, and then eating lunch around noon or so. This would always result in an energy crash just after lunch, complete with brain fog and frustration. Ugh.
Milkshakes for breakfast changed my life! Even though I'm not making a big bad breakfast every morning, I'm getting a balanced meal that I can bring along with me that helps me to function like a healthy, (relatively) sane person.
---
Do you want a milkshake for breakfast?
My healthy shake-making technique is very simple and very flexible.
And it brings all the boys to the yard.
---
There are two parts to my routine that I can not do without: my Nutribullet and my Isagenix French Vanilla Shake mix. While I prefer those brands, any heavy-duty blender like a Nutribullet or Ninja will work, and so will any other protein, nutritional powder that you enjoy.
Ready? Here's my formula for either the 4oz or 8oz shake cups:
1/4 of the cup is fresh fruit and vegetables
Peaches, ginger, carrots, apples, avocado, cucumbers, beets, spinach, kale, berries, lettuce, tomatoes, everything is fair game! I dice the fresh food up and remove seeds and skins as needed for compost. This is where a good deal of the fiber in your shake comes from, as you are taking in the whole fruit or vegetable instead of just the juice! Plus, it gets veggies into the diets of picky eaters (I have one in my household).
1/4 of the cup is yogurt
Probiotics are my jam. They've helped me over the years to overcome chronic candida, and to keep up my general health and well-being, I make sure that I use yogurt with live cultures. I prefer whole milk plain yogurt (ooh, creamline…) to keep the sugars down, but sometimes spring for flavored yogurt, maybe a vanilla or greek honey, if they are on sale. If you need even more of a probiotic boost, try H2PRO!
1/4 of the cup contains all the extras
For our 8oz cup, I use two scoops of Isagenix and one scoop for the 4oz. Otherwise, I might throw in flaxseeds, bee pollen, hemp seeds, fresh aloe gel, coconut manna, powdered spices (cardamom, ginger, black pepper), a few raw almonds or pecans, whatever I think might be good! If you are making shake at night or want something decadent and sweet, you can add a spoonful of cocoa powder or cocoa nibs and some honey or simple syrups to make it a dessert shake.
The rest of the cup is liquid.
Pour this over everything else up to the blend line marked on your cup. I use a healthy glug of milk and orange juice most often (dreamsicle!), but I've also been known to use other juices, plain water, herbal infusions, or even cooled coffee.
---
Give it a whirr and bam! A meal in a cup!
Once I started doing daily shakes, I realized that I could take a step back on my daily vitamins. I've been getting much more of a healthy, balanced start to my morning which helps to carry me throughout the day.
I hope this helps inspire you out there, starving morning person! Take care of yourself!

Hi! I'm Amber Pixie, and this is my site. Enjoy the recipes, information, posts, and please feel free to message me if you have questions!