Here's a quick guide to finding your local beekeeper's association. They can help you remove bee swarms from your property and help educate you about bees!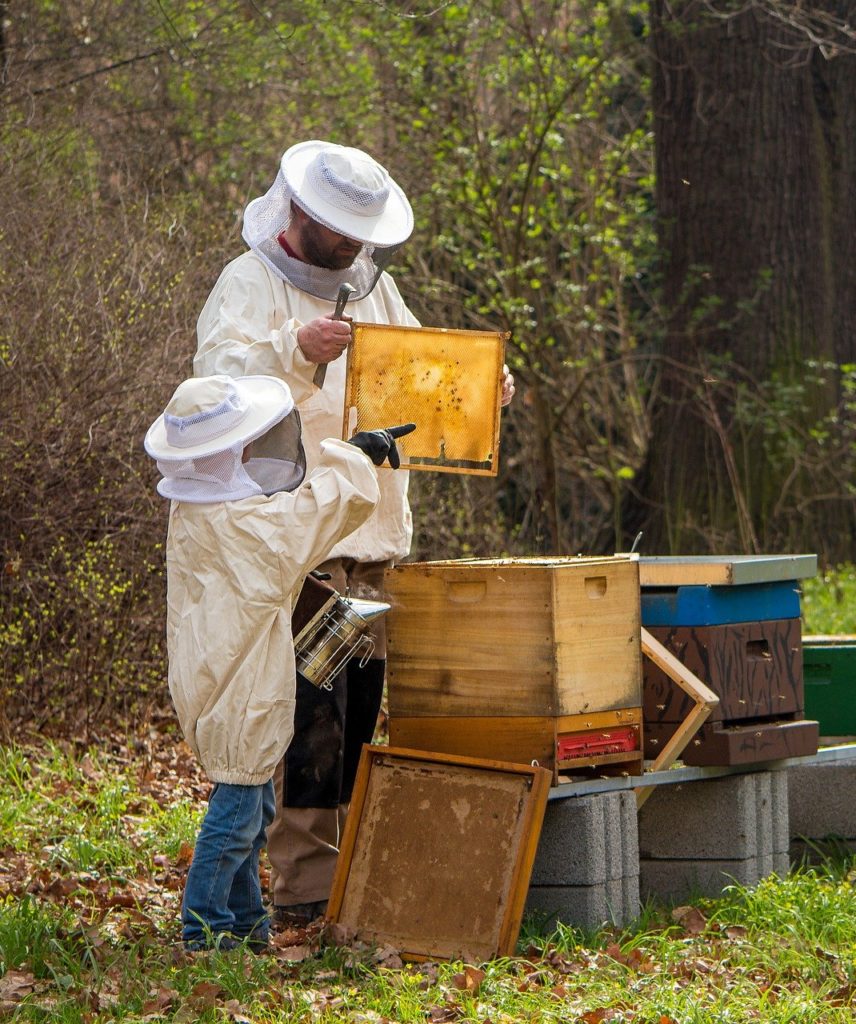 Recently, someone asked me for help with finding local beekeepers in her area. She wanted a source of local honey but was also interested in tending bees in her backyard. She just didn't know where to begin with the equipment, climate, local laws, and everything else! I directed her to our local beekeepers association, the Buncombe County Beekeepers Chapter.

Local Beekeeping Associations
Beekeeping associations are a community of like-minded people who tend to bees in the same geographic area. In the United States, they are usually grouped by county.
If you have found a swarm or need other time-sensitive help, find your local beekeepers! The best way to find beekeeper meetings near you is to visit your favorite search engine and type in your zip code, county name, or city name and the phrase "beekeepers association" in the search bar.
The best way to find your local beekeepers is to visit your favorite search engine and type in your zip code, county name, or city name and the phrase "beekeepers association" in the search bar.
That search should guide you to a group of people who are enthusiastic and willing to help you, and who live in your neck of the woods! That was how I found a beekeepers association in Charlottesville, Virginia years ago, when I first decided to learn all about bees and honey.
Most beekeeper associations offer classes that give you information about bees, hives, their maintenance, and all sorts of beekeeping knowledge. I learned so much more in a single face-to-face class with people who had real hands-on experience than I had in the hours and hours of researching alone on the internet!
Local beekeeper associations are invaluable because it gives you mentors who can come and look at your hives with you. Also, the knowledge about tending bees that is specific to your area is incredibly helpful. For example, do you know what is blooming and when? What are the native predators and threats to your hives? If you're in Western North Carolina like me, you need to know when the dearths and flows will hit your bees! Honey & the Hive has a great list of our local bee meetings across WNC.
Many beekeeper associations also work cooperatively to purchase larger, more expensive supplies like honey extractors that the members can take turns using. Some also go in together to order their bees and equipment to save on shipping and convenience fees.
---
I want honey, not bees!
Even if you don't want to keep your bees, you can reach out to your local beekeepers and find sources to buy local honey in bulk! There are also other options, for example, I found a website called "Local Honey Finder" that might help, too.
---
I also asked a few friends about how they found their local beekeepers, and here's what they said:
Carol J. Alexander (author of Homestead Cooking with Carol – Bountiful make-ahead Meals) suggested that you could reach out to your County Extension office or visit your farmers market.
Angi Schneider of SchneiderPeeps.com is tapped into her bee community – her son is a beekeeper who does bee removals! She says, "The vast majority of my son's business comes from either word of mouth or our county extension office. Occasionally, from the feed store."
Kelly Bisciotti (MusingsofaModernHippie.com) did a Google search for local beekeepers and came upon her local beekeeper's association website, as I suggested above. See? It works!
Homestead Lady has a post called "How to Prepare for Beekeeping" if you are ready to start making equipment lists and jumping on board with backyard hives!
Get updates from Pixie's Pocket: brewing and herbs in your inbox:
Hi! I'm Amber Pixie, and this is my site. Enjoy the recipes, information, posts, and please feel free to message me if you have questions!