Blog, Canning & Preserving, Herbal Recipes, Recipe Box, Sweet Stuff Recipes
Recipe Box: Hedgerow Jelly

Weeds and Wildflowers!
What is a hedgerow? In the cultured, organized sense, it is meant to be a barrier of trees and shrubs planted to mark boundary lines or to keep grazing animals contained.  In the sloppier sense, it is the buffer of wild plants at the corners of a property.  It is that definition that inspired one of my favorite jelly creation!
I went outdoors just before noon when all of the dew was dried and the oils in the plants at their most fragrant. My intention was to gather only the flowers of Queen Anne's Lace, who is in her full bloom this week!  But there were so many other lovely flowers…my eyes kept catching on the bobbing, bright purplish-red clover heads.  I kept bringing to mind the store of dried wild rose blossoms from earlier this spring, and the stash of last year's dried elderflowers that needed to be used. And so the recipe grew and changed…like they usually do!
The base of this jelly is an infusion of wildflowers.  Specifically, this recipe was based on my previously successful Queen Anne's Lace Flower Jelly, and so we will continue with having that be the base.
Visiting the Hedge:
I started off with gathering 10-15 heads of Queen Anne's Lace Flowers.  "Make sure it is really Queen Anne's Lace, and not her cousin, Poisonous Water Hemlock.  Queen Annes Lace has a hairy stem and the distinct, piney scent associated with aromatics in the carrot family.  Poison Hemlock is smooth and smells gross when you rub the leaf. (more identification tips more identification tips from QAL Flower Jelly)"
Assorted Edible Wildflowers:
In my yard, I was able to find red clover and a honeysuckle flower or two, as well as some native white yarrow. I also had some dried wild rose petals from earlier this summer, dried elderflowers from last year, and some red rose buds from Mountain Rose Herbs! I also use edible flowers and herbs to make Wildflower Mead every year.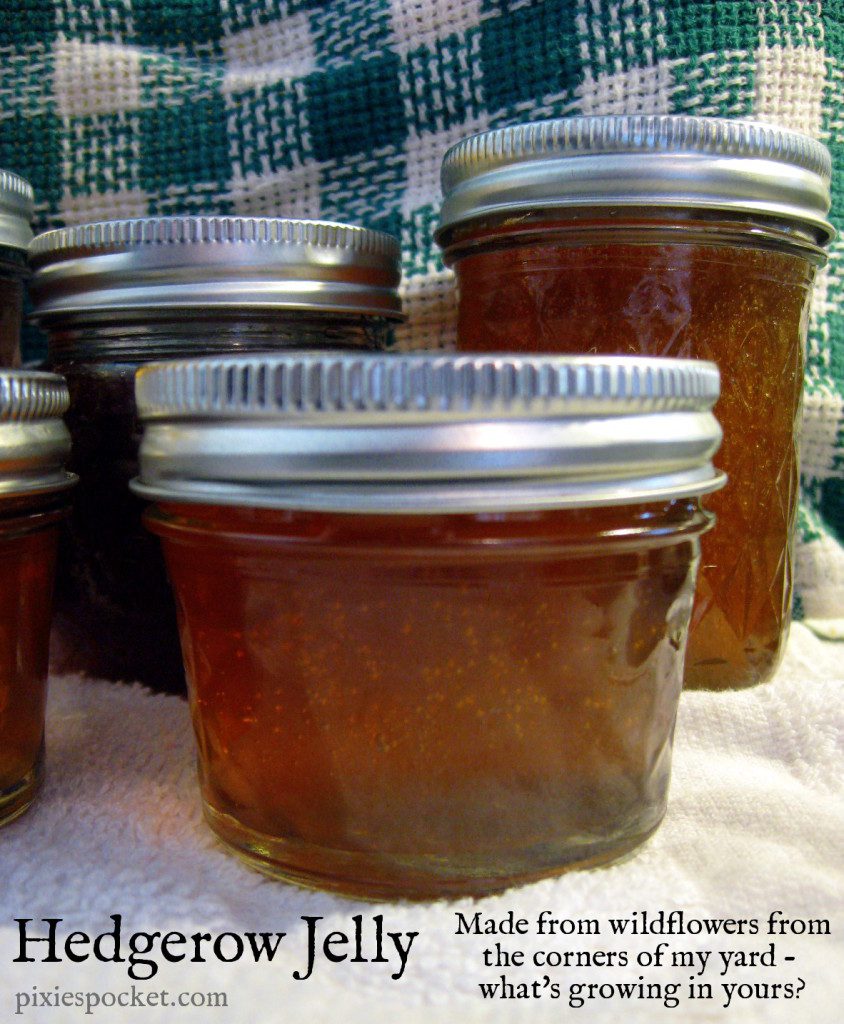 Hedgerow Jelly Recipe
Before you begin, prepare your water bath canner and jars.  I started my large canning pot of water to boil and add my jars and lids to sanitize while it comes up to temperature. Need a canning guide?
Start with a wildflower infusion:
Put your flowers of choice into a pot on the stove and add four cups of water. Allow it to just barely come to a boil, turn off the heat, close the lid, and let it steep for at least an hour.  Strain the liquid and use cheesecloth or coffee filters to ensure that all the hidden buggies and petals are out of the liquid.  Measure and put aside three cups of this flower infusion.
Ingredients:
Directions:
Pour the three cups of infusion into a medium-sized cooking pot and turn it up to a medium-high heat.
Add the lime juice and the pectin to the pot.  Stir the mixture well, and often.
Pull out your jars, lids, and rings to dry while you allow the pot to come to a full, rolling boil.
Add the sugar and stir constantly until it returns to a rolling boil.  Let it boil for one minute, and remove from heat.
Pour or ladle the very hot jelly into the jars carefully.
Wipe the rim with a clean cloth, and top each one with a sterilized lid.
Process your jars as you wish.  I use a hot water bath using the instructions given in the pectin box.  Make sure to follow instructions carefully, including adding extra time due to your altitude!  My jars were in for ten minutes instead of five.
Label, date, and enjoy your spring and summer flavors all year long!
Hi! I'm Amber Pixie, and this is my site. Enjoy the recipes, information, posts, and please feel free to message me if you have questions!