Blog, Canning & Preserving, Herbal Recipes, Recipe Box, Sweet Stuff Recipes
Hedgerow Jelly: a recipe from the wild places
The berries on the brambles, the sweet-smelling flowers, the medicinal leaves and herbs of bushes, grass, and briar - the hedgerow weeds and wildflowers have many delights to offer.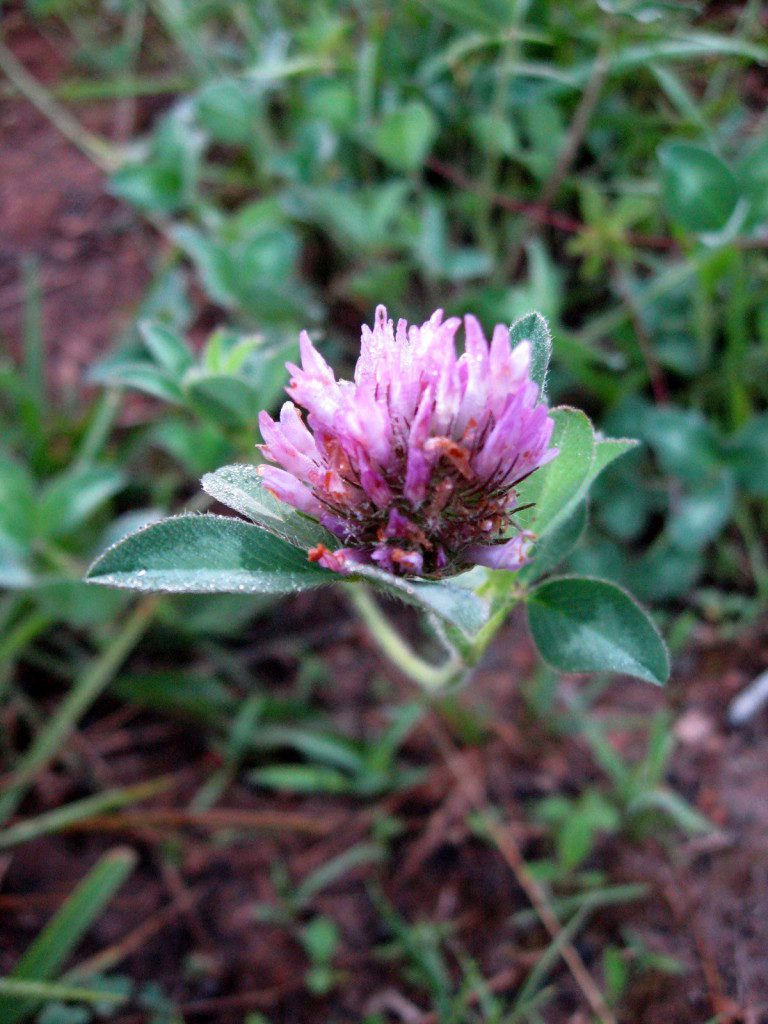 What is a hedgerow? In the cultured, organized sense, it is meant to be a barrier of trees and shrubs planted to mark boundary lines or to keep grazing animals contained. In the sloppier sense, it is the buffer of wild plants at the corners of a property. It is that definition that inspired one of my favorite jelly creation!
I went outdoors just before noon when all of the dew was dried and the oils in the plants at their most fragrant. My intention was to gather only the flowers of Queen Anne's Lace, who is in her full bloom this week! But there were so many other lovely flowers…my eyes kept catching on the bobbing, bright purplish-red clover heads. I kept bringing to mind the store of dried wild rose blossoms from earlier this spring, and the stash of last year's dried elderflowers that needed to be used. And so the recipe grew and changed…like they usually do!
The base of this jelly is a tea, or an infusion, of edible herbs and wildflowers.  This recipe was based on my previously successful Queen Anne's Lace Flower Jelly.
Foraging Queen Anne's Lace:
If you are gathering Queen Anne's Lace, make sure it is really QAL, and not her cousin, Poisonous Water Hemlock.  Queen Anne's Lace has a hairy stem and the distinct, piney scent associated with aromatics in the carrot family.  Poison Hemlock is smooth and smells gross when you rub the leaf. (more identification tips can be found on my recipe for Queen Anne's Lace Flower Jelly)"
Assorted Edible Wildflowers:
When I was creating this recipe, I came across many blooming edible flowers: red clover, honeysuckle flowers, native white yarrow. You can also use dried flowers if it isn't the right season for you, or if you aren't confident in your foraging abilities! Try dried wild rose petals, dried elderflowers, calendula, borage flowers…the list is huge! I also use edible flowers and herbs to make Wildflower Mead every year.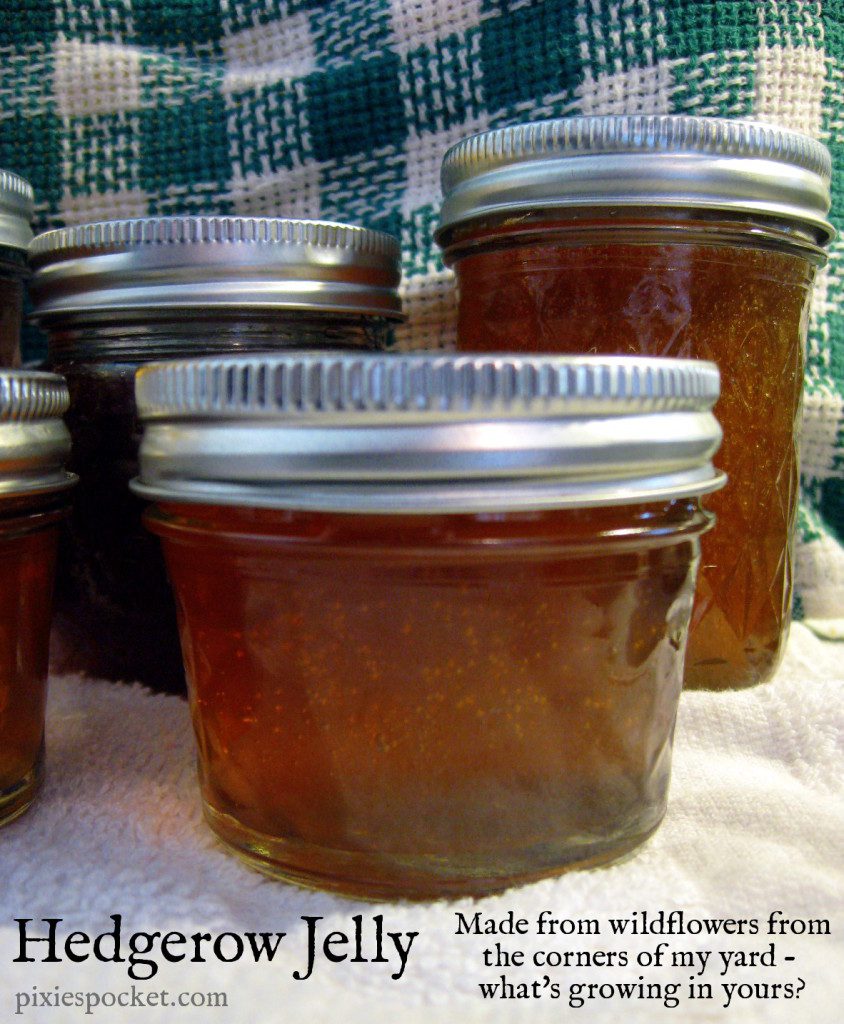 Print
Hedgerow Jelly: a recipe from the wild places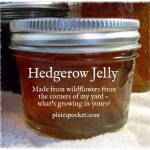 Ingredients
Wildflower Infustion:
Gather at least four cups of fresh, edible wildflowers, or
Gather around

two cups

of dried flowers

4 cups

of water
The Jelly:
Instructions
Start with a wildflower infusion.

Put your flowers into a pot on the stove and add four cups of water. Allow it to just barely come to a boil, turn off the heat, cover it with a lid, and let it steep for an hour.  Strain the liquid with cheesecloth or coffee filters to ensure that all the hidden buggies and petals are out of the liquid.  Measure and put aside three cups of this flower infusion.
Pour the three cups of infusion into a medium-sized cooking pot and turn it up to a medium-high heat.
Add the lime juice and the pectin to the pot.  Stir the mixture well, and often.
Pull out your jars, lids, and rings to dry while you allow the pot to come to a full, rolling boil.
Add the sugar and stir constantly until it returns to a rolling boil.  Let it boil for one minute, and remove from heat.
Pour or ladle the very hot jelly into the jars carefully.
Wipe the rim with a clean cloth, and top each one with a sterilized lid.
Process your jars as you wish.  I use a hot water bath using the instructions given in the pectin box.  Make sure to follow the instructions carefully, including adding extra time due to your altitude!  My jars were in for ten minutes instead of five.
Label, date, and enjoy your delicate jelly of spring and summer flavors all year long!
Notes
This is fantastic on an english muffin at tea time. It is divine when spread on buttery crackers and paired with a strong sheep or goat's milk cheese. Roll it into crepes or slather onto hot, buttered toast.
[content-egg module=Amazon template=custom/grid3]
Get updates from Pixie's Pocket: brewing and herbs in your inbox:
Hi! I'm Amber Pixie, and this is my site. Enjoy the recipes, information, posts, and please feel free to message me if you have questions!