Blog, Booze Recipes, Herbal Recipes, Herbalism, Recipe Box
Elderflower & Lemon Cordial Recipe (The Boozy American Kind!)
Make a sweet, sour, boozy drink with lemon and fresh elderflowers. It's easy and delicious on its own or in summer cocktails!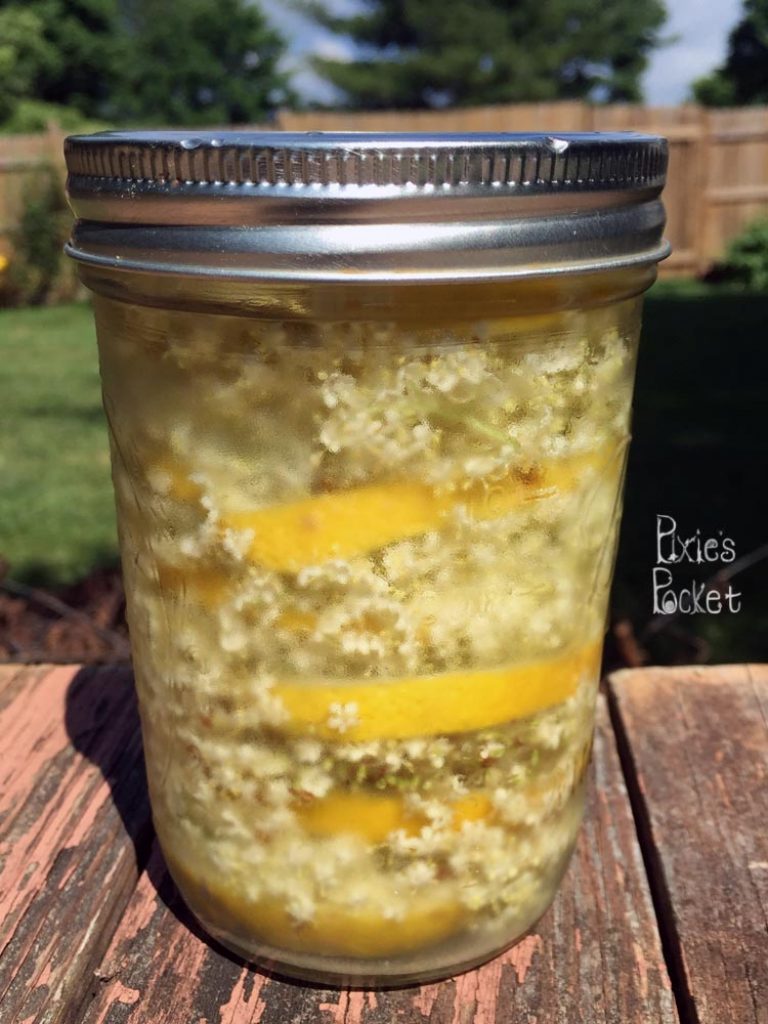 The summer solstice brought many things alive in the garden, plants I'd been waiting to see bloom to know that summer was truly upon us in these sweet old mountains! One of those that I was excited about was Elderflower.
A few years ago I offered some spare soapwort plants on a Facebook group for local plant people. When I met with the person who claimed them, I was delighted to accept two elderberry plants that they brought along! She let me know that they were specific varietals whose labels had been lost, but I don't mind a little mystery in my life. I named one of them Pliny and the other Pliny the Younger.
I barely managed to keep the young plants alive the first year and thought I'd lost them both, but they bounced back the next spring. When we moved to our new home in the following year, the elders went into the ground. Pliny the Younger took off like a beast, but Pliny suffered and is about a year's worth of growth behind. Now they both seem to be well-established and have been growing and prospering at their own paces. Two years after planting was the first time we got a harvest of flowers and berries!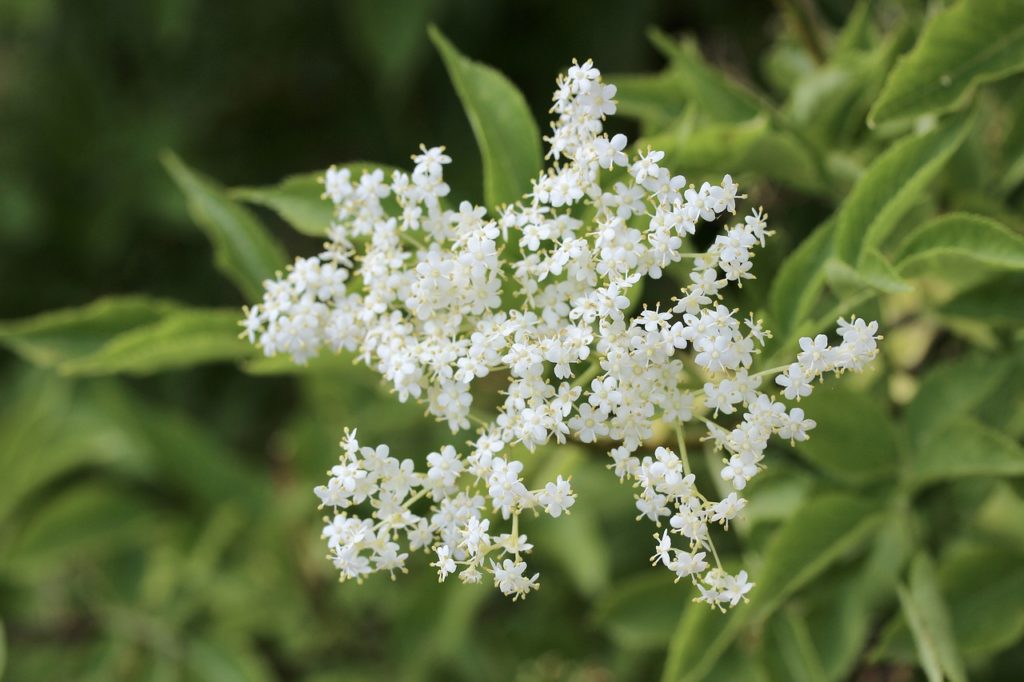 A week ago, I went to visit Pliny the Younger with Alia wrapped up at my hip. We admired the white umbrella flowers, so delicate and perfect, and all of the various pollinators making their dinner and home in the stately plant. After asking permission and receiving approval to do so, I trimmed a few small pieces from each full flower. Having a stash of dried elderflowers in the apothecary already, I only got enough fresh flowers for the project I had in mind. I left the rest to become berries in a month or so and to leave a home for the buzzing mass of bees, flies, and spiders!
The special project for the fresh flowers was an elderflower and lemon cordial. I follow quite a few foragers in Europe and the UK and I've noticed that elderflower cordial is as ubiquitous over there as lemonade is over here. Also, I've noticed that "cordial" means a non-alcoholic beverage to my friends across the pond, whereas in the United States it tends to mean a boozy treat. If you want a guide to non-alcoholic cordials, I heartily suggest Lindy Wildsmith's book Artisan Drinks.
---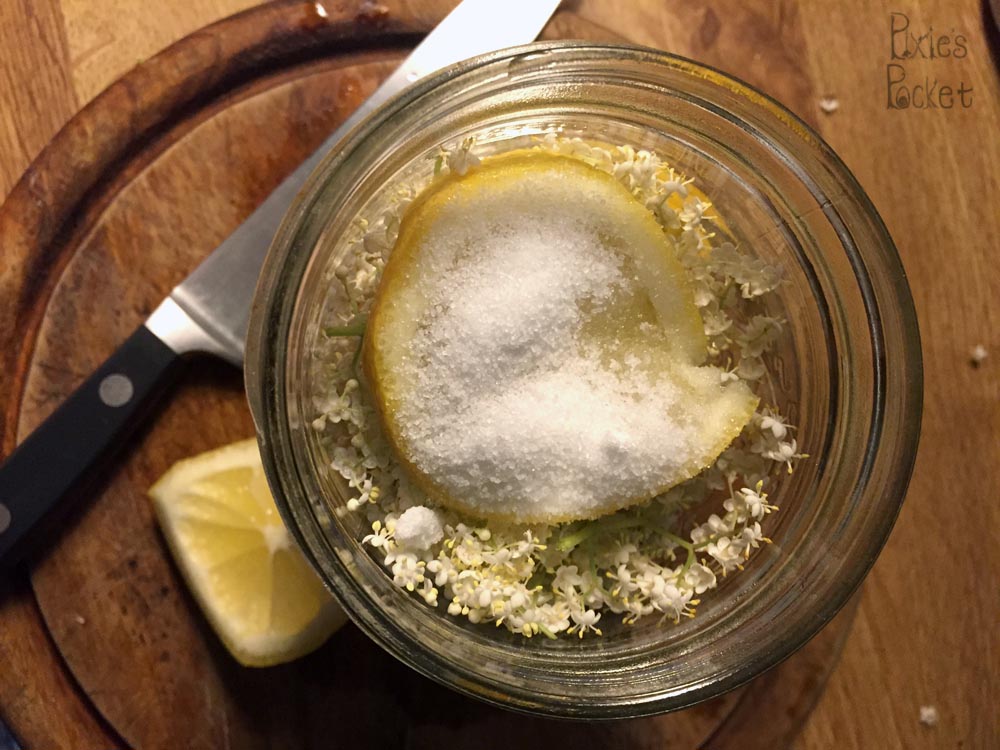 Elderflower & Lemon Cordial
Ingredients:
One lemon
Fresh elderflowers (about 3-4 cups)
Sugar
Vodka
Directions:
Grab a mason jar and clean it well, and dry it out.
Cut the lemon into rounds, and put one in the bottom of the jar. Sprinkle a tablespoon of sugar over the lemon wheel and add in a small handful of elderflowers. Cover those with another lemon wheel and repeat the process until the jar is full.
Let it sit for about ten minutes to let the sugar pull some of the juice from the lemons. Pour the vodka into the jar until it is full. Put on a lid and label and date your jar. Stash it away for 4-6 weeks.
Give the jar a few good shakes and strain it into a clean jar. Taste and enjoy!
Tip: A delicious variation would be to use grapefruit instead of lemon and gin instead of vodka.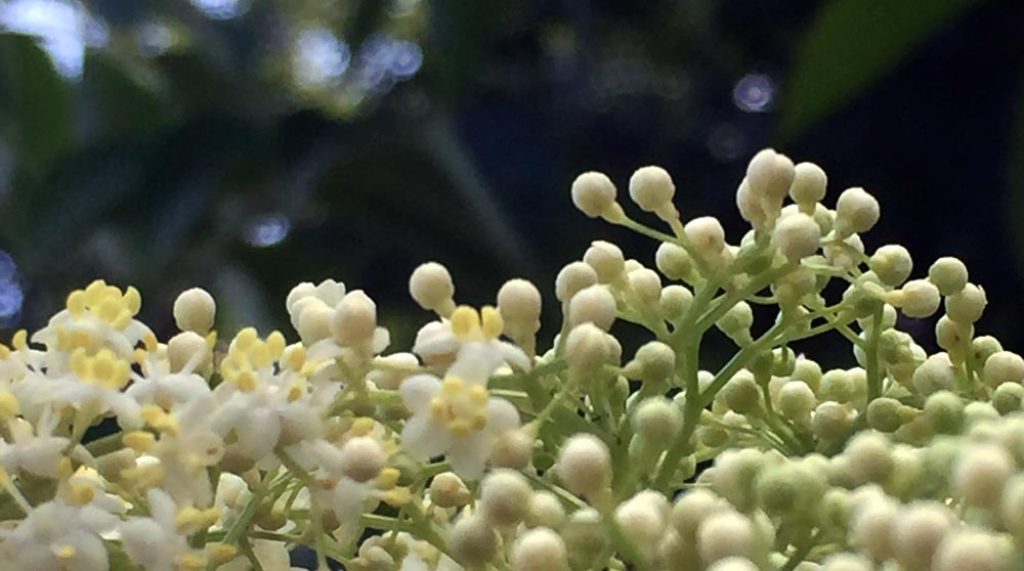 Learn more about elderberries & elderflowers:
Herbal Academy: The Joy of Harvesting and Using Elder Flowers
The Wondersmith: An Invitation to the Spaces Between with Elderflower Rhubarb Fairy Cake
Nitty Gritty Life: Fairy Finery – Elderflower Marshmallows
Grow Forage Cook Ferment: Elderflower Sparkling Mead
[content-egg module=Amazon template=grid]
Get updates from Pixie's Pocket: brewing and herbs in your inbox:
Hi! I'm Amber Pixie, and this is my site. Enjoy the recipes, information, posts, and please feel free to message me if you have questions!