Artisan Spotlight: N'Delamiko Bey of Keffigal Waistbeads
This artisan spotlight focuses on N'Delamiko Bey, the creatrix behind Keffigal Waistbeads (as well as a few other ventures, this lady is busy!). When we were trying to conceive and conjure up our baby last spring, N'Delamiko hooked me up with a set of waistbeads in some of my favorite colors, red and black. I…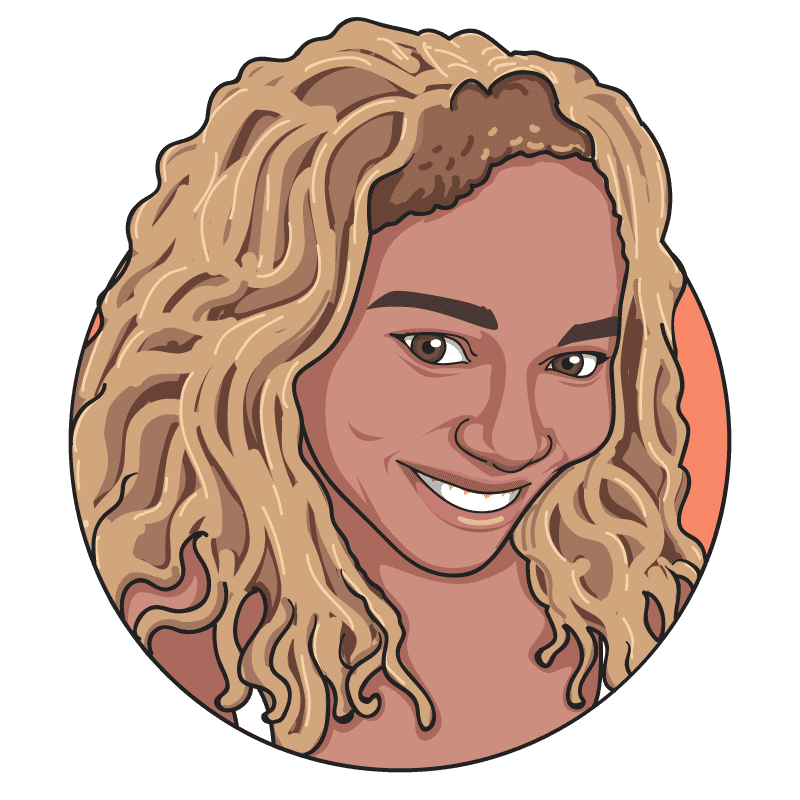 This artisan spotlight focuses on N'Delamiko Bey, the creatrix behind Keffigal Waistbeads (as well as a few other ventures, this lady is busy!). When we were trying to conceive and conjure up our baby last spring, N'Delamiko hooked me up with a set of waistbeads in some of my favorite colors, red and black. I wore them and really enjoyed the feeling of them – it's a gentle reminder of your creativity and sensuality strapped around your waist!
How did you get started with making waistbeads? Why do you feel called to this craft?
Back in 2005, I was still living in London and had a reading done with a Babalawo visiting from Nigeria. At some point during the reading, he mentioned I had to wear waistbeads and make them, acquire them, collect them… he said it was part of my magic or something. I don't think I paid much attention at the time, because the reading was a heavy one, one that had other, bigger fish frying. I thought I was 'too fat' to wear waistbeads, and pushed it all to the back of my mind. It wasn't until about six months later, in the dead of winter when I was riding the Tube across London, I saw a beautiful, thick, dark-skinned woman decked out in African traditional wear, standing in the Tube. For whatever reason, her top rode up with her movement, and I got a glimpse of her waistbeads… two or three strands, and the light bulb went on in my head.
It took me another few years before I made my first attempt to make a set… which promptly fell apart. But I kept trying… and trying. And over a number of years, I started to get better. My techniques improved (still are improving the more I practise), and eventually these things began to hold together. I became obsessed with beads, and findings, and eventually began to work more and more colours and materials into what I was doing.
I don't know if this craft 'called' me. I feel completely roped into it. The reaction to the initial postings of my work took me by surprise and the demand for it overwhelmed me entirely. I have struggled as an artist to meet the demand for the work, but it's something I seem unable to shake or walk away from, and find myself doing it in the back of my mind like I do with writing. I'm bound to it, in ways that only get deeper as time goes on. It's bound up in my relationship with the Orishas, Mami Wata, the Loa, the Neter and my Ancestors. It's like a meditation, my life comes back to center when I am actively doing it or working towards doing it.
Plus, I'm a lifelong crafter…. Colour and working with my hands is just the way it is with us.
Do you have a favorite set or color combination?
I like yellow on yellow, and blue and blue, and yellow and blue, and purple and pink… However, because my ordering process has always allowed my customers to custom order their work, I've often been seriously challenged by the requests they have made.
Some of these requests sounded wild and impossible when I read them in the notifications, however, when I sat to make these beads… I found that the vision the customer had, the Spirit that works through the process, manages to create some of the nicest colour combos. I end up loving every single piece I make for this reason.
I love that collaborative process between myself and my customers because it lets me really have fun with the work.
Cultural appropriation is a hot topic as our society becomes increasingly globally connected. When I first learned about waistbeads from you, it never occurred to me to get a set for myself as they are a West African tradition. What are your thoughts on sharing the traditions of waistbeads across cultural lines?
I am sensitive to cultural appropriation because I come from a culture regularly appropriated in this fashion.
However, waistbeads is a 'female' tradition, not merely an African-originating one. Wearing waistbeads is ubiquitous across more African cultures than I can list here. North, South, East and West, it's a female tradition, worn for a myriad reason from place to place. More to the point, with the African continent being looted for longer than this interview allows, it has spread far beyond Africa and is employed in cultures throughout Asia. It is, and remains, a 'female' tradition… worn as a definer and celebration of femininity.
I personally, make them in service to that Divine Feminine, wherever She is manifested on this planet, regardless of the language or culture that recognise her. So I'll make waistbeads for any woman that wants me to make them for her, and will gift them to women regardless of race, cultural, or economic background. That's just how my waistbeads jumbie works…
I saw an article from Zambia that reprimanded women from wearing visible waistbeads as it might sow "chaos" among men witnessing such shameless behavior. While I don't expect you to agree with that extreme view, are there any traditions, rules, or rituals involved with waistbeads that we should be aware of?
This is a subjective observation. As I mentioned before, waistbeads and the reason why they are worn, varies from tribe to tribe, country to country, region to region. Some folks use them for weight management, some wear them for spiritual protection, some people wear them for magical purposes, some people wear them to make babies, some people wear them to mark rites of passage, some folks wear them to seduce a lover… the list is almost endless.
Femininity is not a monolith. I make the beads. I think women wear them as they want to, for whatever purpose is significant or meaningful for them. I am not here to define anyone else's femininity or womanhood. But waistbeads are a bridge between the wearer and that Divine Feminine, and I'm thankful for that grace. Wear them however you want. I'll worry about how I wear mine.
I notice that a portion of your sales on Keffigal goes to benefit "The Backroom Collective," who you are also supporting with a new Patreon page! What can you tell us about that project?
The Backroom Collective started out in 2006 as a password protected area of my blog, where I and select few friends and women allies could post and comment and discuss private stuff that affected women, and certainly my life at the time. I was pregnant and facing single motherhood and had just escaped an abusive relationship. That eventually grew into a secret Facebook group that gave a safe space for women with similar perspectives across my Facebook timeline to discuss similar topics and share content related to these issues.
My life has been a testament to not just the power of sisterhood, but the chaos that happens to women and children made vulnerable by sexual violence and domestic abuse. The Backroom Collective is a sisterhood I've been building around these issues. It's a support network for women who are affected by these and creating an opportunity for all of us to be able to crowdfund each other's recovery, small businesses, organisations, projects.
The Patreon Campaign is designed around building a platform to support that objective and help grow it into a significant resource for its membership.
I put my money where my mouth is, so a portion of my total income is going into the pot. The Backroom Collective as a private group is an attempt to centralise and make it possible for us to have a platform away from Facebook and it's biased anti-woman policies. As many activists for these causes can attest, we're regularly banned and shut out of our platforms for speaking out against social injustices and rabid anti-female, racist and rape culture rhetoric and threats, cyberbullying and stalking. I'm a veteran 23-year web developer, so I'm building that platform.
What started out as a safe place for me to express myself, and receive and provide support for and from my readers, I want to make into an online safe space for women, and ultimately bricks and mortar safe places for women.
Anything else to share with the readers today?
Everyone is invited to visit my sites keffigal.com and thegoddessroom.com, and to sign up for email notifications so you can keep in touch with what I am getting up to!
Get updates from Pixie's Pocket: brewing and herbs in your inbox:
Hi! I'm Amber Pixie, and this is my site. Enjoy the recipes, information, posts, and please feel free to message me if you have questions!
Sorry, we couldn't find any posts. Please try a different search.