Canning & Preserving, Herbal Recipes, Herbalism, Recipe Box, Sweet Stuff Recipes
Dandelion Flower Infusion and Syrup
Dandelions are wonderful medicine and a delight to drink. Make an infusion from dandelion flowers and give it a try, or turn it into a tasty simple syrup for herby cocktails and desserts.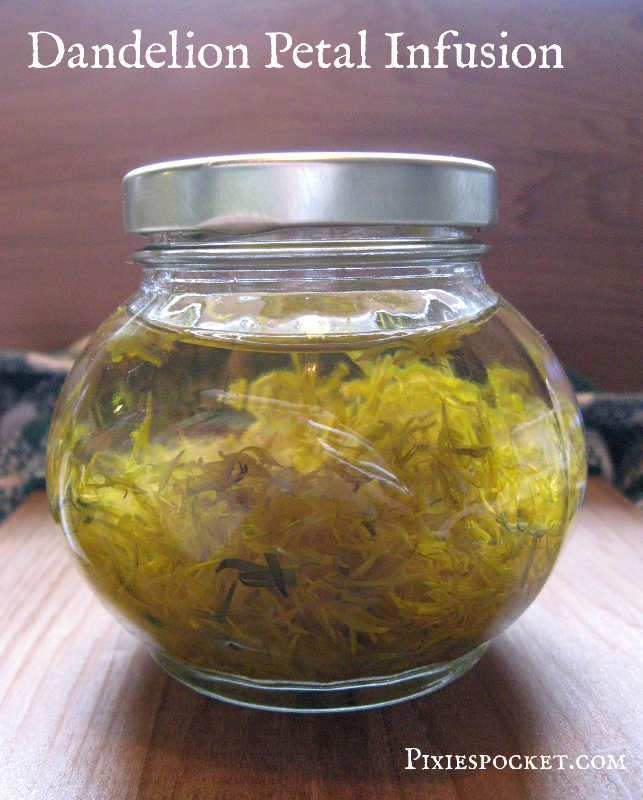 There are only a few dandelions in my yard this year, which is the opposite of a problem as far as most people are concerned! NOT ME. I want dandelions; root, leaf, and flower! There are so many wonderful ways to use this humble flower in applications both culinary and medicinal.
Since I only have a handful of flowers this spring, I will not pick them all to use. The bees need them, and I can't bear to take all of their flowers away! My general foraging rule is to harvest one flower out of every three I see. When things are scarce like this season, that means that at the end of a foraging stroll, I might only have a whopping TEN flowers. *sigh*
Ten flowers aren't enough to bother heating the oil to make dandelion fritters…so what can I do with ten flowers? Time to make a lovely tea! There's not enough to make mead or wine, either!
Dandelion flowers are nutritious and delicious! High in vitamins, rich in calcium, good for the liver and urinary tract, the benefits of dandelion are many. The roots are where the big magic is, but even the leaves and sweet-scented flowers carry healthful benefits.
Ten flowers were just enough to make a cup of tea, and then turn that tea into a sweet syrup.
Dandelion Infusion Recipe
Gather 10-20 dandelion flowers
Cut off the green bits and put the petals into a jar (I used a jar that holds 1 cup for ease).
Pour boiling water over the petals, filling the jar
Put a lid on the jar and let it sit for at least an hour. I let mine rest overnight.
That's that! You can strain and drink it as is, or if you prefer, you can turn it into a syrup for cocktails, pancakes, or sweeten anything else that strikes your fancy.
---
Dandelion Syrup Recipe
Strain the dandelion tea into a pot. Add equal the measure of sugar to the liquid in a pot. (ex.: 1 cup liquid, 1 cup sugar)
Bring it all to boil and let it boil for one whole minute.
Turn to a low simmer until the liquid is reduced a bit and starting to thicken.
Remove from heat, allow to cool, pour into a glass bottle
Label and store in the fridge.
Enjoy and Eat Your Weeds!
Get updates from Pixie's Pocket: brewing and herbs in your inbox:
Hi! I'm Amber Pixie, and this is my site. Enjoy the recipes, information, posts, and please feel free to message me if you have questions!