Blog, Booze Recipes, Fermentation Recipes, Herbal Recipes, Homebrew Recipes, Recipe Box
Wild Fermented Dandelion Wine
It is a beautiful spring, but I'm singing the blues. I'm down to my last bottle of dandelion wine from last year, and now I have to make more! It will be months before I can drink more of this delicious nectar.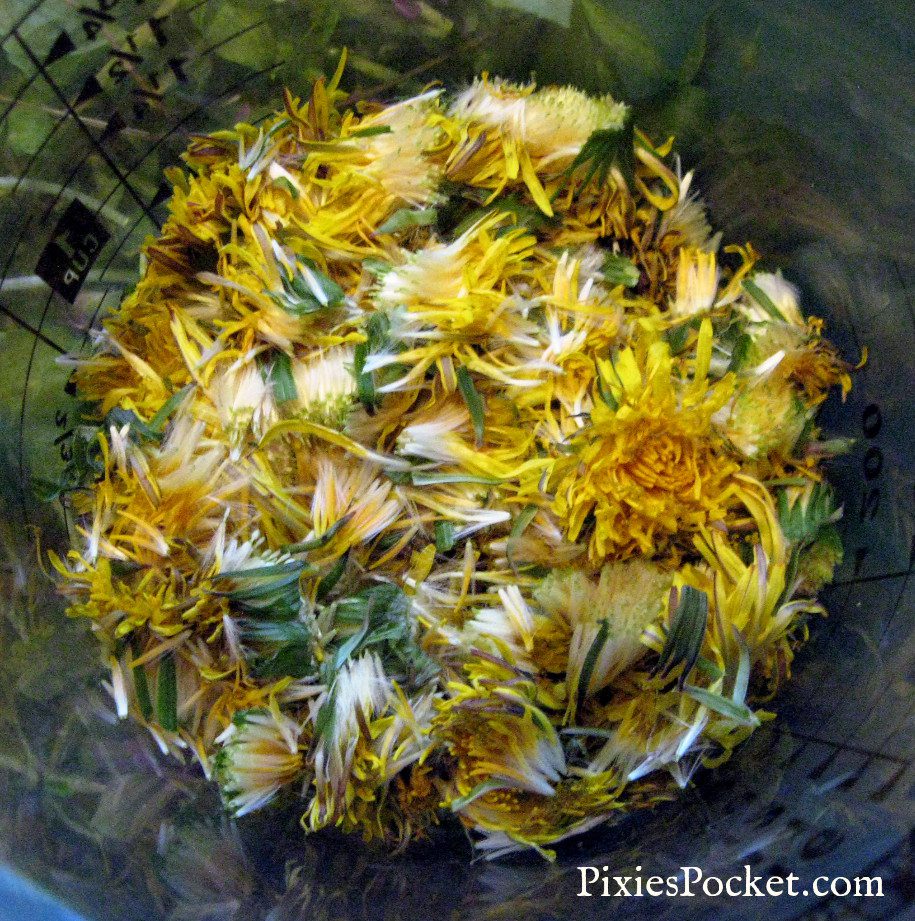 Oh, well. It's best to make the most out of it and get a new batch going. There's no sense in whining when there are flowers to be picked!
Here's my dandelion wine go-to recipe, with a different twist than my usual wine and mead posts: I don't add yeast to this recipe. Instead, I allow the wild yeasts in the flowers and ginger root to come out and do the work.
This recipe and procedure assume that you have the basic equipment and knowledge for how to brew a gallon of wine or mead. Need help? I have a few great reference books on brewing listed here.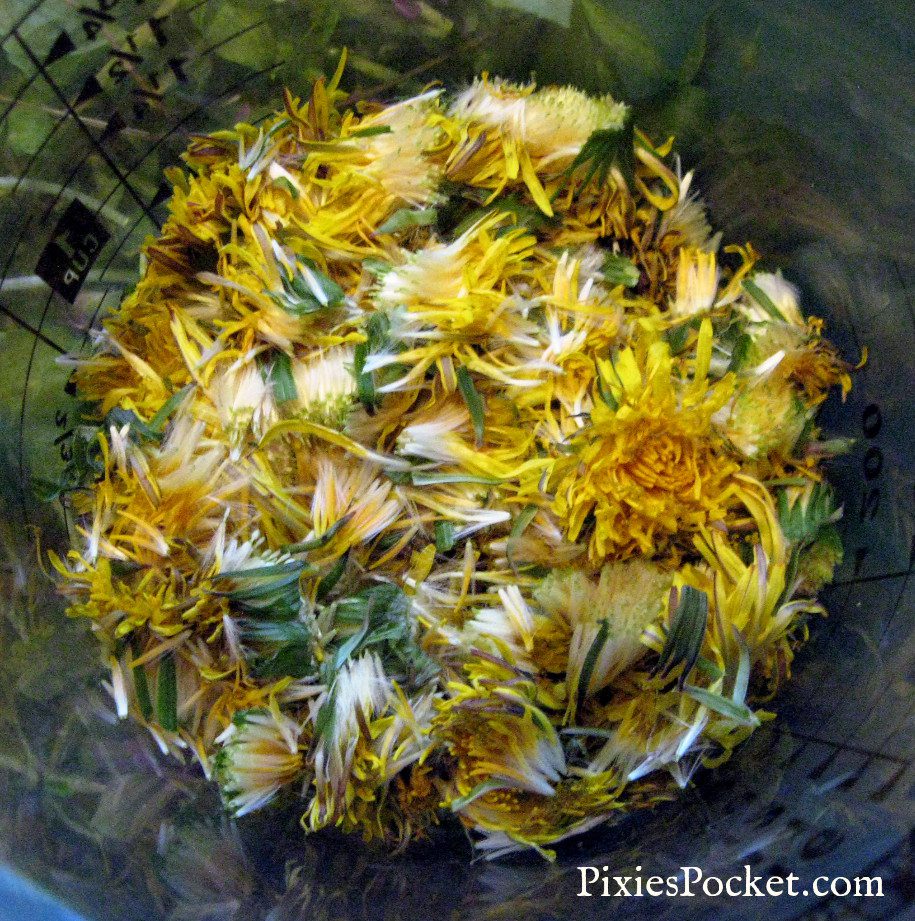 One gallon of wild fermented dandelion ginger wine:
Ingredients:
1 gallon of good, clean water
1-2 cups of dandelion petals (cut them from their green base and pick out as many of the green parts as you can stand, as pictured)
2-3 cups of sugar, or 3-4 cups of honey if you want to make this a mead
1 inch of minced ginger, unpeeled
1 handful of raisins (or other dried fruit, or a squirt of lemon juice) – this helps feeds the yeast.
Optional: I added a few violets but you can use whatever edible plants you'd like to include!
How to make wild-fermented wine:
1. Boil 3/4 gallon of water, and let it cool.
2. Pour the dandelion petals into a sanitized container. You can use a crock, or a brewing bucket, or anything that will hold a gallon of water and leave you a bit of space at the top.
3. Dice the ginger, leaving skins on, and throw them into the crock, too.
4. Pour 2-3 cups of sugar into the crock. Use 3-4 cups of honey if you want to make this a mead.
5. Add the hot water from step 1, but make sure it is around body temperature before you add it in. Stir the mixture well to blend everything, and cover the crock with a clean towel to keep out the bugs but allow the mixture to breathe.
6. Let the crock sit in a warmish, out of the way place on your counter. Check it daily and give it a stir with a clean spoon. You'll know fermentation is active from the bubbling, fizzing sounds coming from the crock, bubbles rising to the surface of the liquid, and the smell of fermenting booze beginning to appear. (You can see a video of a happy fermenting beer here, for reference!) If there is no sign of fermentation after the first 24 hours, it needs help. Add a tiny pinch of bread yeast or brewing yeast to help get things going.
7. After three days, sanitize a one-gallon carboy (or brewing bucket), airlock, bung, strainer, and a funnel. Strain the brew from the crock into the carboy and top it off with clean water to the top. Set the airlock in place and let the wine work on its own until the bubbling stops. Mine was bubbling aggressively after the first day in the carboy, but it settled down in a few days.
8. When the bubbles stop and the liquid is clear, it is time to bottle! My last batch took two months to get to a safe bottling point.
This golden brew already tasted great at bottling time, and it only became more and more delicious as it aged throughout the year.
Enjoy your dandy drink!
Want to know more about brewing wild wines? Check out this great article from Herbal Academy of New England!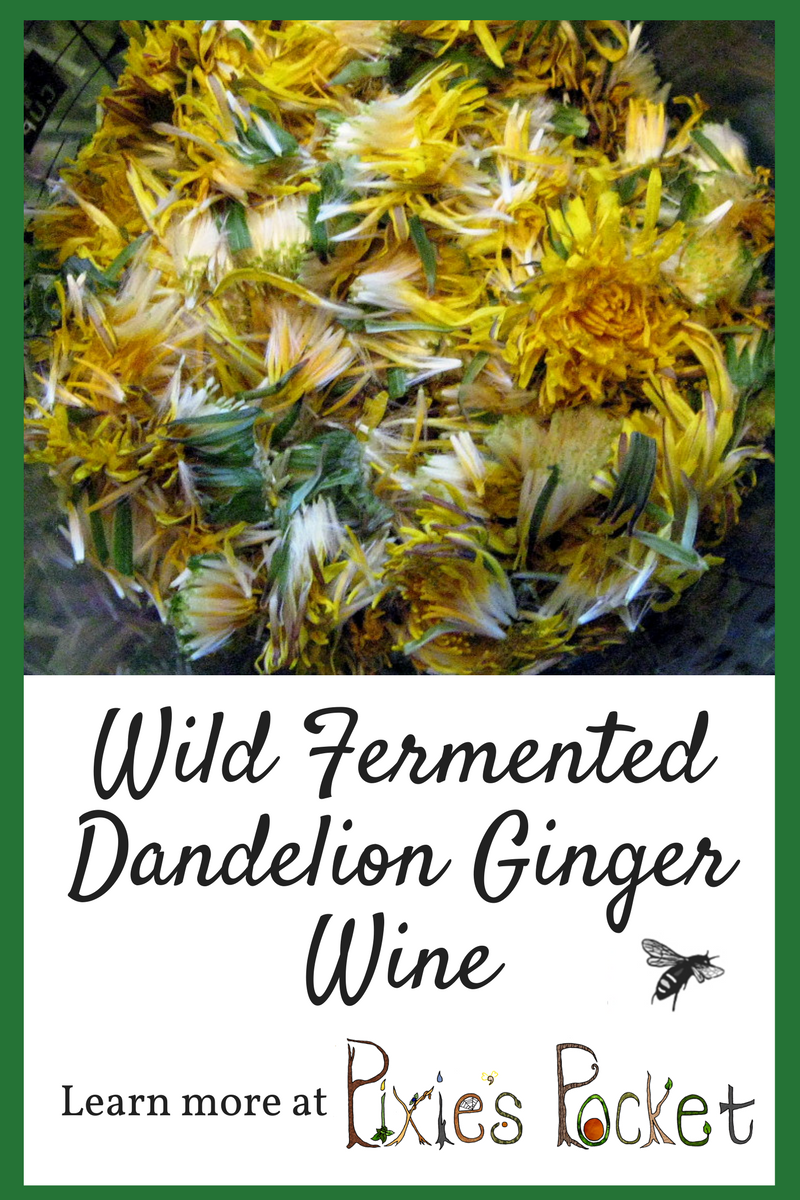 Get updates from Pixie's Pocket: brewing and herbs in your inbox:
Hi! I'm Amber Pixie, and this is my site. Enjoy the recipes, information, posts, and please feel free to message me if you have questions!