Asheville, Blog, Homebrew Recipes, Recipe Box
How to make Spent Grain Dog Treats
Spent grain dog treats are amazing! Spent grain dog treats are hearty, healthy snacks for your puppy friends that are made from the leftover grains from brewing a batch of beer. How good are they? Just ask this adorable beggar, Sandy (and watch out for the puddles of drool): I live in a town that won the title…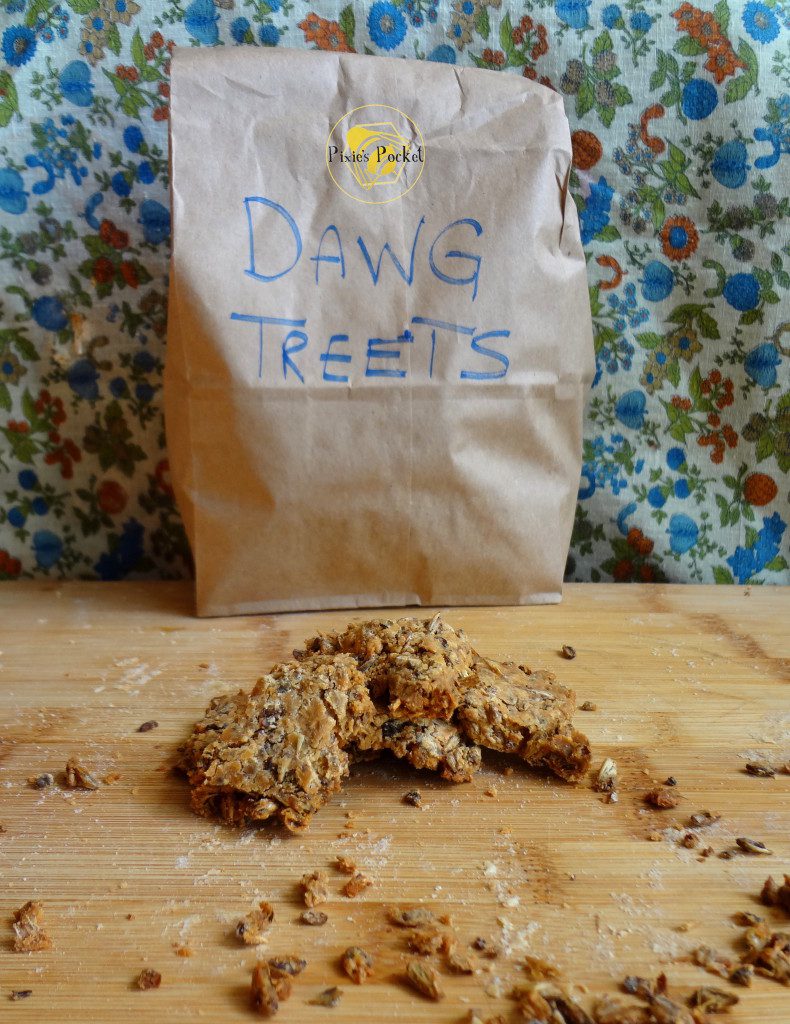 Spent grain dog treats are amazing!
Spent grain dog treats are hearty, healthy snacks for your puppy friends that are made from the leftover grains from brewing a batch of beer.
How good are they? Just ask this adorable beggar, Sandy (and watch out for the puddles of drool):
I live in a town that won the title of "Beer City USA" a few years in a row. Asheville, North Carolina is so besotted with beer that you can barely walk downtown without spotting a brewery on every block. I didn't even like beer before I moved here, and now I'm brewing my own at home and frequenting my local favorite pubs with the best of the beer drinkers!
One side effect of brewing is "spent grain." Spent grain is the leftover grains and husks from the boiling of beer mash. Our local breweries offer their spent grain to farmers for their cattle or pigs, or for customers who can make use of it. Many folks add spent grain to their compost or make bread or other foods from it.
I discovered spent grain dog treats when we visited one of my favorite downtown spots, Asheville Pizza and Brewing Company. My love and I laughed as we watched our dog Sandy lose her mind over a free spent grain dog treat that the brewery makes for their canine customers, and that was that. I knew then that I would make treats for her the next time I brewed. It was the only obvious solution to Sandy's new obsession with anyone wearing a waitstaff apron.
DIY Spent Grain Dog Treats
I started with the recipe offered by the Deschutes Brewery, and modified it to suit the ingredients that I had on hand.
Ingredients:
2 C spent grain (about what you get from a one-gallon brewing kit)
1 C flour
1 large eggs
1/2 C peanut butter (natural peanut butter is better, as regular brands have a ton of sugar in them!)
Directions:
Preheat your oven to 350 degrees.
Grab a large bowl and throw all of the ingredients into it. Mush it all together with your hands – this is a GREAT job for kids if you have any spare ones around.
Roll out the dough once it is all blended and cut out your treat! Use a cookie cutter if you like, or just cut the dough into small squares.
Put the treats on a cookie sheet and put them in the oven for 30 minutes. Reduce the temperature to 225 and let them stay in there for an hour or two more to make them last longer.
Once done and cooled, I split the cookies into a few plastic baggies and popped all but one in the freezer. They'll stay fresh in there for a good, long time!
Notes:
Get updates from Pixie's Pocket: brewing and herbs in your inbox:
Hi! I'm Amber Pixie, and this is my site. Enjoy the recipes, information, posts, and please feel free to message me if you have questions!