"Let's Talk About" Series, Blog, Herbal Recipes, Natural Beauty
Let's Talk About: The No-Shampoo Method
Every now and then, my sensitive skin gets the better of me, and I can't use scented soaps or store-bought shampoos without breaking out all over.  When my scalp feels this way, I revert back to my no-shampoo hair-washing method for a month or so. I started toying with using no-shampoo hair-washing methods years ago,…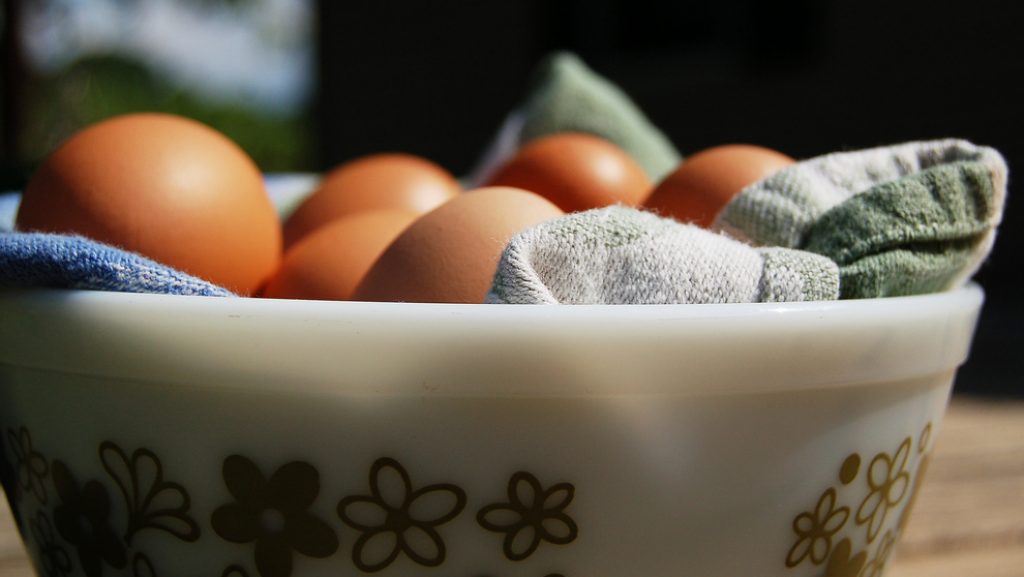 Every now and then, my sensitive skin gets the better of me, and I can't use scented soaps or store-bought shampoos without breaking out all over.  When my scalp feels this way, I revert back to my no-shampoo hair-washing method for a month or so.
I started toying with using no-shampoo hair-washing methods years ago, and have worked out the best routine for my hair and scalp. Here's the basic procedure, and then a review of the experience!
In Advance of Showertime:
If you wish to condition your hair with an herbal rinse, make your infusion in advance by putting your choice of herb in a jar and pouring boiling water over it, capping it, and letting it sit for at least an hour or two. Overnight is best! If you aren't sure what to use, here's a couple of examples:
Rosemary – a good rinse for dark and curly hair, but strong! It can dry your hair. Use lightly, and rinse with plain water after applying.
Lavender – good for any hair, could be drying to thin or fair hair.
Chamomile – smells so good, and along with a touch of lemon juice, it helps blonde hair develop strong highlights.
Beat up an egg in a dish, or jar, or cup; anything you want as long as you won't lose hold of it in the shower! Add just a smidge (less than 1/8 tsp) of baking soda to the egg and whip it until it is nice and light and frothy.
Set the frothed egg mixture, your strained herbal rinse from step one, and a bottle of apple cider vinegar outside your shower, but within reach.
Light a candle in your bathroom or do whatever you like to do to pamper yourself. You aren't just washing your hair…you are cleansing your head! Use it as a chance to really relax and enjoy the steps. I turn the ringer on my phone off, set up a good playlist of music, and then…
[content-egg module=Amazon template=grid]
Showertime!
Bathe yourself as usual. The hair washing will be the last step of your shower.
When you are ready to wash your hair, turn the water temperature down cooler, then cooler, then a little cooler…basically, you don't want a head full of scrambled egg, do you? Then you'd better turn it down a little more…plus, cold water is good for tightening your skin and cooling the inflammation from that hot shower!
The last step of the egg-shampoo making process is to splash just a bit of that apple cider vinegar into the egg mixture – just a bit! A bloop! A splut! I don't know how else to measure it…sorry!
Remember the old "exploding volcano" science project? Yeah. The egg-shampoo will foam! Give it a good swirl, rinse your head once more in the cold water, and start to dribble the shampoo onto your head. Odds are, it will be cold, and you'll wrinkle your nose and screech like me! It's also awfully offsetting to pour egg onto your own head on purpose. But enjoy the experience! It is really fun!
Alternately pour and dribble, working it into your scalp and through your hair with your fingertips. Don't use your nails…use your fingertips and give yourself an eggy scalp massage for a minute!
Rinsing is easy for me because I have a removable shower head and can get a good strong water blast on my head! I hope the water was cold enough, or you might have little half-boiled eggy bits when you get out. If you do, they can be picked out…merely an inconvenience. The cold water is good for your pores, anyways. Repeat that as a mantra while you spray your head to get out all of the egg shampoo.
Here's where that herbal rinse comes in. Lean your head back and pour the yummy herbal tea over your head and hair. The fragrance of the infusion should take out the last of the egg-shampoo smell if there is any left. I tend to rinse once more with cold water and then I'm done!
I know. It sounds like a lot to do. And honestly, when you are used to squirting this opalescent, flower-smelling goo out of a bottle as your only step, it IS a lot to do. But I went from having to wash my hair daily to only needing to wash once or twice a week, I have less dandruff, and overall, feel more pampered because of all the attention I was giving myself.  Pair this with a honey facial, and you will end up feeling decadent and nourished!
Want to give it a try sometime? I can't guarantee that what works for me will work for you – my hair is curly and wavy and tends towards dry and frizzy. I can't brush it, only comb and fingerpick through the curls. If your hair is more oily or fair and thin, my method might cause more harm than good! It has taken me two decades to learn how to work with my hair.
To be honest, most days I use the plastic bottles of normal shampoo that most people use (though I refill them from the bulk section to save on waste). Now that we don't have chickens, the cost of eggs is a factor, and the amount of time it takes to prepare for the routine can be overwhelming with a full-time job.
In the meantime, give it a try! Tell me what you think! Do you have a similar routine or beauty tip?
Get updates from Pixie's Pocket: brewing and herbs in your inbox:
Hi! I'm Amber Pixie, and this is my site. Enjoy the recipes, information, posts, and please feel free to message me if you have questions!