Blog, Booze Recipes, Herbal Recipes, Herbalism, Recipe Box, Sweet Stuff Recipes
Recipe Box: Damiana Love Cordial
I love to make cordials, elixirs, and tinctures! I've made rambling videos about cordial making and written up a few different guides, as well. One of my most popular cordials is my Damiana Love Cordial. For many years now, I've brought bottles of delicious, heady Damiana booze to festivals and gatherings to share with loved…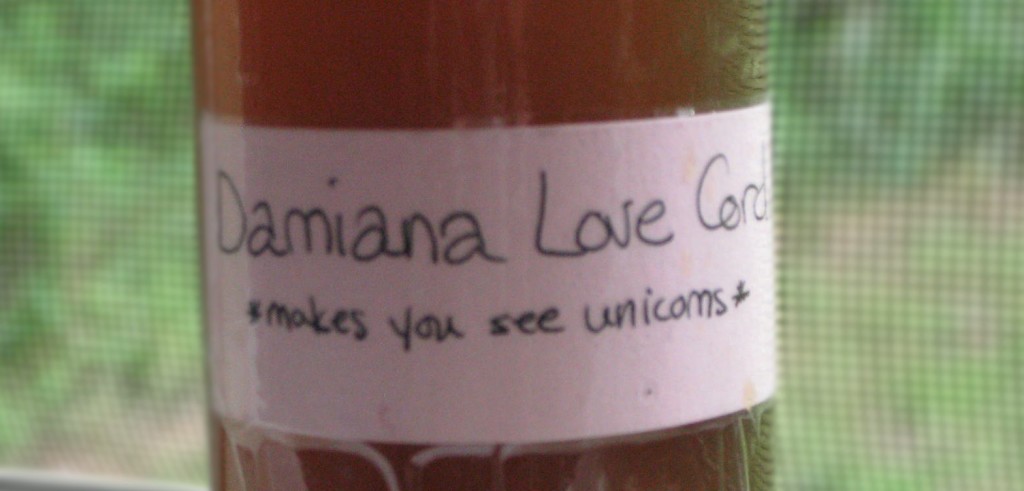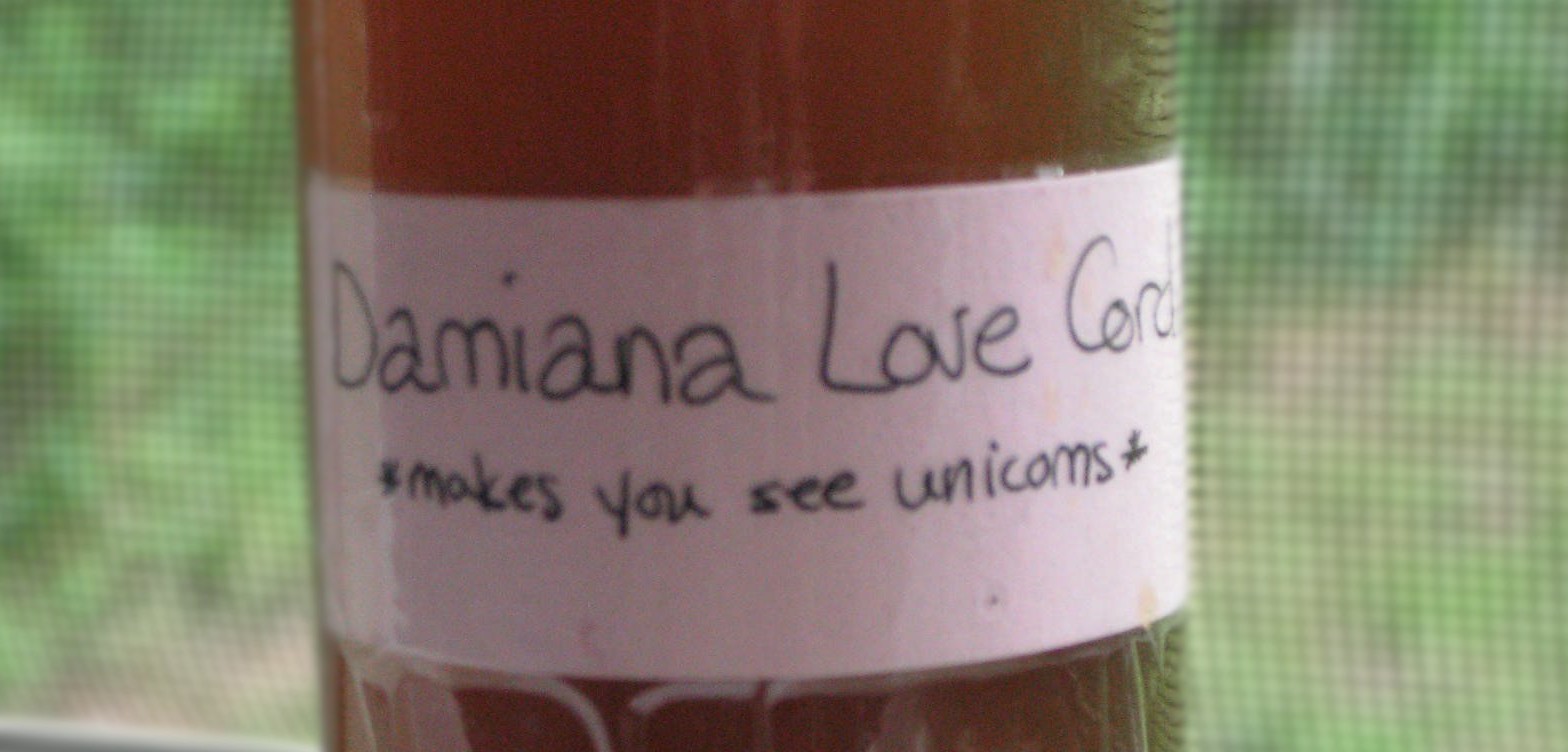 I love to make cordials, elixirs, and tinctures! I've made rambling videos about cordial making and written up a few different guides, as well.
One of my most popular cordials is my Damiana Love Cordial. For many years now, I've brought bottles of delicious, heady Damiana booze to festivals and gatherings to share with loved ones. A sip is usually accompanied by a naughty giggle, and sometimes even a nice little dancing wiggle!
Damiana is a flowering herb from the southwest of the United States and down through Mexico. It is an aphrodisiac herb that is potent in smell and flavor. It has a unique flavor that is rather woody, almost like a cedar or sandalwood. I am quite fond of damiana in both flavor and effect.  I've already rhapsodized about her beauty on this blog if you'd like to take a look!
---
Damiana Love Cordial Recipe
1. Play some sexy music and set the mood. (optional, but encouraged! Dancing helps, too)
2. Fill your jar of choice half-full with damiana.
3. Add any other herbs that make you feel tingly, happy, and naughty. I like mixing up the recipe with rose petals, vanilla bean, honeysuckle flowers, horny goat weed, muira pauma, or any other aphrodisiac herbs. (more aphrodisiac herbs listed here!)
4. Add booze!  In this case, I used a good quality, clean-flavored vodka.  Gin, white rum, or brandy are good options to use – your preferred alcohol is up to you. Fill the jar up to the top!
5. Close the jar, give it a few good shakes to mix it all together, and label the jar with your ingredients and the date. Put the jar into a dark cabinet. Shake it occasionally, if you think of it.
6. Six weeks later, strain the mixture through a clean cloth or cheesecloth and squeeze all of the liquid out of the herbs. Add the herbs to your compost.
7. Make a sugar syrup or honey syrup to sweeten the mixture to your preferred taste.  The cordial in the picture above was sweetened with honey, hence the near opaque quality of the delicious nectar!
This cordial will keep for a good long time, and only gets better with age. I must admit that I've not been able to keep a bottle around for more than a year because it gets used up!
Enjoy it with a lovely person and have a spectacular time of it, won't you?
Get updates from Pixie's Pocket: brewing and herbs in your inbox:
Hi! I'm Amber Pixie, and this is my site. Enjoy the recipes, information, posts, and please feel free to message me if you have questions!