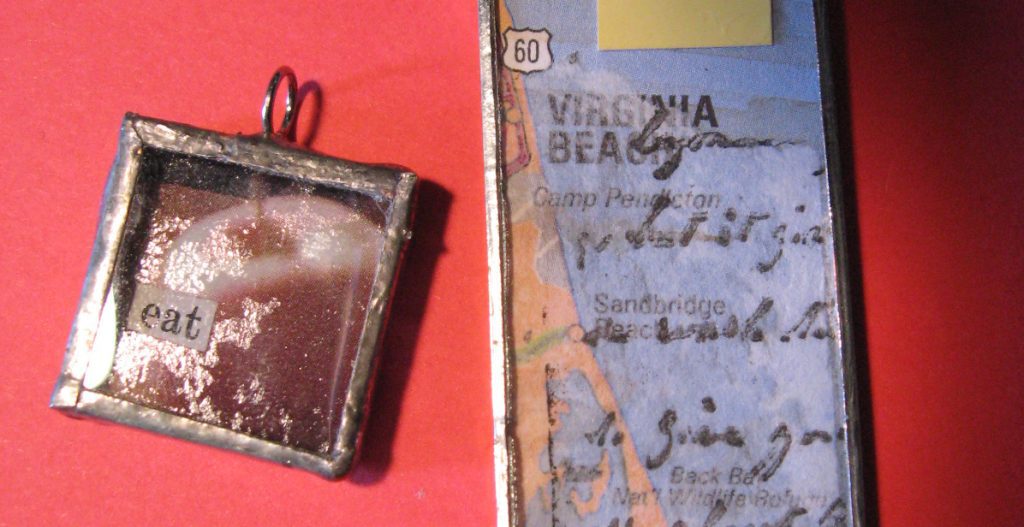 I am one lucky lady!
I received a package in the mail from a dear friend who I haven't seen in *mumblemumble* years…and a thrill of excitement flickered through me!
Kara became a buddy of mine during my very short stint in college.  She was the first person who I allowed to be my friend, the first person I could stop being afraid enough to talk to besides my roommate. Part of it was her colorful Doc Martins.  Part of it was her Navy blue pea coat. And part of it was her complimenting my magazine cut-out of David Bowie in my orientation notebook as we sat cross-legged on the Quad, listening to helpful Seniors babbling about the history of the school.
We shared Play Analysis, and later, a Bitter Actress Tea Party.  We shared tea and music, and it was in her room that I first discovered the world of Sandman and Neil Gaiman and Johnny the Homicidal Maniac.  She giggles like a Muppet, and is adorable beyond compare! She is a crow and a foxy lady. She is also a magnificent artist!
Every gift I've ever received from Kara is a treasure that I still hold dear:  the handmade luck stone with a raven and a rune, the Yule card stamped with her engraved art, and the crayon drawing of a fairy in a rainbow river she passed me in Play Analysis on my birthday.
And now, years later, here before me was a gift from my sweet and wonderful friend.
Inside of this box was…..MORE BOXES. How awesome is that?  It makes the pleasure of opening gifts even more pleasurable.  I removed a small, green treasure chest, and a yarn-wrapped cardboard jewelry box, and an OOAK art card.  Each box contained one of her lovely handmade necklaces, beautiful collage charms that she sells on her Etsy shop, No Rabbits Here. (Now defunct – find her work at Karapaints.com)
The "Eat" apple charm made me squee for it is tiny and reminds me of the Snow White fairy tale. It makes me think of apple magic, of the star at the center of the apple when you cut it just right…of the health and earthiness of this luscious fruit. It makes me think of my time of year, the harvests of August and the early sweet apples that can be plucked from the trees and enjoyed immediately!
The "Virginia Beach" charm astounds me for it contains not only a portion of a map from the area that I was born but also the smallest half-doily that I have ever seen. Her collage work is fabulous, subtle, and overall quite impressive!
If you want to learn more about Kara, she blogs about her art over at Kara Paints.
Thank you, Kara!
Hi! I'm Amber Pixie, and this is my site. Enjoy the recipes, information, posts, and please feel free to message me if you have questions!