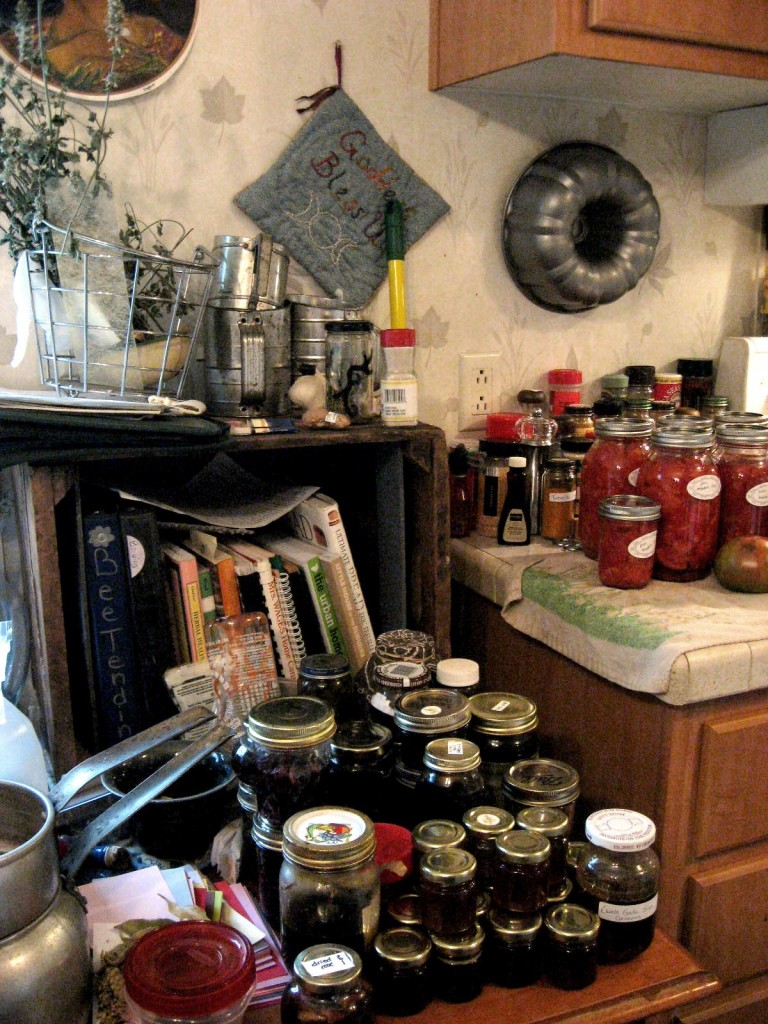 Phew…it is hard to find time to write when I'm so busy chopping, boiling, cooking, and eating really yummy food.
To start with, I found cherries at a really good price at the grocery store, and I got about 3 pounds.  So far, I now have:
Cherry Jam: For this, I used the recipe in the pectin box.  Next time, I'm going to try Pomona pectin, or some other method with less sugar.  I ended up with four 8oz jars, and six 4oz jars of nice, firm jam!
Dried Cherries: Dried in my dehydrator. Yum!
Brandied cherries:   Rough chopped, pitted cherries submerged in brandy, and stored in a crock in the fridge.
Cherry Cordial:  Cherries and their pits put in a jar, covered with vodka, to be strained in a few weeks and sweetened as needed.
Cherry Stone Cordial: Cherry pits covered in vodka, to be strained in a few weeks and sweetened as needed.
Also working in their jars are new batches of tinctures and cordials, which will be strained and ready in a few weeks:
Mint tincture
Earl Grey cordial
Damiana cordial
My heirloom tomatoes this year are taking their sweet time to change from green to red.  I knew that I wouldn't likely have enough to can from my few vines, so went looking for fresh 'maters in my town.
It turns out that there is a farm stand down the street from my house who has boxes of big, fat, firm tomatoes ready for canning.  I got somewhere between 12-18 lbs of tomatoes for a mere $5!
After a day or two of work, I ended up with:
2 quarts of cooked, herby tomato sauce
5 quarts and 2 pints of diced tomatoes
A fresh spaghetti sauce for dinner, made with pork sausage and garlic and red wine, which left a few spare pint jars to go into the freezer!
A really spicy barbeque sauce that I can't puree until I get a new blender, put in the freezer until later…
I've got more irons in the fire, too…what are you all preserving, making fresh, or enjoying from your yard, garden, or farm market?
Hi! I'm Amber Pixie, and this is my site. Enjoy the recipes, information, posts, and please feel free to message me if you have questions!