Spices and Condiment Recipes
Garlic Mustard Pesto Recipe – guilt-free foraging
Garlic Mustard (Alliaria petiolata) is on the loose! This late spring and early summertime plant is easy to pull out by the roots, and you should make an effort to do so if you find it in your hedgerow! It is considered an invasive plant across the United States, as it spreads vigorously and crowds…

Garlic Mustard (Alliaria petiolata) is on the loose!
This late spring and early summertime plant is easy to pull out by the roots, and you should make an effort to do so if you find it in your hedgerow! It is considered an invasive plant across the United States, as it spreads vigorously and crowds out the other plants nearby, threatening the biodiversity of an area. But don't let that lovely weed go to waste! It is truly delicious and versatile, and well worth experimenting with in your kitchen. (Ellen Zachos of Backyard Forager has more to share about garlic mustard).
I harvest the whole plant to give the others a fighting chance and it comes back every year. As far as using the plant for culinary purposes, I prefer the flavor of the small leaves and flowers as the biggest leaves tend to lose the sharp, garlicky flavor. Those big leaves can still be tossed into a food processor to fill out a wild greens pesto, but they can also be used for rolling up dolmas or chopping into a salad.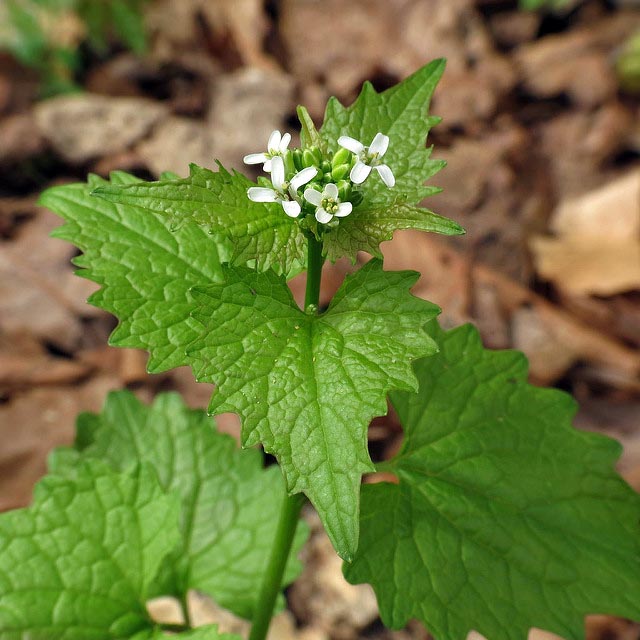 Garlic Mustard Pesto Recipe
Ingredients:
3 cups of garlic mustard leaves, lightly packed into the measuring cup
3 large cloves (not heads!) of garlic
1/4 cup of walnuts (what I had on hand, use whatever nuts or seeds you prefer)
drizzles of olive oil
lemon juice to taste
sea salt to taste
household spice blend (an ever-changing combination of seeds, peppercorns, dried herbs, and other goodies from around my yard)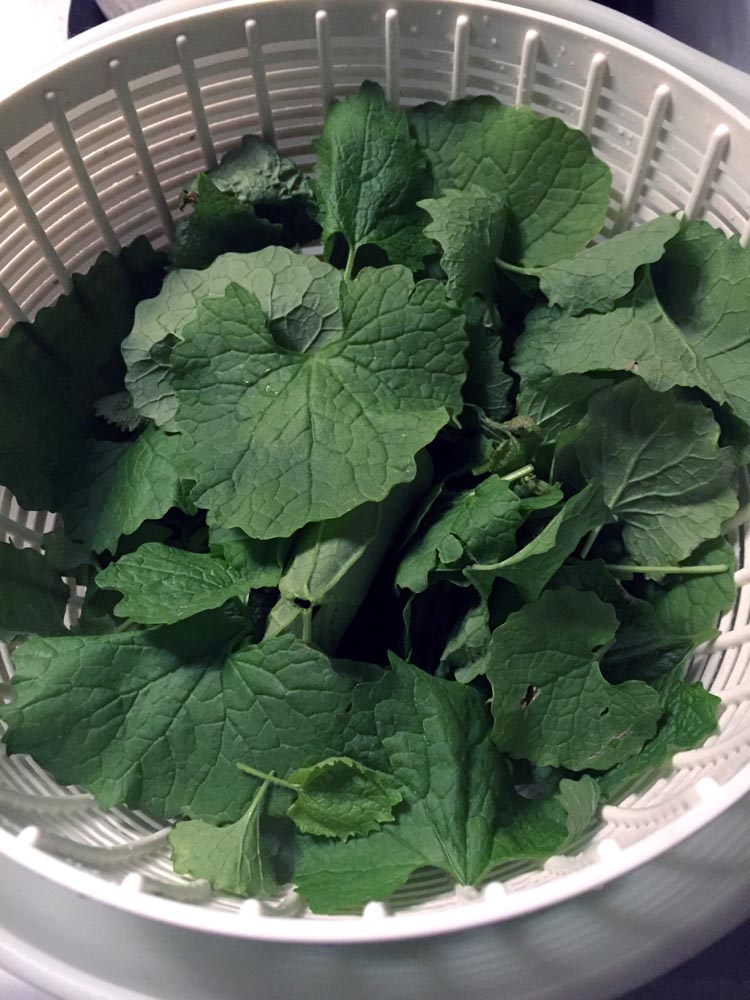 Technique:
Prepare the foraged garlic mustard by stripping the leaves off of the stems. Set aside the largest bottom leaves for dolmas or to toss into your compost bin. Toss the young, tasty leaves and flowers into a bowl. Not sure of how big is too big? Give the leaf a taste! If there's not a garlic-ish, mustard-ish flavor, it's too big.
Wash your greens (I love my salad spinner for this!) and dry them off as best you can. Add them to your food processor (or blender of choice) along with the rest of the ingredients – garlic, walnuts, a drizzle of olive oil and a bit of salt. Give it a whir, taste, and adjust the lemon juice, olive oil, and sea salt until you are happy with the flavor.
I didn't have any good parmesan on hand when I made this batch, so this one is technically vegan and vegetarian. However, it is easy to add a bit of cheese if you do include dairy in your diet.
You can store your pesto in the fridge if you plan to use it within a few days. Otherwise, try freezing the pesto into ice cubes for later use. Just thaw as needed for pasta, dressings, marinades, or more.
I'm about to go make a big batch of garlic pesto egg salad for sandwiches over the next few days. Yum!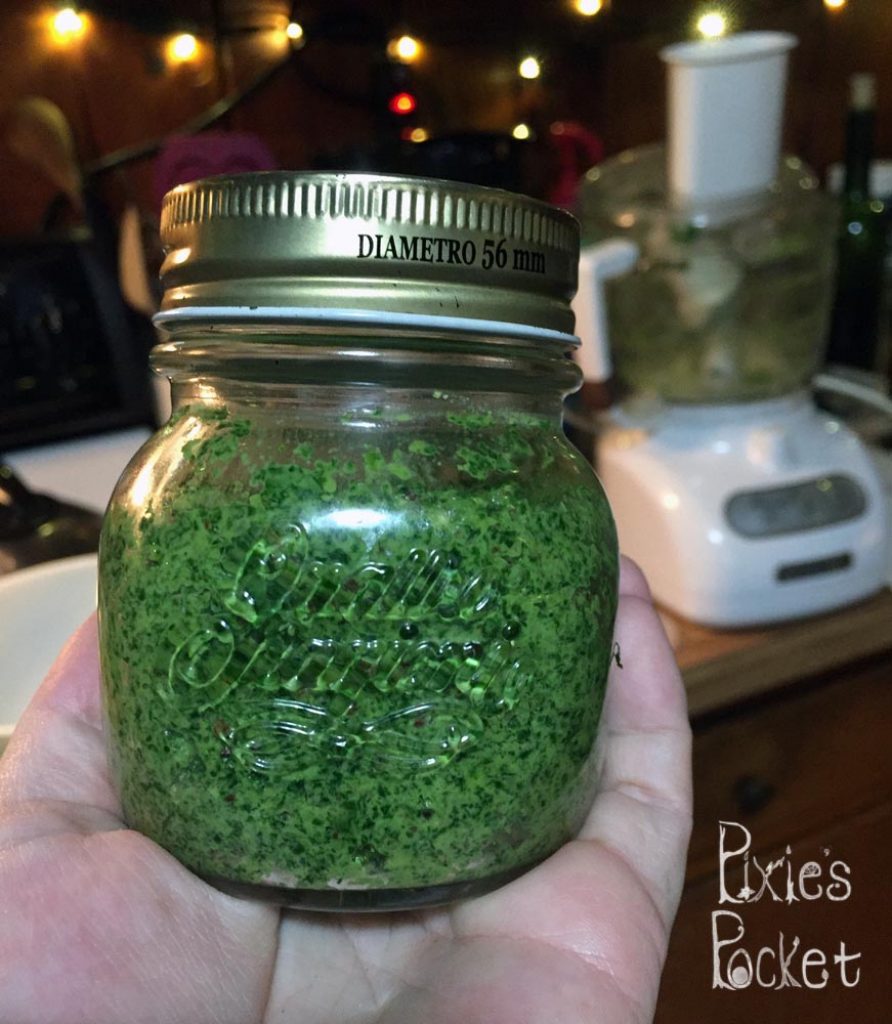 I love these jars! They are from the Art of Aperitivo kit at MasonJars.com – lovely Italian jars, fermenting lids, and much more.
References:
Garlic Mustard: A Gold Mine of Food & Medicine: Chelsea Green Publishing
G3: a savory, garlic Gibson: Backyard Forager
Hi! I'm Amber Pixie, and this is my site. Enjoy the recipes, information, posts, and please feel free to message me if you have questions!