Guest Post, Recipe Box, Sweet Stuff Recipes
Aussie Pavlova: a Gluten & Dairy-Free Recipe
In this guest post, Zara Lewis shares a delicious recipe for a fruity Pavlova that is gluten and dairy free!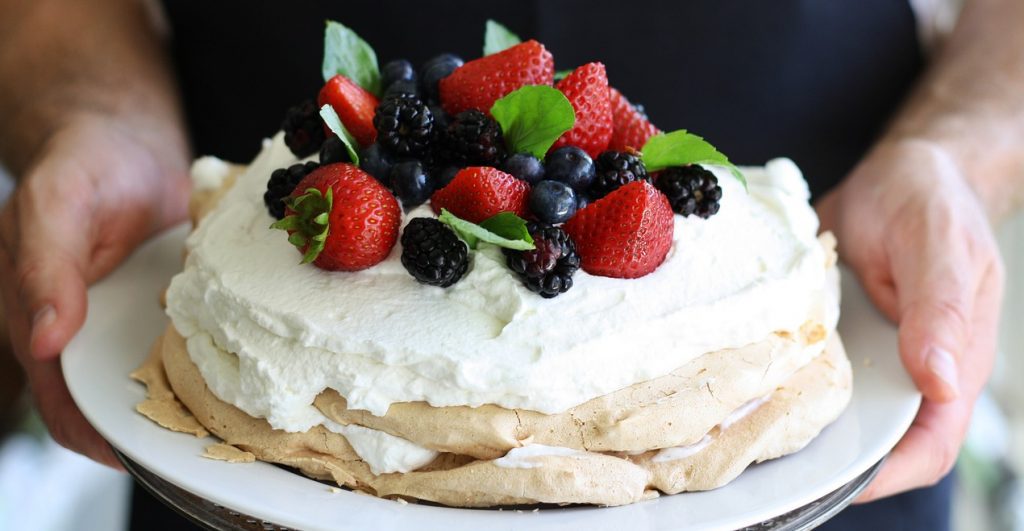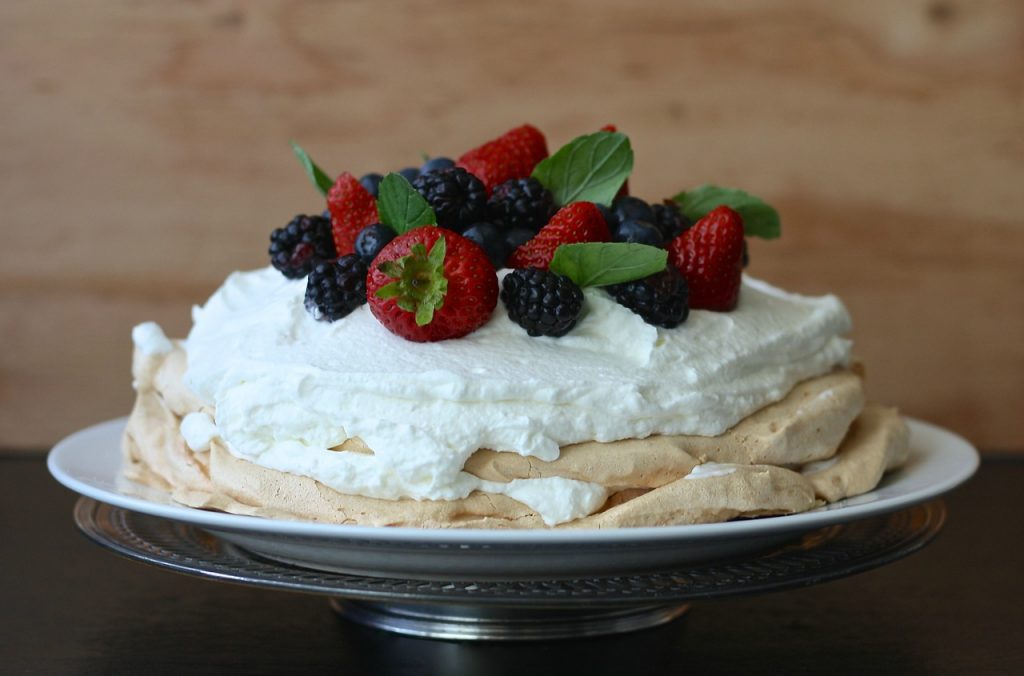 Organizing huge dinners is a pretty big deal in my family. Most of the time I'm just in a crazy rush to get somewhere or do something, and all I can generally think about are bills, chores, and the tall mountain of laundry that never seems to get smaller no matter how often I wash things. Are these big dinners any less stressful? Nope! It's still all a rush, but it's a fun rush. Everyone is home to help, and the kids and I love to snuggle up on the couch and start our morning with cartoons before we get to work. Food is generally the most important bit since we always have a ton of friends and relatives coming over, and there's just no way I could ever make a reasonable amount of food. I'm just not that kind of mom! I prefer to have everyone well-fed, happy, and taking home leftovers to enjoy the next day.
And what's the star of the show? The thing that all the guests keep asking about through the evening? Well, it's my good old, grandma-approved Pavlova! Gluten-free, dairy-free, and entirely guilt-free as well! With my kids being lactose-intolerant and my mother-in-law's celiac disease, I had to get really creative and do my research to make a Pavlova that still had that pillowy, fluffy texture and that scrumptious, creamy taste. After all, it's an Australian tradition to make this dish for the holidays, and there's nothing I love more than traditions that bring the family together. This all sounds good to you? Then let me share the recipe!
Gluten & Dairy Free Aussie Pavlova Recipe
Ingredients:
For the meringue:
1 tbsp of cornflour
1 tbsp of white vinegar
1 cup of caster sugar
3 egg whites
For the filling:
400ml of coconut milk
1 tbsp of icing sugar
For the fruit on top:
400 g of strawberries
200 g of raspberries
100 g of blueberries
1-2 oranges
Any other seasonal fruit you wish to use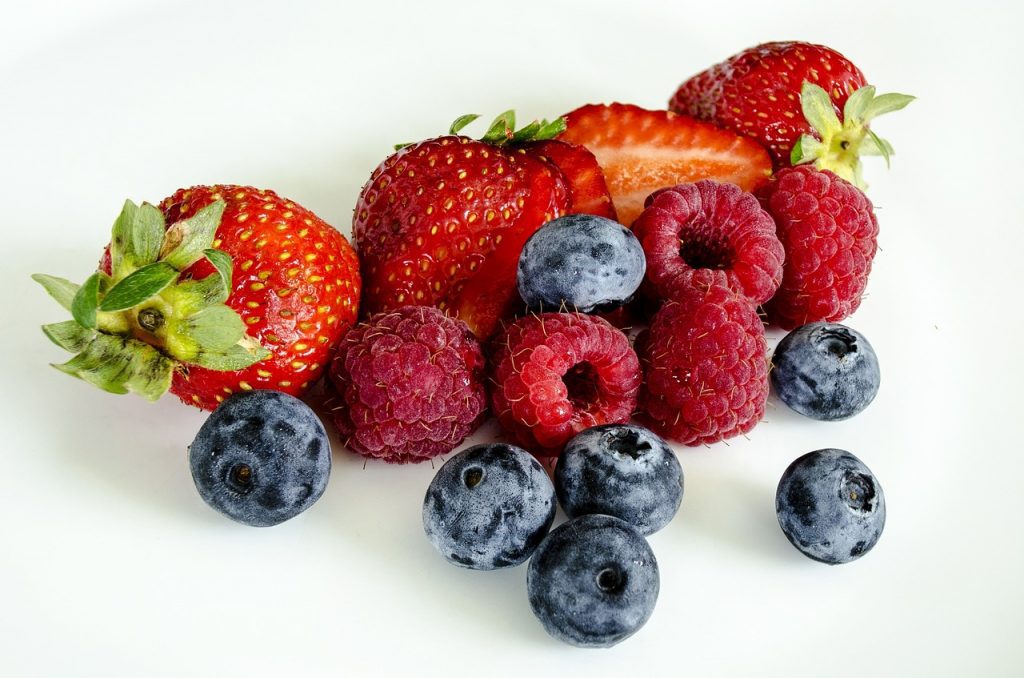 Instructions:
The first step is to make the meringue, so preheat the oven to 260°F. You'll need a good tray, and I recommend that you use something like the non-stick Scanpan dish because Pavlova is a messy dessert that does tend to get stubbornly stuck to the surface if you aren't being careful. Line your tray with grease-proof paper and grab a large bowl. In it, you want to whisk those egg whites until they are stiff, and then start adding sugar bit by bit and keep whisking in between each spoonful. Once you've whisked it all into a very stiff substance, it's time to start folding in cornflour and vinegar very slowly.
Once you're done, it's time to put the meringue in the tray, and you want to make sure to make a nice big dent in the middle where the filling will go. Bake it in the oven for 90 minutes, then leave it to cool while you go make the filling.
Grab the coconut milk from the fridge and pour it into a bowl, and then start adding icing sugar and whipping the mixture as you go along. Pro tip: if you would like to reduce the taste of coconut milk in your Pavlova, you can add some non-dairy yoghurt in there. Whip it all until it's thick and creamy, and then put in the fridge to cool.
Now's the time to prep the fruit. Simply wash it and cut it into bite-sized chunks. Take your meringue (it shouldn't be hotter than room temperature), then spoon in the whipped coconut milk in there, bit by bit. Spread it gently, and then fill your little basket-shaped dessert with delicious, juicy fruit bits. And that's it, you're done! If you wish, you can pour some fruit syrup for the added juiciness, and keep it all in the fridge until you're ready to serve!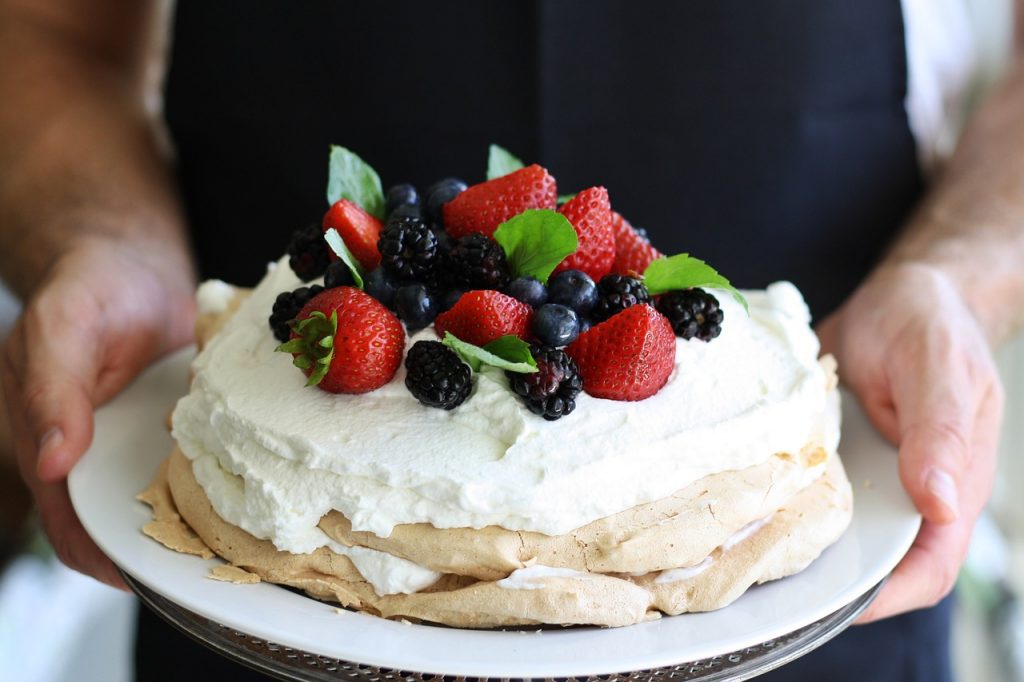 ---
This used to be a holiday-only kind of thing in my family, but since it's so easy to make and such a favorite for my kids and my husband, I now tend to make it every single time I organize a dinner party. It's a light, creamy, and perfectly easy dessert that has just enough sugar to satisfy that sweet tooth. If you are looking for recipes that are gluten-free and dairy-free without tasting terrible, I daresay you've come to the right place! I hope you enjoy this delicious recipe and don't be afraid to modify it and put your own little twists on it. Bon appétit!
Get updates from Pixie's Pocket: brewing and herbs in your inbox:
Zara Lewis is a regular contributor to thewellnessinsider.sg, a traveler and a mother to two. Originally from Chicago, she found her place in the sun in Perth, Australia. Passionate about creating a better world for the generations to come, she enjoys sharing her knowledge, experience (and recipes) with others.