Blog, Herbal Recipes, Herbalism, Recipe Box
Ginger is spicy, soothing, and delicious. It warms the heart and calms the tummy as a hot tea.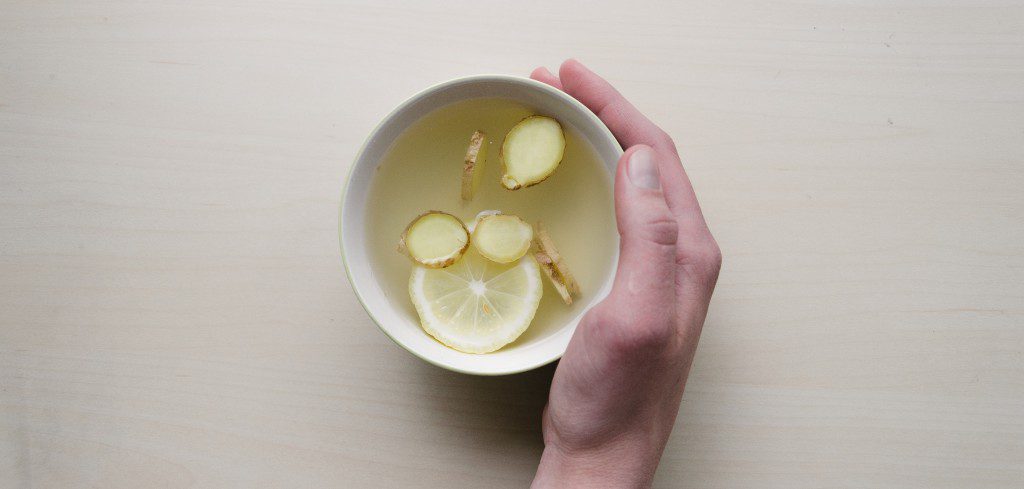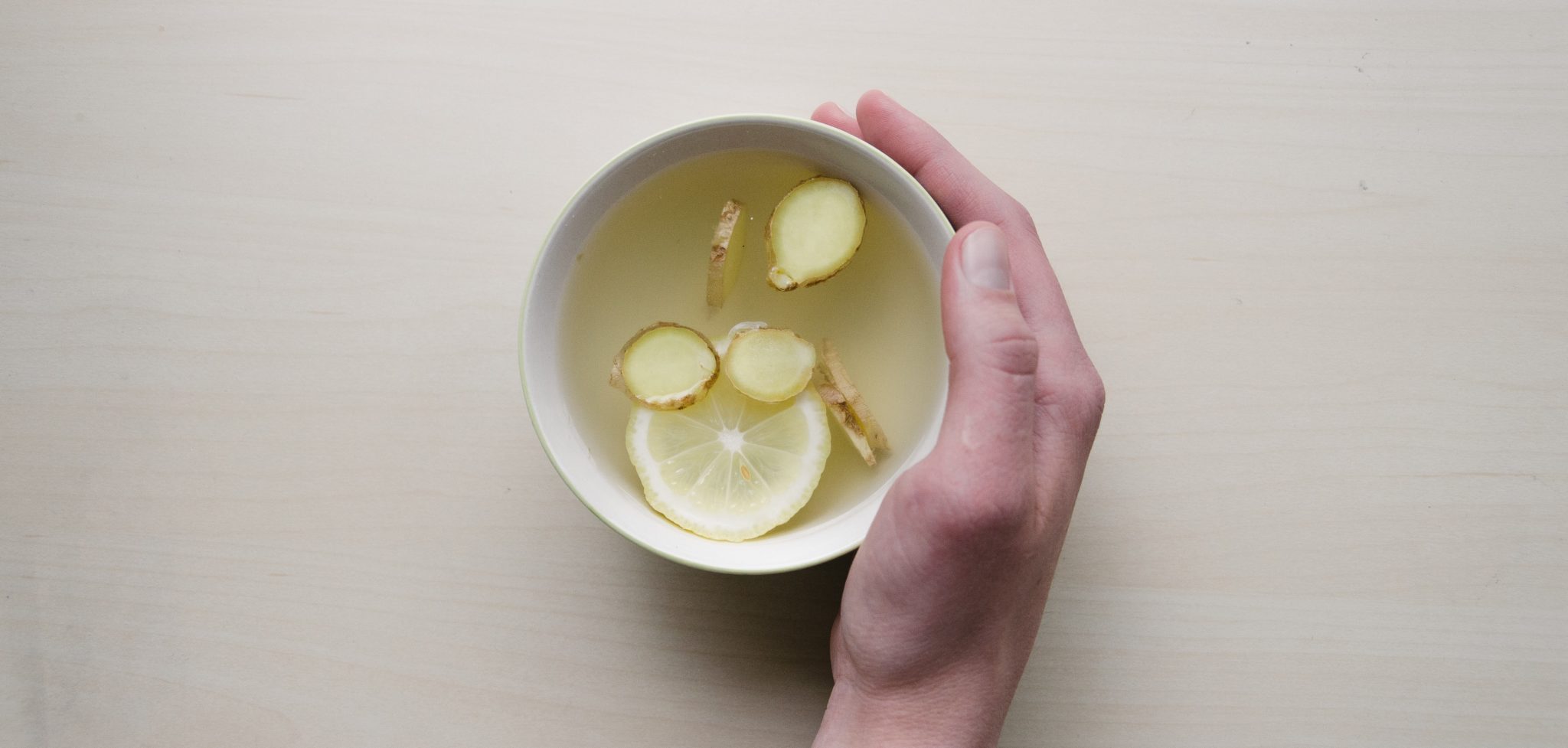 There are a few teas that I make as often as I make Ginger Tea.  From the moment I put the cup to my lips and sip, the spicy glow radiates through my body and infuses me with a sense of well being and warmth. It offers a simple comfort, like a lap blanket, a cuddly cat, and a book on a blustery day.
I've often proclaimed my love of Ginger. I've never had any ginger drink too hot for me, not the red-capped Blenheim Ginger Ale, not Reeds Ginger Ale, nor The Ginger People products…none of them can stand up to my desire for a gingery burn!  It's no wonder that I can't get enough: the herb is useful and pleasant, both. It is an effective anti-inflammatory as well as a great way to ease a cold, cough, or an upset tummy.
---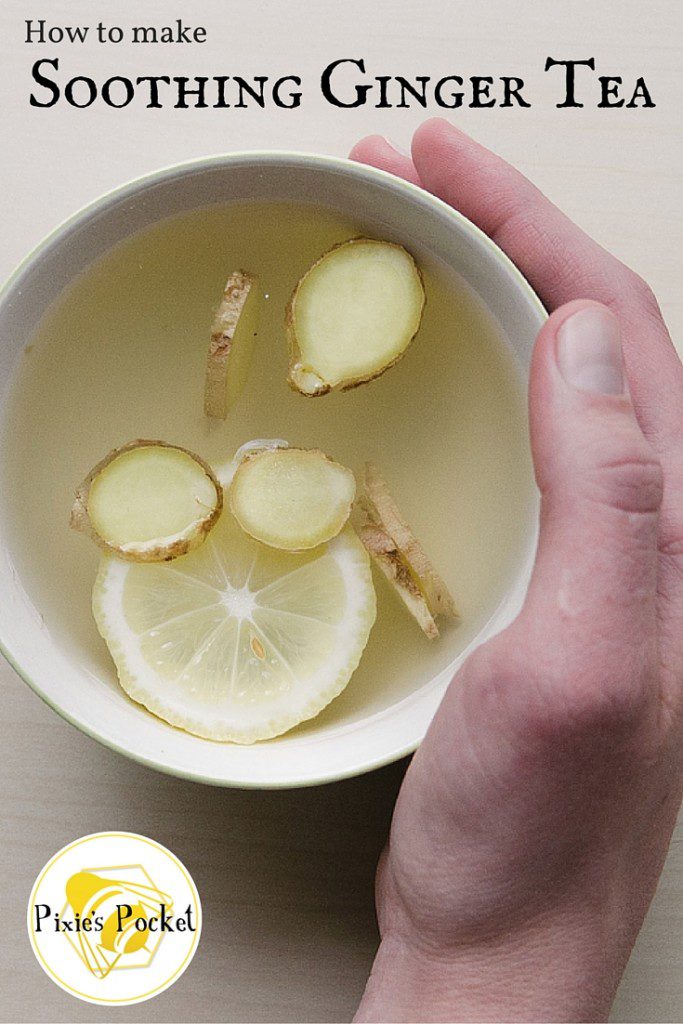 How to Make Ginger Tea (Two Ways)
Ingredients:
Fresh Ginger
Water
Honey or Sugar to taste
---
Method One:  The quick version
This tea is lightly steeped.
All you have to do is add a few fresh ginger slices to your cup, cover them with hot water, and optionally add a bit of citrus. Cover the cup with a saucer and let it steep for as long as you like.
This method results in a delicious, lightly gingered tea that you can take with you on the go.
This technique is also a good one for pregnant women to use during their first trimester but in moderation. Strong ginger in large quantities can cause complications and people have used it to encourage menstruation, so keep it to a lightly steeped cup only a few times a day!
---
Method Two: The long, strong version
This is my preferred method. It takes much longer – a few hours, at least. I set it up in the morning, check on it as I work throughout the day, and it's ready as a post-dinner tummy tea. It has the added benefit of infusing the air of your home with the sweet and spicy scent of ginger!
Grab a pot of water and let it reach a boil over med-high heat.
Cut your ginger root into thin slices. To start out, you may want to only add about an inch worth of ginger to the pot. If you find you prefer your tea to be stronger, add more next time!
Toss the ginger in and turn the heat to low. Allow the ginger to simmer while you do other things. Check on it occasionally and add more water as the liquid level decreases.
Once you are ready to sit and sip, pour yourself off a cup of the golden brown tea. Give it a taste and if it is too strong, just add warm water to dilute it a bit. You can also add honey or sugar if you prefer a sweet flavor.
---
Delicious Additions:
Try adding the following herbs, spices, or fruit for a special twist on your tea:
Cardamom
Cinnamon
Dried or Fresh Lemon, Lime, or Orange slices
Diced apple
Use apple juice or cider instead of water
Add a bag of black or green tea
Resources & References:
Image of Ginger Tea by Dominick Martin (cropped & edited by pixiespocket.com)
Get updates from Pixie's Pocket: brewing and herbs in your inbox:
Hi! I'm Amber Pixie, and this is my site. Enjoy the recipes, information, posts, and please feel free to message me if you have questions!