Blog, Booze Recipes, Recipe Box, Sweet Stuff Recipes
Recipe Box: Creamy Coconut Cordial
So, here's another mad kitchen-science experiment that has been a consistent success in our home – creamy coconut cordial. A few years ago, my housemate and I experimented with a very intriguing recipe that we found from TheKitchn. While we'd made cordials, tinctures, and elixirs before, we had never tried doing a milk-based booze drink from…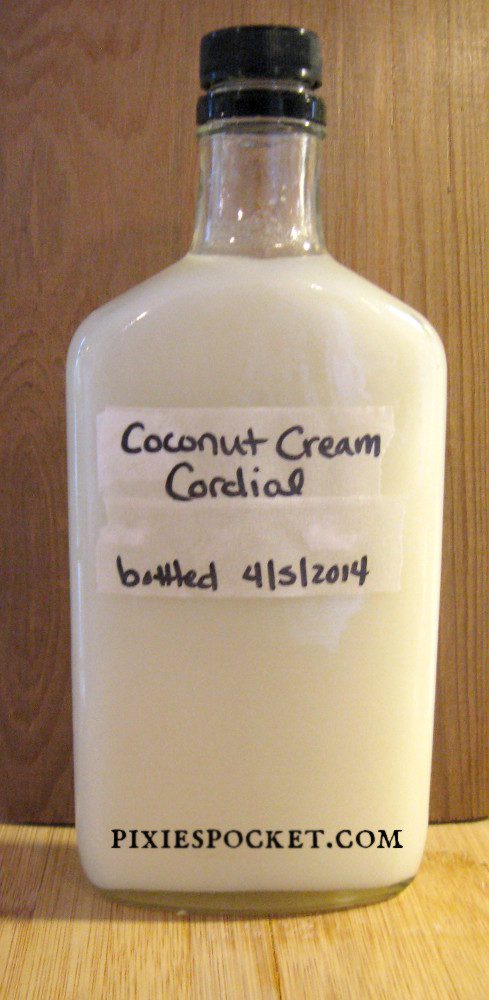 So, here's another mad kitchen-science experiment that has been a consistent success in our home – creamy coconut cordial.
A few years ago, my housemate and I experimented with a very intriguing recipe that we found from TheKitchn. While we'd made cordials, tinctures, and elixirs before, we had never tried doing a milk-based booze drink from scratch.
It takes a minute to deal with the idea of making boozy drinks with milk. Milk curdles and goes all chunky when you add it to straight alcohol! Curdles are bad….right? Not in this case! Don't worry…there is a lot of straining involved in the final stages of the process to get the milk proteins free from the booze for a more pleasant drinking experience.
The first time we tried this recipe, we happened to have a fresh coconut which we chopped open, cut apart, and then roasted the tender flesh to add to the milk liqueur. But that is quite a bit of work, so I have discovered an easier way to recreate our delicious, coconutty twist on the milk liqueur recipe!
Creamy Coconut Cordial
This recipe will result in only about 1 cup or so of booze…but it is a great place to start to learn the process. If you enjoy it, just up the amounts! It is always equal part vodka, milk, and sugar…the rest is up to your tastes. 
1/2 cup or so of dried, unsweetened coconut flakes
1 cup of vodka
1 cup of milk
1 cup of sugar
Grab a jar that will fit 4 cups and pour in the dried coconut flakes.
Add in vodka, milk, and sugar until the jar is full and the flakes are covered.
Put a lid on the jar and give it a really good shake!
Set it in a dark cabinet for ten days and leave it alone. It will curdle, separate, and look disgusting, but I promise it will all turn out fine.
Ready? Get a few jars and a funnel, and cheesecloth. Strain the liquid over and over and over from jar to jar until there are no longer any milk proteins and the cordial is rather clear. The coconut doesn't go all the way clear due to the oil content, as you can see in the image.
That's it!  Enjoy!
Get updates from Pixie's Pocket: brewing and herbs in your inbox:
Hi! I'm Amber Pixie, and this is my site. Enjoy the recipes, information, posts, and please feel free to message me if you have questions!