Booze Recipes, Homebrew Recipes, Recipe Box
One Gallon of Mint Wine {Recipe}
Mint is a hearty plant and spreads like crazy once it is established. Once you've dried it for tea and made syrups, why not make a wine?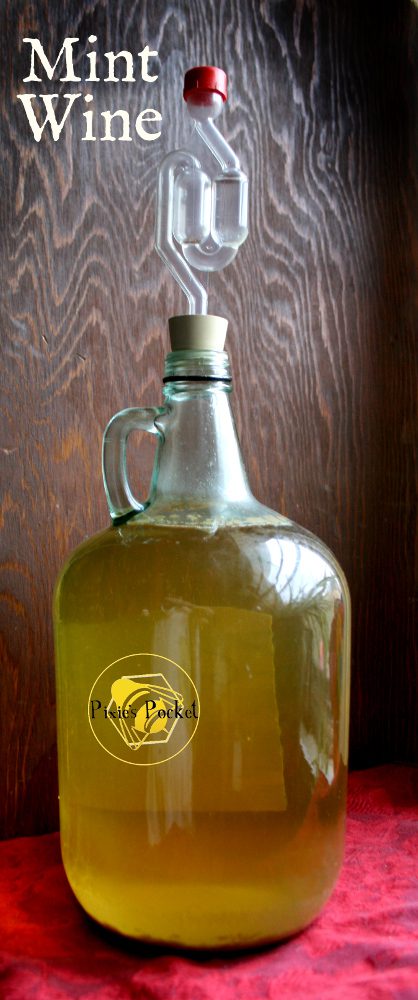 Mint, mint, mint.
Once you get a good patch of mint planted, you should quickly have more mint than you can ever figure out how to use! (I cover medicinal properties of mint here)
My peppermint patch does so well that I have more than I need for teas, tinctures, cordials, and even a few batches of mint chutney. Although I chop back the patch twice a year, it grows bigger every season!
Due to this overabundance, I decided to get experimental. What else can I do with mint? What do I do with anything I have too much of?
Make wine out of it.
After debating with myself if it was worth it or not, I just decided to go for it. Let me tell you – I am SO glad that I did!
Mint wine ends up with an amazing, unexpected flavor. It does not taste like mint tea. This batch ended up rather like a sweet chardonnay! The mint appears as an effect more than a flavor. There's a cooling tingle in the back of the mouth after the sweet wine rolls over it.
So yes, this is definitely going to be something I make again!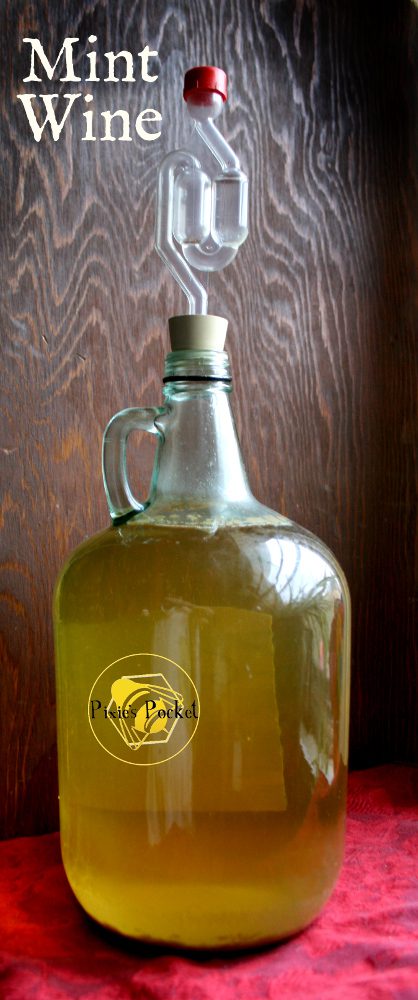 Mint Wine
In the recipe below, I used a blend of spearmint and regular peppermint. Use whatever mints you have! I can imagine the lovely twist that could happen if you used chocolate mint, apple mint, or pineapple mint!
This recipe and procedure assume that you have the basic equipment and knowledge for how to brew a gallon of wine or mead. Need help? I have a few great reference books on brewing listed here, and a guide to brewing here.
Here's the basic recipe and technique for one gallon of Mint Wine:
1 gallon of good, clean water (I try to use filtered water instead of tap water)
4 cups of fresh mint leaves (rinsed and removed from the stem)
3 cups of sugar
1/2 packet of yeast (a sweet wine or mead yeast is nice, but even baking yeast works in a pinch!)
1/8 cup of raisins (or a small handful), chopped.
How to make Mint Wine:
1. Boil most of the water in a large pot. While that is happening, sanitize your gallon jug, funnel, strainer, and your airlock and bung. (Don't know what those are? Click here.)
2. Remove the pot from heat and get ready to add the mint leaves and raisins. Crumple the leaves to bruise them and release their essential oils as you add them to the pot. Cover the pot and let it sit for about 10-15 minutes.
3. Pour the sugar into the warm mint tea and stir to dissolve.
4. Once the pot is cool enough to handle and the liquid safe to pour, strain the mint tea into the carboy and top it off with the rest of the filtered water to the neck. Add the bung and airlock to the jug. Toss the leaves in your compost bin.
5. When the carboy is cool (a few hours later), sprinkle in the packet of yeast and give it a shake. Within a day or two, the jug should be bubbling happily. It should be happy to sit and bubble for a month or so.
6. When the bubbles stop and the liquid is clear, it is time to bottle!
This golden brew already tasted great at bottling time, and it only became more and more delicious as it aged throughout the year. The longer it ages, the more minty it becomes.
Sláinte!
Here's another intrepid brewing explorer who tried mint wine! Check out their recipe over at Little Fall Creek.
Get updates from Pixie's Pocket: brewing and herbs in your inbox:
Hi! I'm Amber Pixie, and this is my site. Enjoy the recipes, information, posts, and please feel free to message me if you have questions!