Blog, Recipe Box, Sweet Stuff Recipes
Recipe Box: Oatmeal Applesauce Cookies with Maple Drizzle
Sometimes you just need a bit of warm, sweet comfort food. This happens to me when the wind outside is cold and howling and you just can't bring yourself to go outside.  Outside has no hot tea, nor cookies…and these oatmeal applesauce cookies are cakey and poofy, and they stay soft for days! When I…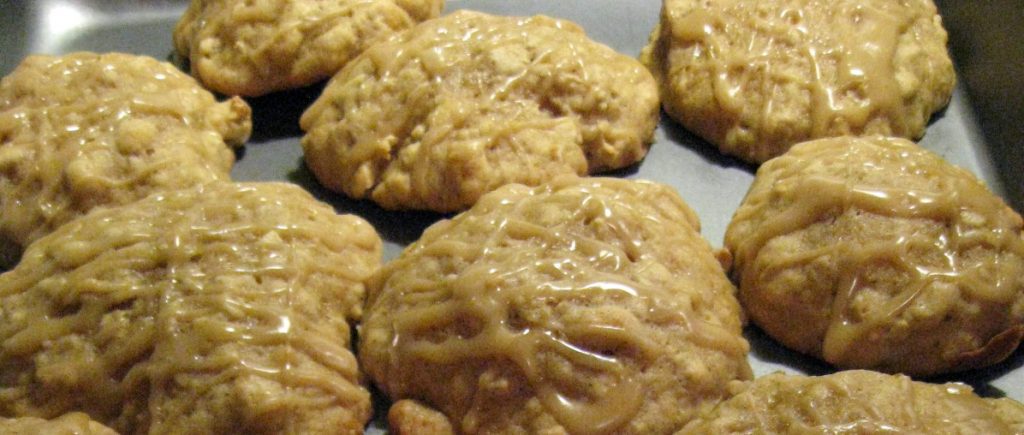 Sometimes you just need a bit of warm, sweet comfort food. This happens to me when the wind outside is cold and howling and you just can't bring yourself to go outside.  Outside has no hot tea, nor cookies…and these oatmeal applesauce cookies are cakey and poofy, and they stay soft for days!
When I first made these cookies, I missed a step, and never added sugar to the batter – but with the sweet drizzle, it wasn't missed at all until I was copying the recipe down for a friend! Give these a try if you crave something sweet that isn't too sugar-laden.
Ingredients
Maple Drizzle
1 1/4 cup Confectioner Sugar
3 tablespoons Milk
2 tablespoons Maple Syrup (I've provided a base measurement, but this step is really just to taste. I also added a bit of ground cloves and nutmeg to mine, just for a bit of a punch. There's lots of room to play with this frosting!)
Cookies
2 cups Flour (You can use white, wheat, or both, as you prefer.)
1 cup Rolled Oats
1 teaspoon Baking Soda
1 teaspoon Cinnamon
1/2 cup Butter (I use salted butter, if you use unsalted butter you may wish to add a pinch of salt to the mix.)
1 Egg
1 teaspoon Vanilla Extract (Almond Extract would be quite nice, too!)
1 cup Applesauce (Unsweetened applesauce is my preference.)
Cookies (Optional)
1 tablespoon Molasses (Sometimes I add this for depth and flavor, but it is up to you!)
1 cup Brown Sugar (This was in the original recipe, but I forgot to write it down and didn't put it in. They were still tasty, so I consider this optional!)
Directions
Cookies
Preheat oven to 375 degrees. Grease cookie sheets and set aside.
Mix dry ingredients together in a large bowl and set aside.
Cream the butter and sugar together, blend in the egg and vanilla extract. Mix well.
Stir in the dry ingredients bit by bit, alternating with the applesauce. Stir until just blended together, but don't overmix.
Drop by spoonfuls onto the greased cookie sheets and bake for 8-10 minutes.
When done, set the cookies on a rack to be frosted with maple drizzle and allow them to cool.
Maple Drizzle
While the cookies are baking, whisk together the milk and confectioners sugar in a small dish.
Add the maple syrup (or rum, or brandy, or eggnog, or simple syrup…) and mix well.
Drizzle over the cooling cookies and let it set.
Get updates from Pixie's Pocket: brewing and herbs in your inbox:
Hi! I'm Amber Pixie, and this is my site. Enjoy the recipes, information, posts, and please feel free to message me if you have questions!