A look at a growing allergy to raspberry and other foods with latex and salicylates.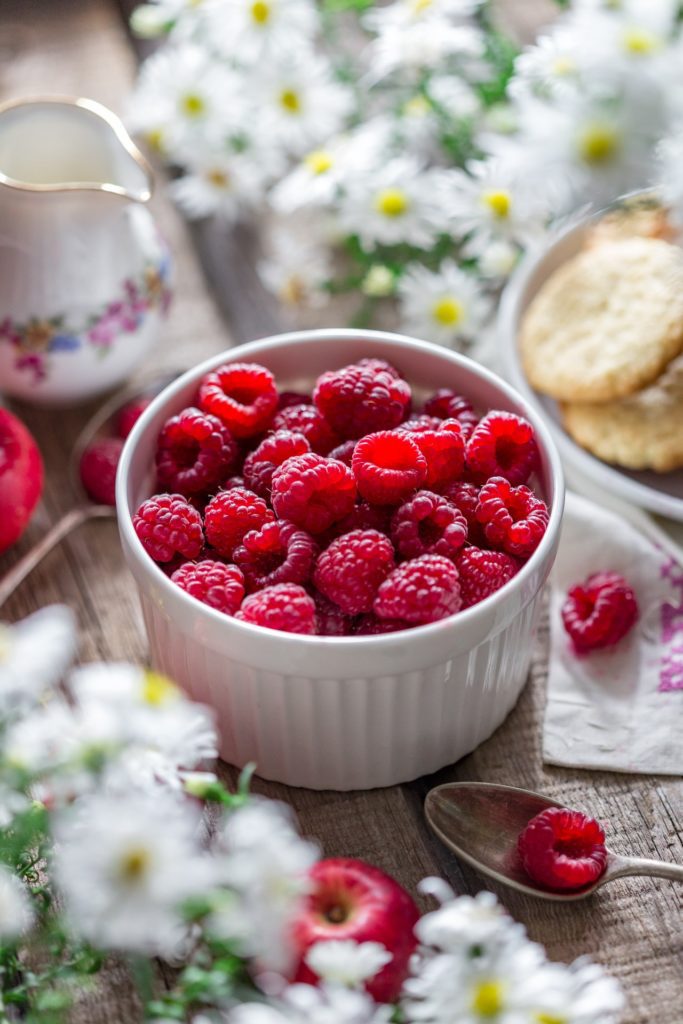 Aww, drat! After a few in-home experiments, I've got a strong suspicion that I have developed a mild raspberry allergy!
I got some lovely fresh berries from Stepp Orchards via Mother Earth Produce and had a handful right away. A bit later, I realized that my tongue was a little tingly and burning and that my stomach was rumbling and acidic. Then a few small itchy spots appeared on my arms. The next day I had raspberries again and later noticed a similar feeling. I recalled everything I'd eaten in the past two days, and only raspberries were both consistent and something I hadn't had in a while.
Later that week, I happened to be at a lovely bar (The Thirsty Monk) and found that they had Framboise Lambic on draught. Delicious! I've often loved Lambic, and couldn't pass up the chance to have it from the tap. It was just as I finished the first sip that I recalled that Framboise is French for raspberry – and just like that, my tongue was burning and the tart flavor gave way to a sharp metallic taste.
It has been one week since my first uncomfortable raspberry experience and there were a few left in the fridge just now. One final test. A handful of yummy, sweet, tart raspberries later, and the results are sadly the same. Acidy, achey tummy – a burning tongue, and oops…there's a new itchy bump on my upper arm. I hope this is just a random glitch, as I really don't want a raspberry allergy!
My next experiment is going to be with red raspberry leaf – a longtime herbal ally for menstruation, cramps, and grounding in states of emotional turbulence. I hope that my new sensitivity does not include the dried leaves that I've so often used for teas and medicines!

Update: December 14, 2013
Well, there's good news and bad news. I still have a sensitivity to raspberry fruit, but I can drink raspberry leaf tea without problems! I accidentally "poisoned" myself the other night. I had a can of roll-out croissants and decided it would be nice to fill them with cream cheese and strawberry jam before I baked them. I whipped the cream cheese and jam together and everything was going well until I popped them in the oven, turned around, and licked the mixing spoon. My tongue began to tingle and I realized that the jelly jar had raspberries on the label – I accidentally grabbed the wrong jar from the fridge!
Since then I've done a bit more research. It seems that most people who have allergies to raspberries are actually allergic to Salicylates, a naturally occurring chemical found in many fruits and veggies. Salicylates are a pain reliever, and I first came to know them in the herbal arena because it is the main pain-relieving chemical in willow bark and aspirin. But when I looked through the list of salicylate-rich foods, I realized that I eat many of them quite regularly with no ill effect: avocados, apples, cucumbers, peppermint, broccoli, grapes, cheeses….the list goes on!
I'm really excited that I can drink raspberry leaf tea without any problems at all! Until I earn something more, I'll assume that I am not allergic to salicylate and that there is something in the raspberry fruit that is not present in the leaves that is causing my negative reactions. I still ate one of those croissants, though. I'm quite stubborn sometimes. *sigh*
Update: May 29, 2022
Well, at this point I have to admit that this allergy is either a latex or salicylate issue. The tongue-tingling reaction also happens with avocado and bananas, and sometimes with overripe strawberries and pineapple! I love these foods so I'm quite bummed out. I will sometimes have a bit of avocado and I still munch on small bites of fresh pineapple and strawberries, but bananas are something I completely avoid. Even the smell of them makes my stomach roil!
Get updates from Pixie's Pocket: brewing and herbs in your inbox:
Hi! I'm Amber Pixie, and this is my site. Enjoy the recipes, information, posts, and please feel free to message me if you have questions!