Chickweed is overlooked at best and hated by many for being an invasive plant - but this little herb is a wonderful friend to work with.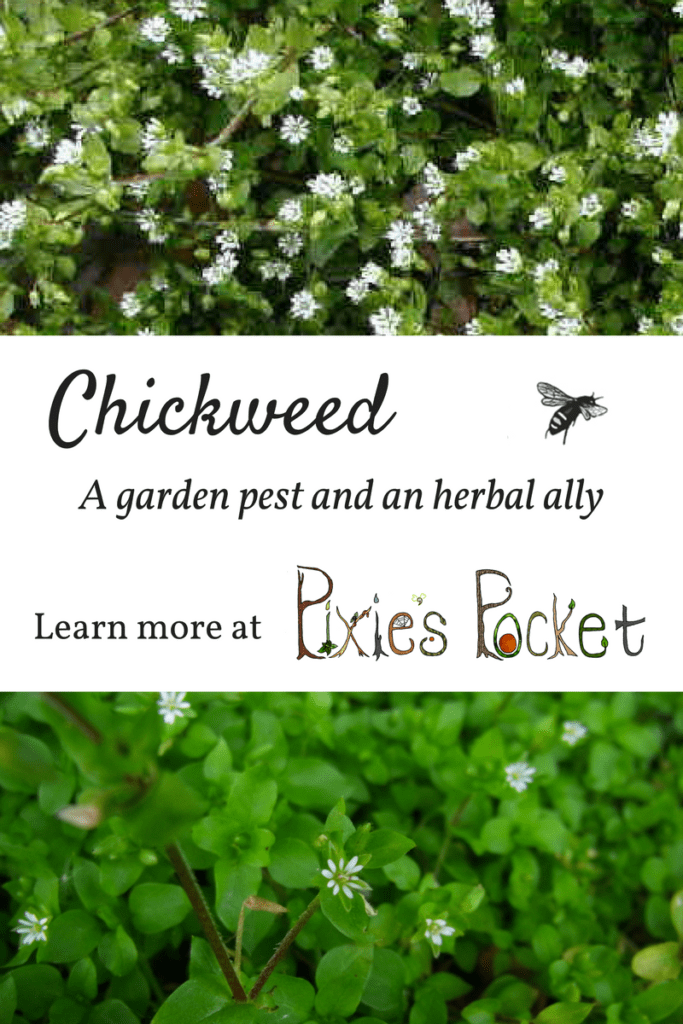 Poor Little Chickweed
Hush now, don't tell! I'm harboring a fugitive. She is constantly under attack by my neighbors for being a pest – they try to poison her, stab her, slash her, cover her in mulch and choke her out…but don't you worry. She's safe in my backyard, for now, poor thing. Her name is Stellaria Media, but everyone knows her as Chickweed. Ain't she pretty?
We have a joke, Chickweed and I. She giggles about how silly we fleshy ones can be sometimes. Everybody around us is struggling to lose weight while they devour processed foods that aren't very nutritious, so many people who don't feel healthy but never ingest fresh greens or whole foods. She giggles about how they despise her so because she is the one stellar little powerhouse who could really do them some good if they'd acknowledge her offers of assistance!
I suppose people take one look at her and decide she's just a useless weed since she doesn't seem to take well to command. There's no growth in straight lines for the little star lady – she just pops up when and where she pleases and often appears when you need her gifts. You should go out and walk around your yard and see if you can find her. She lives EVERYWHERE, so it should be easy!
If you haven't ever met Chickweed before, you might want to take a guide with you so that you are sure about the identification. Chickweed has a handy defining feature: pluck a stem and hold it up to the light, and keep turning it until you notice a line of fine hairs on only one side of the stem in a single stripe. If there haven't been any pesticides put down (or doggies doing their business nearby), then pick a young leaf and pop it in your mouth! Trust me – it'll be fine. I do it all the time. Chickweed's flavor is fresh and green. She's great to throw into a salad mix for a boost of nutrients and nurturing live food (like pesto!)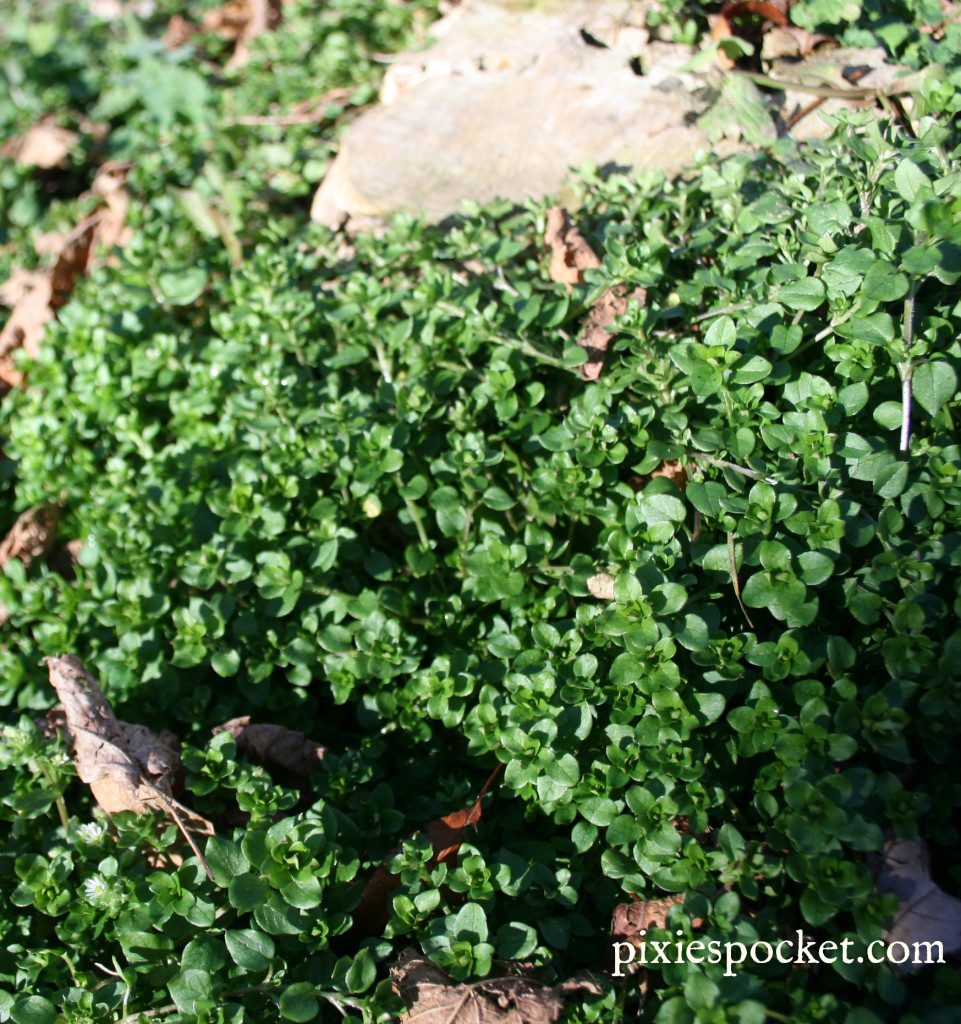 It's cold here, this morning as I write this love letter. The grass is frosted, but Miss Chickweed is awake at sunrise and ready to roll! She loves this crisp weather – she loves to share her cool and soothing touch with us if we let her, too. Even if you feel too weird about eating your yard, you can utilize Chickweed for any skin ailments you might have, like itching, sunburns, or cysts. She's best fresh, but you can freeze your chickweed for use later in the year.
I'll give you an example of the power of fresh chickweed. I was working with someone with a huge and very angry Bartholin cyst. With chickweed's help, it disappeared entirely in a matter of a few days with no antibiotics! All it took was a routine of applying a sprig or two of fresh, gently bruised chickweed directly to the cyst and covering it with a cool, damp towel. When the towel got warm and the chickweed wilted from body heat, get a new sprig and do it again. We kept that routine up the whole time that the client was at home, both before and after work for two days. The cyst quickly came to a head, popped cleanly, and the pain and swelling were gone in a matter of days!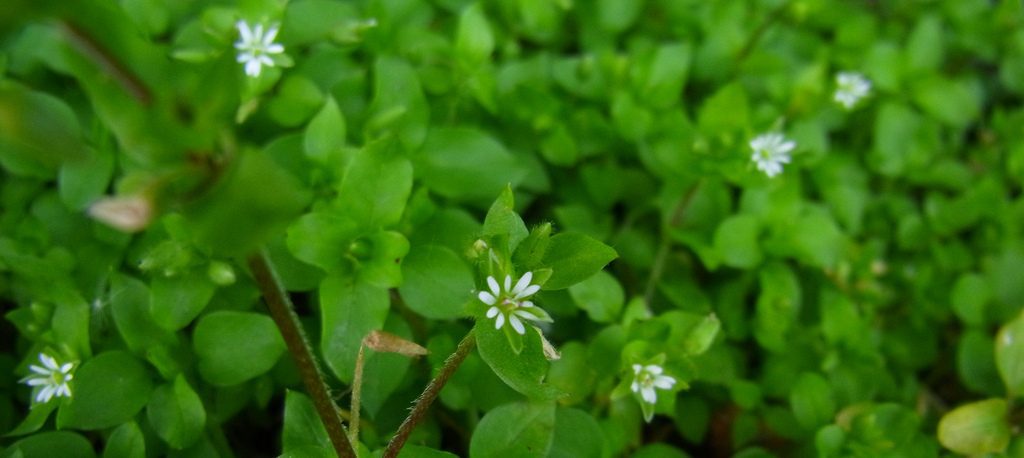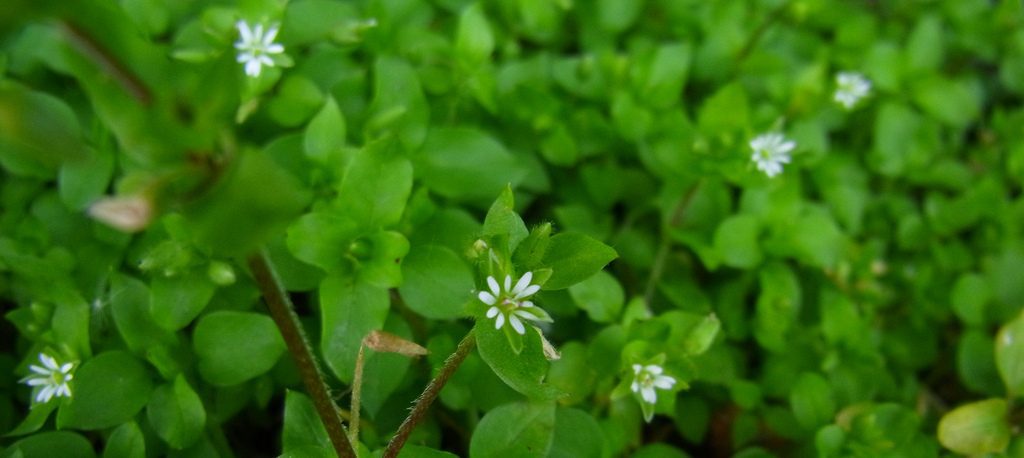 I have made tinctures with Chickweed and Nettles – they will dance with some dear friends of mine to help them with PCOS (polycystic ovary syndrome) and a really impressively large sebaceous cyst, respectively. Chickweed is best able to help you when she's fresh, but tinctures are a lovely light green color and they do a good job in a pinch. You can also tincture chickweed in vinegar!
For now, I'm into the backyard to get my morning sprig of chickweed to munch on while I get myself moving for a long winter day. Let sweet Stellaria help guide you into Springtime…I promise it is right around the corner.
Sources:
A Modern Herbal: Chickweed http://www.botanical.com/botanical/mgmh/c/chickw60.html
The Herb Book, by John Lust.
Healing Wise, by Susun Weed
[content-egg module=Amazon]
Get updates from Pixie's Pocket: brewing and herbs in your inbox:
Hi! I'm Amber Pixie, and this is my site. Enjoy the recipes, information, posts, and please feel free to message me if you have questions!