A perfectly balanced tea blend to soothe a grumpy teething kiddo, including a bit of cloves to numb their sore gums. Tasty enough for you to enjoy with them!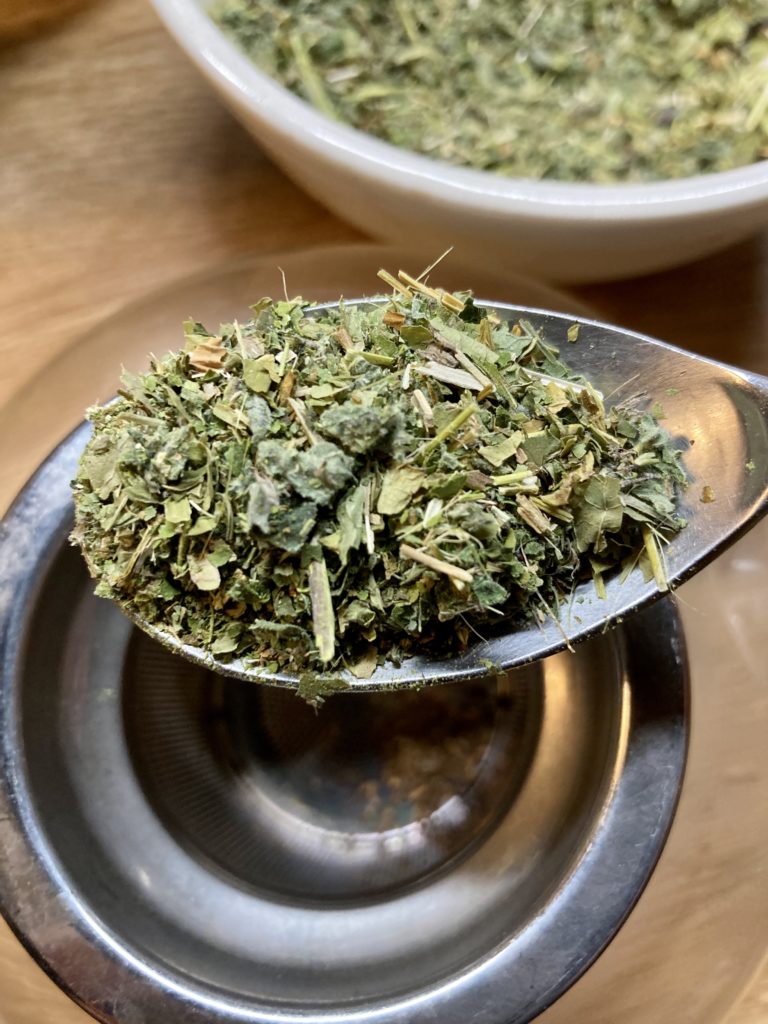 Let's face it – tooth pain is awful no matter how old you are. It can steal away your sleep, your ability to enjoy food or to relax. Imagine how tough that is for a tiny person who is only just learning how to communicate!
So when my wee one went from a sweetheart to a screaming devil and started chewing on her hands, I bribed her with frozen fruit to let me inspect her gums. Sure enough, her canines were starting to come in. She started running a mild fever and by night time, she was so miserable that she couldn't sleep even though she wanted to.
The whole household was exhausted with jangled nerves from the teething tantrums and lack of sleep when I remembered that there must be a tea or something that I could do to help soothe her pain and help her relax.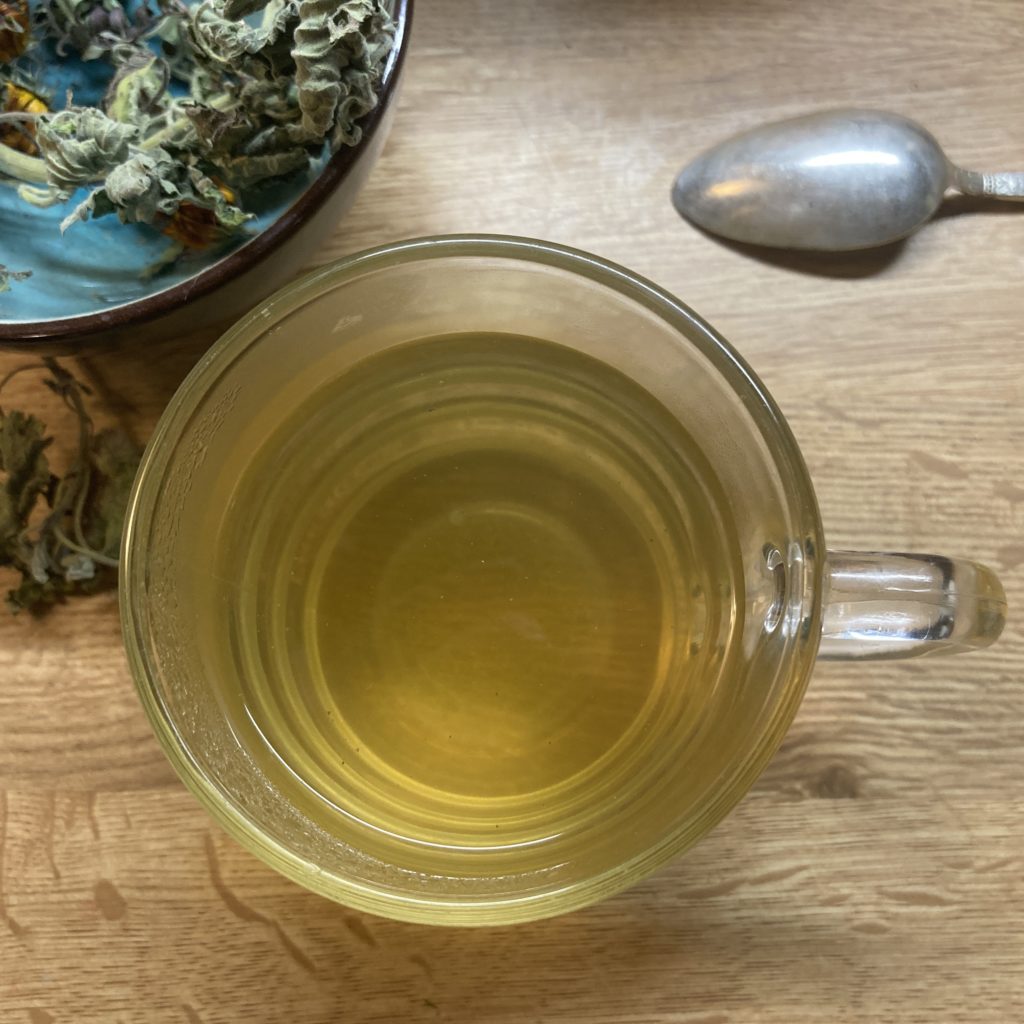 I've often used catnip in a cuppa tea for its relaxing properties and its bright green flavor. It's effective but also gentle enough for a young child and should help mellow her tension as well as her feverish hot flashes.
Next is passionflower – this lush, alien beauty of a plant is a potent ally for promoting restful sleep and soothing anxiety. I also use passionflower in my headache tea blend for keeping migraines and stress headaches at bay.
Skullcap is the third herb for this blend. It supports restful sleep and helps to heal exhausted nerves without leaving you groggy in the morning.
Lastly are cloves – these spices are not only delicious and aromatic but have pretty astonishing numbing abilities. The recipe calls for 3 crushed cloves per serving of tea. If you need to, you can substitute for the powdered clove that you might find in your spice rack, but it won't be as effective as freshly crushed whole cloves.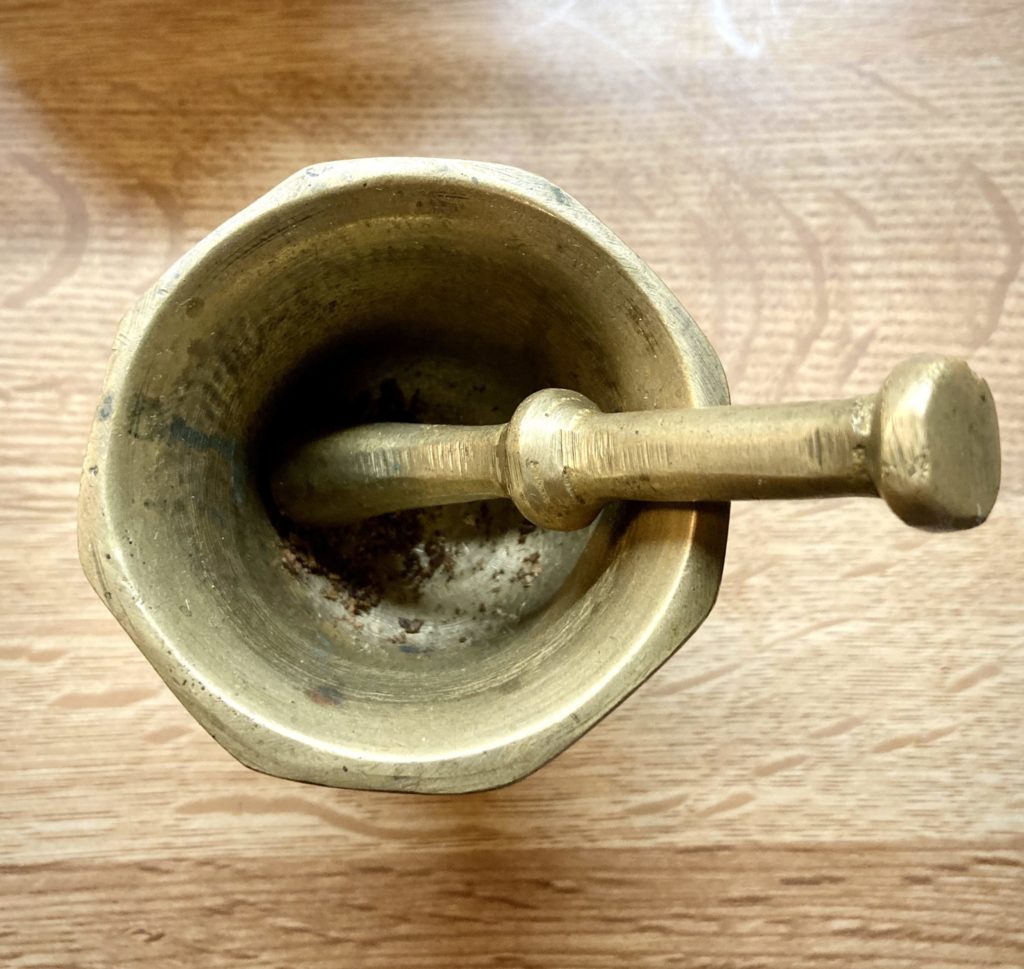 My kiddo enjoys being involved with helping me prepare tea so I made sure to let her participate as much as I could. She's adept at disassembling the teapot, pouring the herbs from bowl to bowl to the countertop, and making the copper mortar and pestle ring by banging them together!
---
Print
Toddler-safe Teething Tea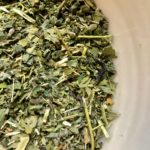 This tea is a gentle but effective blend of chamomile, skullcap, catnip, and cloves. A small cupful with honey made my wee one go from tired, fussy, and in pain to asleep in 15 minutes!
Ingredients
Herb Blend:
1/2 cup

of dried chamomile flowers

1/2 cup

of dried skullcap

1/2 cup

of dried catnip
Per serving:
3

whole cloves, crushed (or

1/4 tsp

of ground cloves)
Instructions
Blend the dried herbs together and store them in a well-sealed jar out of direct sunlight.
Use 1 Tbsp of tea to your tea ball or tea kettle per serving. Add in 3 cloves for every serving of tea.
Cover over with boiling water and let it steep for at least 10 minutes.
Sweeten with honey and make sure it is cool enough for a small child to drink, adding cold water to dilute if needed.
References:
Colleen Codekas, Healing Herbal Infusions: https://www.growforagecookferment.com/healing-herbal-infusions/
Keeper of the Home: https://keeperofthehome.org/homemade-teething-tea-for-babies/
Choosing Safe Herbs for Your Kids: https://theherbalacademy.com/choosing-safe-herbs-for-your-kids/
Get updates from Pixie's Pocket: brewing and herbs in your inbox:
Hi! I'm Amber Pixie, and this is my site. Enjoy the recipes, information, posts, and please feel free to message me if you have questions!