Blog, Booze Recipes, Recipe Box
Cherry Cordial: Dark, Sweet, and Delicious!

When cherries went on sale this year, I grabbed as many as I could and set to work.
Eric and I are already looking at planting a few cherry trees and apple trees around the property, so this blog should be full of cherry-inspired recipes as the years go by, I hope!
I sorted through the bags of cherries before embarking on my projects, and the best fruit went into making a gallon of Cherry Wine.  The broken open or soft fruit was set aside to make a nice jar of Cherry Cordial since the booze would kill off any mold or other microscopic friends in the mushy cherries.
The cordial making process is pretty simple – here's how I made mine!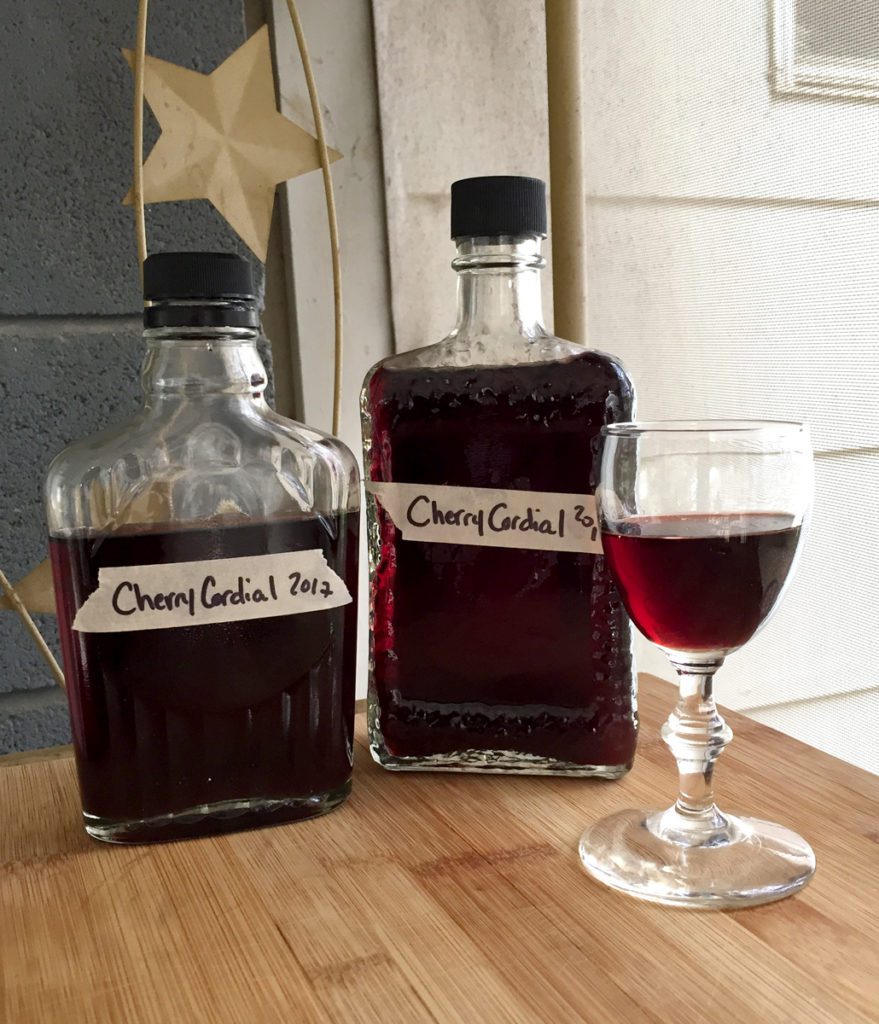 Cherry Cordial Recipe
Pro-tip: Don't wear white or anything you don't want to be stained with bright red spots. 
I did not chop or pit my cherries. I know that some folks are concerned about cyanide poisoning from using cherry or apricot pits, but it really isn't an issue unless the pits are crushed. Including them in the cordial gives a nice almond bitterness to balance out the sweet cherry flavor. The choice is yours!
Grab a jar or two, whatever you think might accommodate the cherries you are working with. I prefer wide mouth quart jars, personally.
Add a handful of cherries to the jar and sprinkle sugar over them, just enough to coat them all a bit. Smash it all together with a wooden spoon. Add another handful of cherries, sugar them, and smash again. Repeat until the jar is full.
[the_ad id="7631″]
Set the jar aside while you clean up the red, sticky mess you've made so far. Letting the jar rest for about ten or fifteen minutes is good, but longer is better. The sugar helps draw out the juices from the cherries and makes a more flavorful end product.
Cover the cherry-sugar mash with your booze of choice. I used vodka, but brandy is quite nice with cherries if you prefer a darker drink.
Label your jar and stash it away for at least a moon cycle. If you left pits in, remember that the bitter flavor will get stronger the longer you let it sit.  Mine sat from August to early November, because I forgot it existed, but luckily I enjoy the bits of bitterness in the brew and consider it to be perfect!
Strain the cordial into a large bowl and transfer the juice into clean bottles. Don't forget to try it!  If it isn't sweet enough, make some sugar syrup and add it in to taste. Label your bottles and enjoy your cordial! If you get adorable small bottles, these cordials make great holiday gifts, too.
Cordials aren't just for drinking. They make great cocktail ingredients and can make a hot toddy extra fancy, but they are also delicious drizzled on ice cream or chocolate desserts, stirred into brownie recipes, or anywhere else your culinary imagination can take you!
Enjoy!
Reference:
Cyanide in Apricot & Cherry Pits from TheArtofDrink.com
Hi! I'm Amber Pixie, and this is my site. Enjoy the recipes, information, posts, and please feel free to message me if you have questions!