Blog, Canning & Preserving, Fermentation Recipes, Fermented Food, Recipe Box, Spices and Condiment Recipes
Small Batch Lacto-Fermentation
Getting started with fermenting foods can be intimidating at first. I was nervous about making something dangerous to eat, and in the process of learning the best practices of lacto-fermentation I had a few not-so-successful experiments with bubbling jars of foods on my countertop. My first batch of sauerkraut worked out well, but a few other…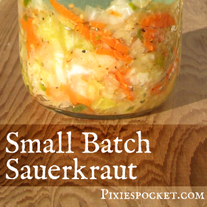 Getting started with fermenting foods can be intimidating at first. I was nervous about making something dangerous to eat, and in the process of learning the best practices of lacto-fermentation I had a few not-so-successful experiments with bubbling jars of foods on my countertop.
My first batch of sauerkraut worked out well, but a few other projects that I attempted failed in a sad, smelly way. The good thing about failure is that you can learn what *not* to do, research new methods, and try again!
After some careful consideration, I realized that my most common problem was the difficulty in keeping the fermenting veggies under the brine. This part is very important, as the salt brine allows only the GOOD bacteria (lactobacillius) to thrive, and keeps the molds and icky bacterias at bay.
To try to keep the veggies submerged, I tried rocks, smaller jars, plastic wrap, and all sorts of other methods I found online, but most of them succumbed to mold or fruit flies before I could save them.
Enter Fermentools to save the day! One of the things that I appreciate about Fermentools are the large glass weights that come with the kit. These heavy glass discs fit perfectly into wide mouth jars and holds everything down safely under the brine! It makes it so much easier to ferment on the fly. I don't even have to fill the jar!
Small Batch Lacto-Fermentation Makes Sense
Recently while doing the autumnal tidying of the glass jar/bottle cabinet, I came cross a wide mouthed pint jar and did a happy dance! That meant I could do smaller batches of fermented veggies, solving the other issue that I have been running into: Quantity.
Huge batches don't make sense for our household since I'm the most enthusiastic fermenting nerd and I don't want anything to go to waste. The other members of my home are not so keen on sauerkraut or pickled veggies. Now that I had a wide mouthed pint jar that worked with the Fermentools, I could play around with small batch lacto-fermentation.
After making a salad the other day, I grabbed the rest of the leftover veggies that were left in my fridge – a bit of green cabbage, a small carrot, a clove or two of garlic, a quarter of a Serrano pepper and a quarter of a sweet onion – all minced to a relatively uniform size and thickness. I added a teaspoon of Himalayan Pink Salt and used my tamper to grind the salt into the mix.
Bit by bit, the vegetables begin to break down and release their moisture. After a few minutes of mashing, I poured the mix into the clean jar. I set the glass weight on top of the mix and pushed it down hard with the tamper, forcing all of the veggies under the brine. On goes the seal, lid, airlock, and band.
A few days later I got to taste the mash and see how things were progressing. The cabbage and carrots are still too crunchy, but wow! Is this ferment ever potent! The garlic and the pepper have been so amped up that the heat just lingers on the tongue and throat for a long time. These veggies and this brine are going to make a delicious hot sauce if it keeps going in this direction.
From a pile of leftovers that could have been compost, stock or stir-fry, I've got a fantastically spicy condiment to complement sandwiches, salads, and make a pop in all kinds of recipes (egg-rolls, here I come).
To make a long story short – don't be afraid to play!
Hi! I'm Amber Pixie, and this is my site. Enjoy the recipes, information, posts, and please feel free to message me if you have questions!