I love baking bread, but I'm often short on time and energy. Luckily, you can make tasty no-knead bread in a dutch oven with a little planning and a minimal amount of work!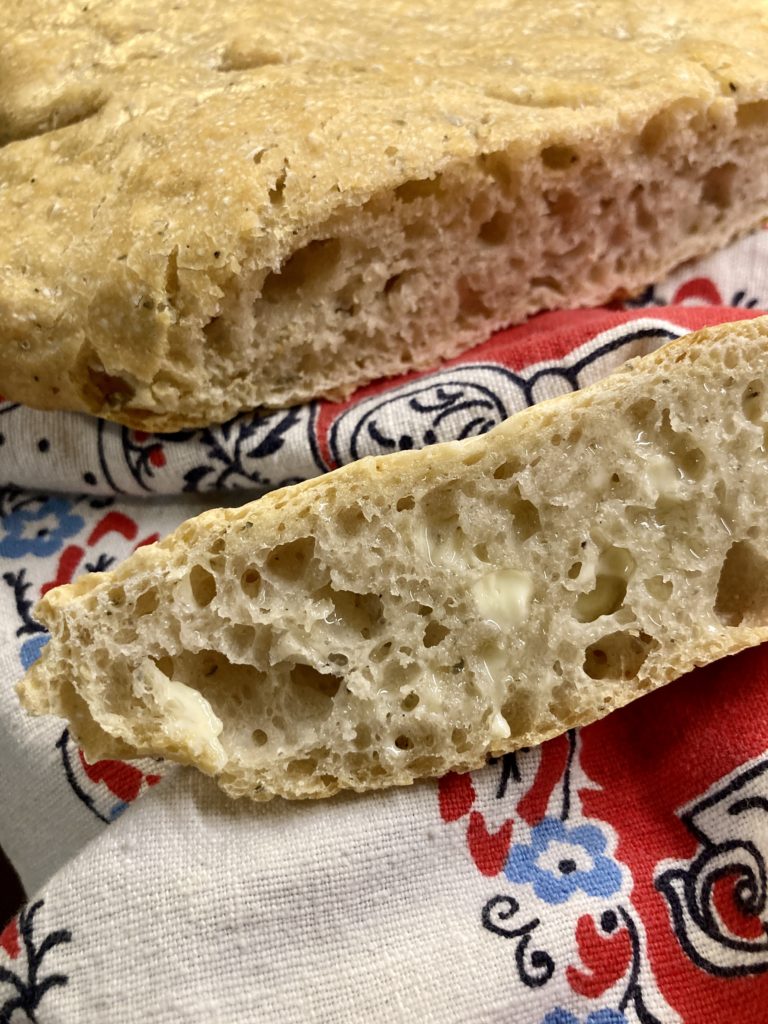 This year I gave myself a birthday gift, something that I've always wanted: a big, blue Dutch oven. The enameled cast iron pots have been calling my name for years, and I should have filmed my happy dance when it arrived. After letting it sit on my countertop for a week so that I could admire it, I finally scraped up enough time and gumption to actually use it!
A Dutch oven is such a useful and versatile kitchen tool. It is perfect for making soups and stews, sautées and simmers, roasting, and frying! But most importantly, it makes a wonderful loaf of bread.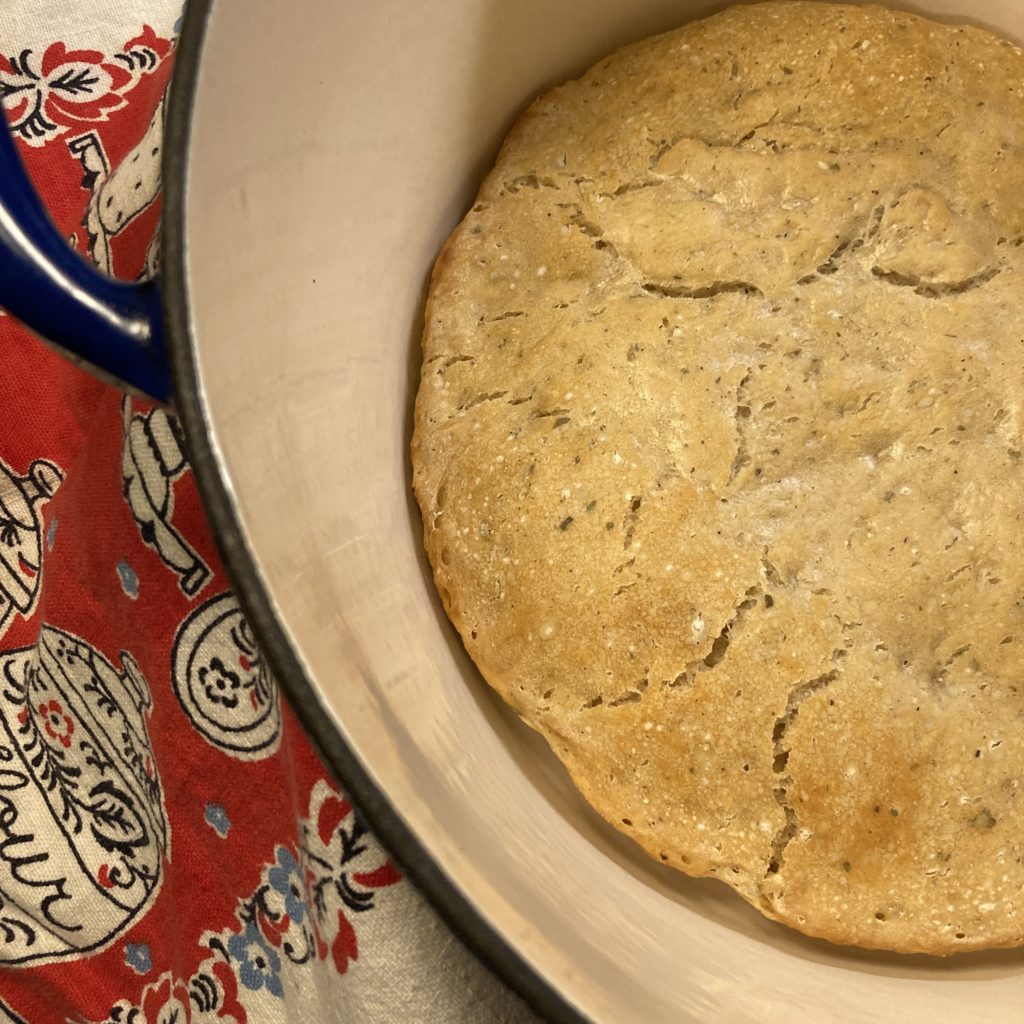 While the brand Le Creuset is perhaps the best-known maker of quality Dutch ovens, I simply couldn't justify their prices with my budget. Thankfully, I scored my new favorite kitchen tool from La Tramontina for under $70! I've enjoyed their products before, finding them sturdy, solid, and aesthetically pleasing.
Bread baking is something that I've dabbled in ever since I was a toddler, covered in flour, kneading tiny pieces of dough in my Nana's kitchen as she turned out lovely loaves for family dinners. Unfortunately, I haven't practiced my bread-baking skills as often as I might wish, because I'm busy with a full-time job and distracted by a toddler once my work computer is turned off!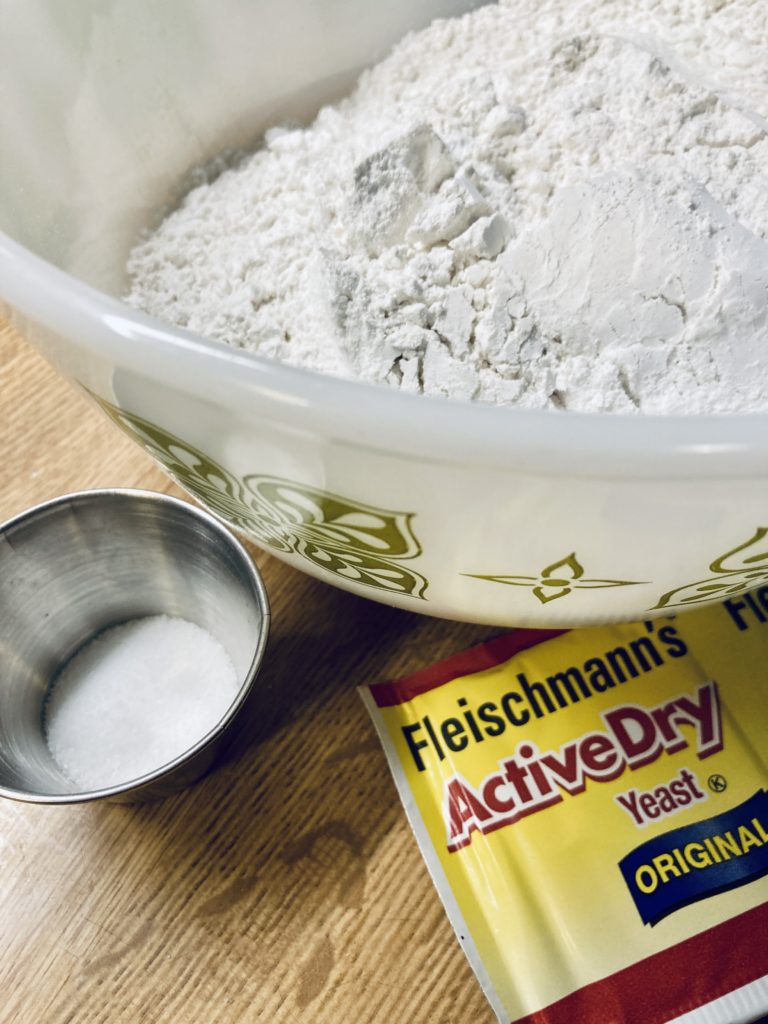 As I researched recipes to try, I realized that most people who use Dutch ovens seem to lean towards no-knead bread. These bread recipes take minimal effort and thrive on neglect – the perfect technique for me. All ingredients are mixed together in one bowl, which is then ignored overnight. There's a bit of work before you ignore it again, and then it is baked.
The result is a round loaf of bread with a nice, chewy crust and a springy, dense middle. It is lovely on its own, or with butter, dipped into seasoned olive oil, or into soup…in fact, I can't think of a bad way to enjoy this loaf. After a day or two, chop up the rest to make croutons! They are far better than the packaged croutons from the store.
Print
My Favorite No-Knead Bread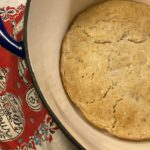 This bread recipe is great for many reasons – it is easy, simple, hearty, and it is very adaptable. Try adding a large pinch of dried Italian herb blend, poppy seeds, sesame seeds, garlic, or even cinnamon and sugar.
Baked in a dutch oven or other pot, this bread has a crunchy crust and a springy interior. It takes flavor like a champ, making it a great candidate for croutons or bread pudding if you let it get a bit stale.
Author:
Prep Time:

24 hours

Cook Time:

45 minutes

Total Time:

24 hours, 45 minutes

Yield:

1

round loaf

1

x
Ingredients
3 cups

flour

1/4 teaspoon

instant yeast

1 teaspoon

salt

1.5 cups

lukewarm water
Optional
Seasonings like fresh minced rosemary, oregano, thyme, or other herbs; dried herbs, poppy seeds, cumin…the list goes on!
Instructions
Mix the flour, salt, and yeast together in a bowl. If you are adding herbs or seasonings, put them in at this stage, too.
Pour in the water and stir it into the dry ingredients. Blend it well but do not over stir. Once it is mixed together, cover the bowl with plastic wrap and a towel and let it sit for 12-22 hours.
Sprinkle flour onto your working surface and turn out the dough. It will be very wet! If you have one, use a scraper to lift the dough as you shape it, adding flour as needed to make it workable.
Place the shaped dough into a clean bowl and re-cover it with plastic wrap and a towel. Let it rest for two more hours.
Preheat the oven to 450 and put the dutch oven and lid inside. Let it heat up for at least 30 minutes. Carefully remove the dutch oven and its lid and then plop the dough directly into the hot pot.
Put the lid back on the dutch oven and return it to the oven for 30 minutes. Uncover it and let it finish up for about 15-20 minutes more, or until golden brown.
Remove the dutch oven and let it cool a bit before turning out the bread. Allow the bread to cool completely before cutting (or don't, life is short, enjoy hot bread!)

Notes
I use a 6-quart dutch oven and this is a rather small bread recipe, so the loaf is rather round and flat. The slices are perfect for easy dipping into olive oil and vinaigrette or for bruschetta. 
Recipe Card powered by
Get updates from Pixie's Pocket: brewing and herbs in your inbox:
Hi! I'm Amber Pixie, and this is my site. Enjoy the recipes, information, posts, and please feel free to message me if you have questions!