Blog, Canning & Preserving, Recipe Box
Lemon Cucumber Brined Pickles Recipe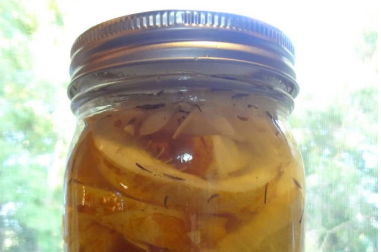 Have you ever grown or used lemon cucumbers? These lovely yellow globes are new to me! (Get heirloom seeds from Richter's Herbs)
Upon paying a dear friend a visit, I was gifted a bag full of lemon cucumbers. My friend's garden was more prolific than she could keep up with! I nibbled on one of the cucumbers so that I could see how it tasted. It was just as refreshing and cooling and crisp as the more familiar green cucumbers, but the skin is a little thicker and more firm between the teeth.
Since I couldn't see myself using up the whole bag before they went bad, I decided to make a jar of brined pickles.
This method makes pickles that you have to keep refrigerated and eat within a few months, tops. They aren't preserved for long-term storage. Although you can process them in a water bath, I tend not to, as it makes these pickles soft, in my experience.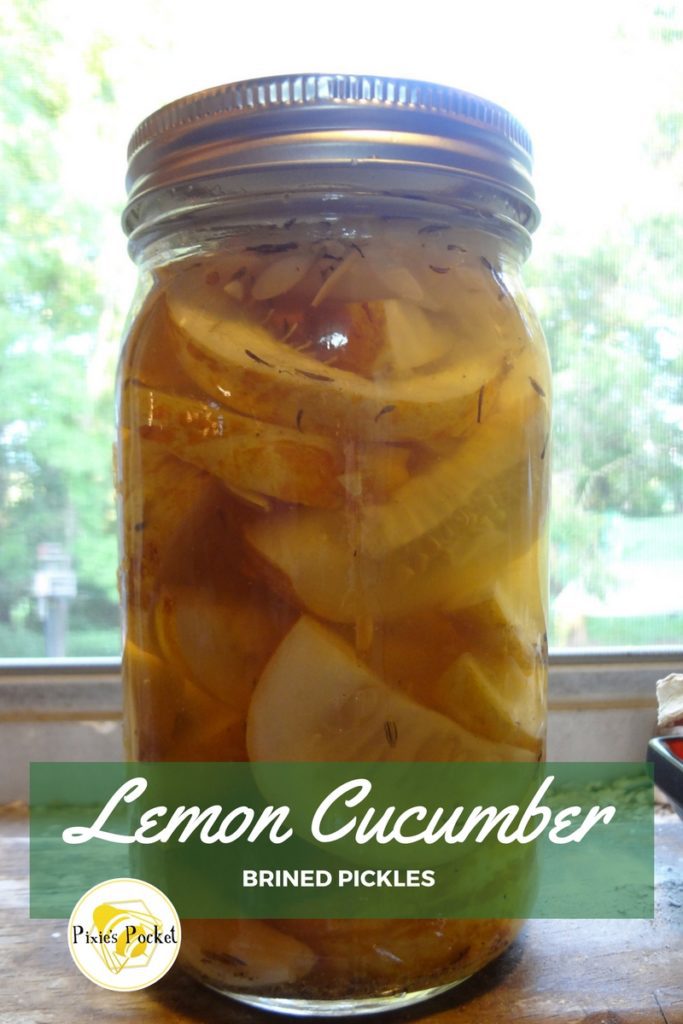 Lemon Cucumber Brined Pickles Recipe
This is a small batch recipe, only good for one quart jar! Scale it up as you like, or use it to extend your harvest as it comes in one jar at a time.
1-quart jar, lid, and band – all cleaned and sanitized
3 Lemon Cucumbers (or as many as you can fit!)
1 or 2 garlic cloves, each chopped in half
1 small onion cut into rings (optional)
1 tbsp salt
Slice the fat, round cucumbers into rounds, or whatever size you like. Try not to get them TOO thin, unless you like squishy pickles.
Add a layer of cucumbers, garlic, and onions and sprinkle them with some of the salt. Repeat this process until the jar is full.
Related Products
Brine Ingredients
1/2 cup Apple Cider Vinegar
1/2 cup Rice Vinegar (white wine or other light vinegar should work)
1/2 cup water
1 tbsp sea salt
1/8 tsp mustard seed (just a pinch or two, really)
1 cardamom seed (just for a hint o'flavor)
A few grinds of black pepper
a splash of homemade hard apple cider.
Mix your vinegars, water, salt, sugar, and cider in a pan on the stove, mix them well, and bring the brine up to boil.
Add the rest of the seasonings directly to the jar.
Pour the boiling brine carefully over the veggies in the jar. Once you have filled it, put on the lid and band and let it just sit on the counter until it is room temperature.
Once it's cooled off, label the jar and store it in your fridge. Give it a day or so for the flavors to meld and then enjoy it until it is all gone!
---
That's about it!  If you can't tell, this is a hodge-podge of a recipe! You have a LOT of options to play with, this is just what I came up with on the spur of the moment.  You can use different kinds of vinegar, but avoid balsamic, as it is too strong, sweet, and cloying to work well in this capacity.
---
Want to play around with recipes? Here's a few sources I used to inspire the recipe above:
http://www.foodnetwork.com/recipes/rachael-ray/quick-pickles-recipe.html
http://www.thekitchn.com/cooking-basics-very-easy-pickl-83971
Hi! I'm Amber Pixie, and this is my site. Enjoy the recipes, information, posts, and please feel free to message me if you have questions!