Blog, Bread Recipes, Recipe Box
Recipe Box: Farmer's Bread and Homemade Croutons
As the temperature plummets into fall, I've been finding myself wanting something – anything – hot and fresh out of the oven.  I am craving warm, dense food, like bread, butter, beer, stew, meat and spicy soups. Just the other day, I got lost in my old binder of collected recipes, some of them tried…

As the temperature plummets into fall, I've been finding myself wanting something – anything – hot and fresh out of the oven.  I am craving warm, dense food, like bread, butter, beer, stew, meat and spicy soups.
Just the other day, I got lost in my old binder of collected recipes, some of them tried and true, some of them just waiting for the right time to be made. Unfortunately, I often forget to look in there for inspiration as it's easy to be distracted by all of the recipes and choices online.  But as I flipped through the pages, I found a wonderful bread recipe that yielded an awesome loaf. I will be making this recipe regularly!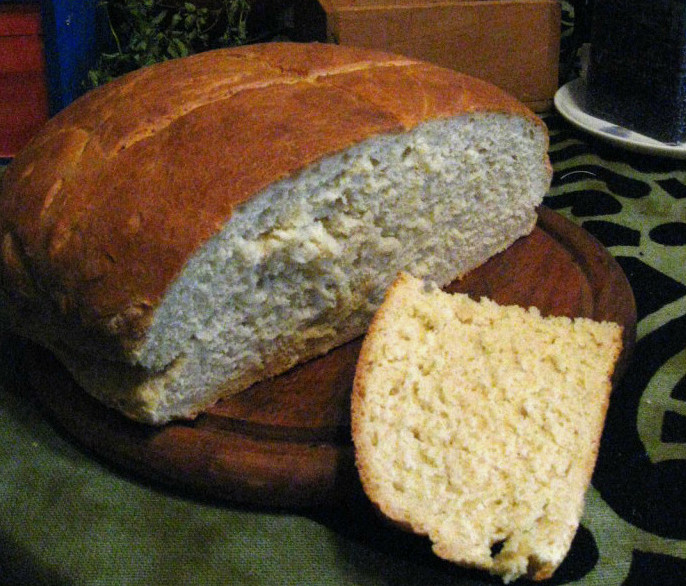 I love this bread. It's easy to make and quicker than many other loaves of bread, with only an hour and a half total rising time.  This loaf is simple, hearty, solid, dense, buttery, and it slices as thin as paper without a fight!  Soon it will be made into French Toast, Bruschetta, and many other uses will be found for it, I foresee…
Below, find the recipe for the Farmer's Bread, and below it, a recipe for making Croutons with stale bread.  I can't offer attribution, as it's something that I scribbled down over ten years ago, sorry about that!
Farmer's Bread Recipe
Makes one large loaf, or two small.
Ingredients
2 packages active dry yeast
2 cups of warm water
6 1/2 cups of flour
1 teaspoon salt
1/3 cup butter, chilled and diced
Sprinkle the yeast into the warm water and set it to the side for ten minutes, or until foamy.
Meanwhile, combine 4 cups of the flour with the salt in a large bowl.
Cut in the butter until evenly mixed.
Stir in the creamy yeast mixture.  Beat in the rest of the flour a little at a time.
When it's all pulling together, turn out the dough onto a lightly floured surface and knead it until it's smooth and elastic (about ten minutes).
Grease a large bowl with butter and set the dough in it to rise. Cover it with a damp cloth and let it sit for about an hour in a warm place.
When the dough has doubled in size, punch it down and turn it out onto a lightly floured surface. Shape it into a round or oval loaf.  You can make one large loaf or two small loaves.
Lightly grease a baking sheet. Set the loaf on the baking sheet, cover it with the damp towel, and let it rise again until doubled.
Preheat the oven to 400 degrees. Before baking, cut the shape of a cross about a half inch deep across the loaf and wipe the crust with water.
Bake for 25 minutes, then turn the heat down to 350 and bake for another 15 minutes, or until loaf sounds hollow when tapped.  Let it cool on a wire rack before slicing.
You have to let it cool at least MOST of the way before you cut into it…trust me, it's hard to do! It is worth the wait, as the cooking is continuing inside the crust and you have to allow it to finish.
This bread is rich and buttery with a solid crumb.  It can stand up to almost anything!
I cut some thick slices and left them out overnight and most of today.  Just before dinner, I used the stale bread to make some damn fine croutons for our dinner salad.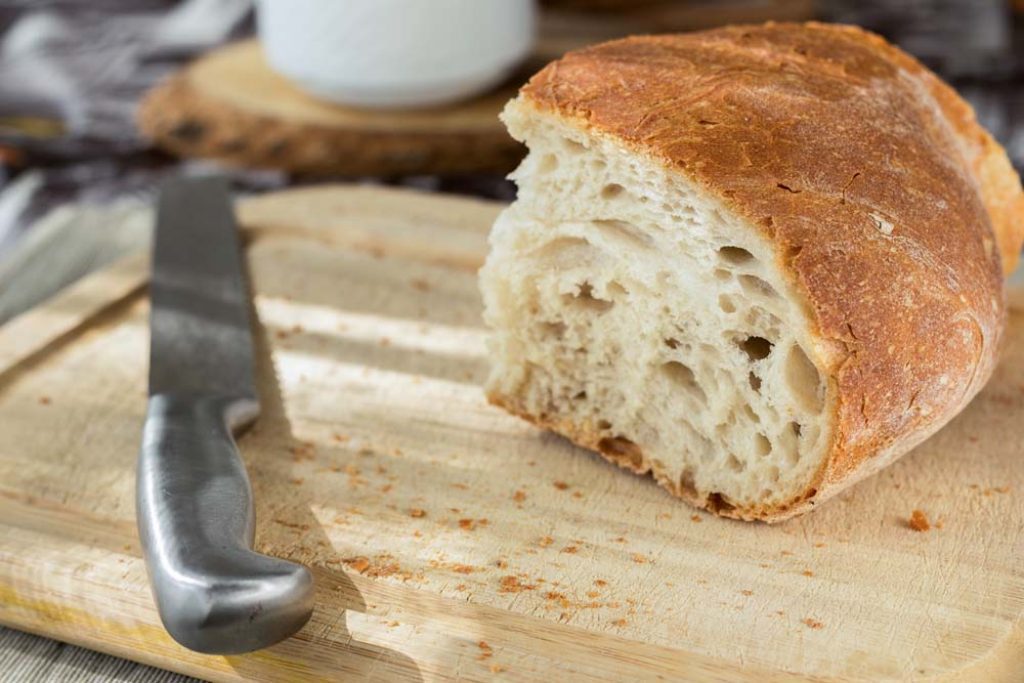 ---
Homemade Crouton Recipe
Dice some stale bread into bite-sized chunks and put them in a large bowl.  This farmer's bread is ideal for croutons, in my opinion, as the rich, dense crumb lingers even when the bread is going stale, making for a softer crouton at the end.
In a small bowl, mix your choice of oil with spices.  I used olive oil, garlic powder, salt, pepper, Italian seasoning, and a sprinkle of Parmesan cheese crumbles. Season to taste.
Drizzle the olive oil mixture over the bread chunks and toss them around to evenly coat them.  Pour the croutons onto a baking sheet and put it under the broiler in the oven.  Check manically every 30 seconds or so to ensure they aren't burning and let them cool before eating.
Enjoy, dear ones, and eat well!
[content-egg module=Amazon template=grid]
Get updates from Pixie's Pocket: brewing and herbs in your inbox:
Hi! I'm Amber Pixie, and this is my site. Enjoy the recipes, information, posts, and please feel free to message me if you have questions!