There are many who may question the existence of the rare creature known as the "left-over beer," but I swear that they are real as you or me… For example, have you ever had one of those parties where you find all kinds of odd beer left in your fridge afterwards? We managed to find…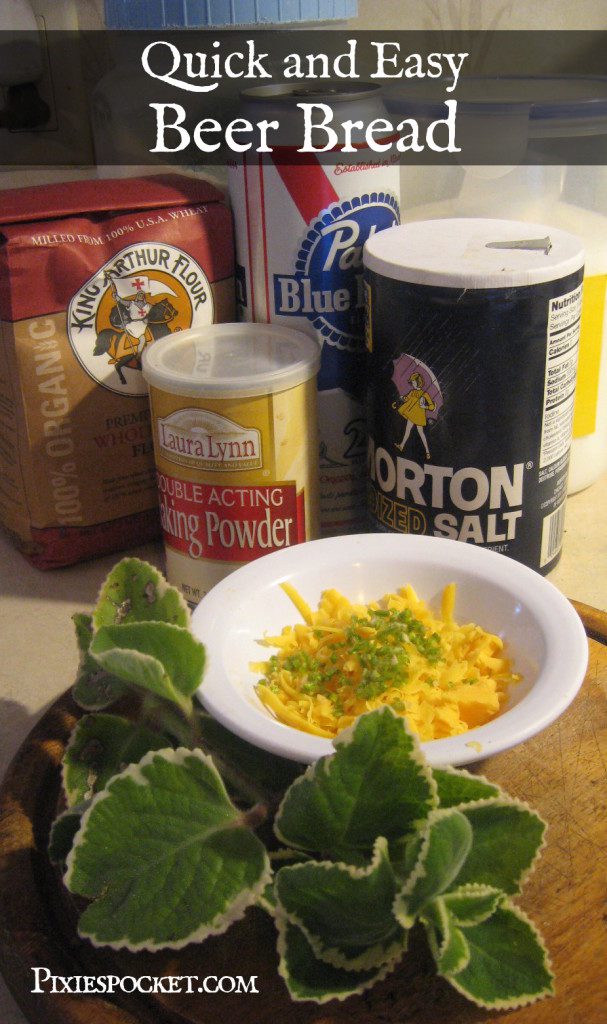 There are many who may question the existence of the rare creature known as the "left-over beer," but I swear that they are real as you or me…
For example, have you ever had one of those parties where you find all kinds of odd beer left in your fridge afterwards? We managed to find ourselves in the possession of a few cans of PBR. While there are many who argue its virtues as a decent, cheap beer, I simply cannot stomach drinking the hyper-fizzy, bland brew. So now what do I do with these left-over tall cans in my veggie drawer?
I also have this thing for strange beers – if I'm out shopping and find one that I've never seen before, odds are pretty good that I'll take it home to try. I'll be especially tempted if the mystery beer is packaged in an interesting or reusable bottle, like a swing- top grolsch or a growler-sized bottle.
So, yes…left over beers do happen. I'm surely not going to dump it out. I'm frugal, and I'm not one to waste perfectly good acceptable beer! I did use a bit for slug traps in the yard…but that still left me with too much.
Suddenly I recalled a certain very flexible beer bread recipe that I hadn't made in years. I riffled through my notes and finally found the right sheet! I wish that I could give proper attribution, but the scrap of paper it was jotted down on years and years ago doesn't reveal anything.
Quick and Easy Beer Bread
Remember when I said this recipe was flexible? I'm not kidding. The ingredients alone as listed makes a decent quick bread that is dense and moist. From there, your imagination is the limit! Read on after the recipe for a few variations, including the cheesy, herby one pictured in this post.
Ingredients
3 cups wheat flour (or white/wheat, or gluten-free alternatives)
1.5 tsp salt
3 tbsp sugar
1 tbsp baking powder
12 oz beer
Procedure
Preheat the oven to 375 degrees and grease your bread loaf pan or large muffin tins.
In a large bowl, mix all of your dry ingredients. Make a well and add the beer.  Mix until everything is moist and well-distributed.
Pour the batter into the pan and bake in the oven for 30-45 minutes for muffins, 45-60 minutes for bread.
Allow to cool, slice, enjoy! (Scroll down for variations on this recipe)
Variations
These are tried and true, Pixie approved!
Herbed Cheddar Beer Muffins:
Add dried herbs (cracked black pepper, sage, thyme, oregano) to the dry ingredients.
Add a cup of cheddar cheese when you add the beer. If you have fresh herbs to mince, add them here as well! I used Cuban Oregano and fresh Rosemary.
Molasses Stout Bread:
I had a pumpkin beer that had too much nutmeg for my tastes. I decided to make a sweet bread variation.
Add an extra 2 tablespoons of sugar to the dry ingredients, as well as ginger, cinnamon, cardamom or any other spices that you care to add!
Stir a tablespoon of molasses into the stout before you pour it in.
After you grease the pans for this bread (before you pour the batter in) pour in some sugar and shake it around to coat the inside of the greased pan for a crispy, sweet crust. You can also top the bread with a sugar sprinkle.
---
Now you no longer have to suffer idly by while mediocre beer goes flat. Use the fizz and make some bread!
Get updates from Pixie's Pocket: brewing and herbs in your inbox:
Hi! I'm Amber Pixie, and this is my site. Enjoy the recipes, information, posts, and please feel free to message me if you have questions!