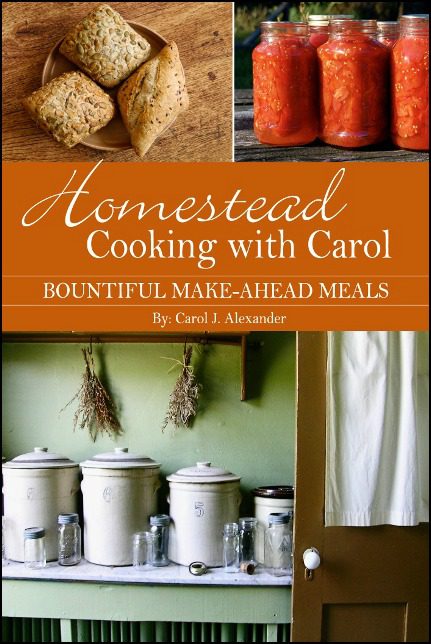 Do you remember when I received an ebook copy of "Homestead Cooking with Carol: Bountiful Make-ahead Meals" by Carol J. Alexander and wrote a review? I really did enjoy that book.
Even though I don't consider myself a newbie at food preparation and preserving techniques, "Homestead Cooking with Carol" definitely taught me where some of my weak spots in food preparation exist; namely causing me to address my fears of pressure canning and realizing that I need to work on portioning food more effectively! In fact, my only complaint is that this resource was only available as an ebook. I'm not overfond of using e-readers, personally…I love the feel of a real book! (But if you prefer the digital world, you can download a copy from Amazon).
Well, there's good news!
Homestead Cooking with Carol is now available in print!
The lovely book is a great size for use in the kitchen, laminated on the cover to protect from splatters, and spiral bound so that it can be folded back and take up less space on the kitchen counter.
This book is fantastic for a newly married couple, a kid going off to college or getting their own apartment, or for anyone sick of working late and settling for fast food when a home-cooked meal would be much more pleasant and nutritious (and not to mention cheaper!)
The best part? I get to help in giving away three copies of this print edition!
Join up with the giveaway below, and leave a comment to tell me what part of the food storage and preservation skills you need help with!
Hi! I'm Amber Pixie, and this is my site. Enjoy the recipes, information, posts, and please feel free to message me if you have questions!