I'm too lazy to hull berries, and why bother when I can have a jar of this sweet, fruity, astringent goodness to enjoy later?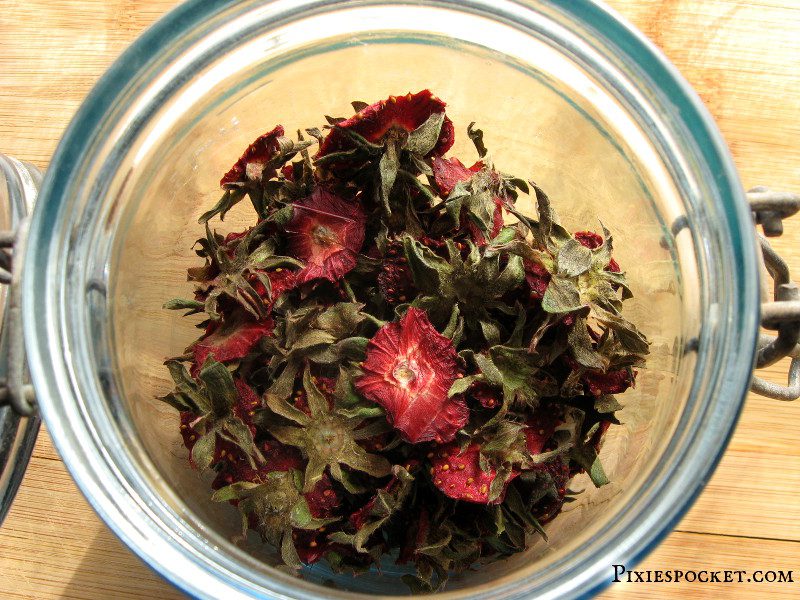 I admit it: I'm lazy.
A lazy cook, a lazy gardener…I like to set things up and let them do their own thing with minimal input from me, which is why I'm fond of permaculture, biodiversity, sustainable foraging methods, and perennial native plant gardens, not to mention eating weeds.
So when it comes to my kitchen processes, do you think I stop being lazy? Of course not! So when I'm faced with a bucket full of strawberries for pies, jellies, syrups, and pancakes, do you think I expend the time and energy to hull the berries? No. Nope. No way! I just chop the tops right off of the berries, taking a bit of fruit along with the greens.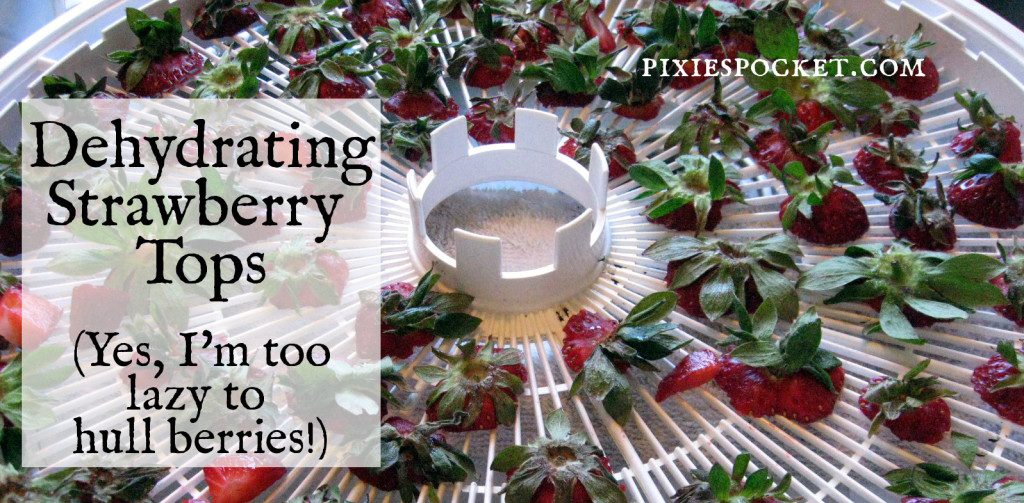 Drying Strawberry Tops
Yes, I may be lazy, but I am not wasteful. I don't throw this perfectly good fruit away! When the rest of the canning work is done, I arrange the berry tops neatly on my dehydrator trays and let the magic of preservation take place. Some people like to soak their berries in lemon to cut down on the browning of the fruit. Others tell you to dip your fresh berries into sugar before drying them, but remember – I'm lazy! I haven't tried those methods myself.
Just follow your dehydrators' suggested settings for fruit, and within a few hours, you can pull the berry tops off of the trays and put them in a jar to save for later use!
Strawberry Top Tea
Add your dehydrated berry tops, greens and all, to your pot of iced tea when it is on the boil, or to your cup of hot tea at night. You can even use them as a tea on their own, just two or three tops per cup of hot water will give you a lovely pink infusion with a touch of strawberry flavor.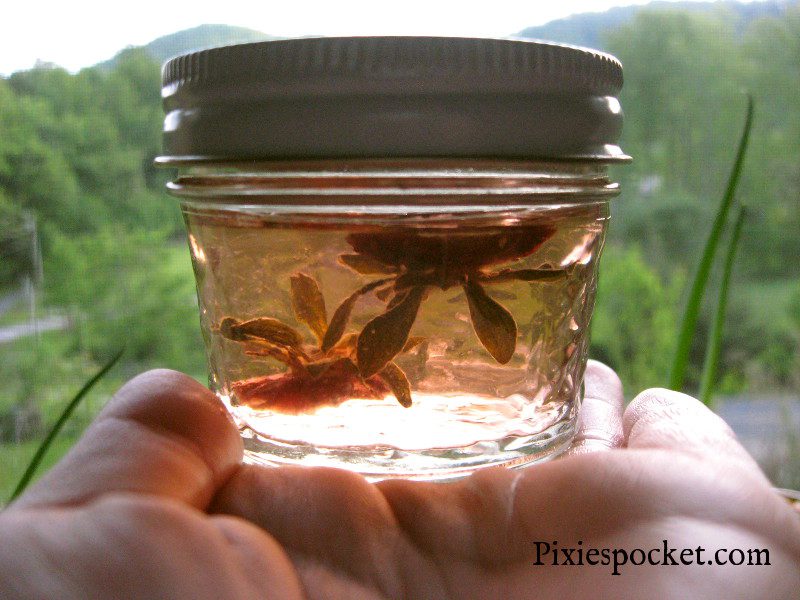 Strawberries can also be used in your beauty regimen!
Soak a handful of these dried berry tops in witch hazel and strain it after a week to make an extra-astringent face toner. To use it, just apply it to your clean face with a cotton ball and enjoy!
Do a small test first by putting the witch hazel on your inner arm. Wait 10 minutes and watch for rashes or itching. This is a good experiment to try with all new products if you have sensitive skin.
[content-egg module=Amazon template=grid]
Get updates from Pixie's Pocket: brewing and herbs in your inbox:
Hi! I'm Amber Pixie, and this is my site. Enjoy the recipes, information, posts, and please feel free to message me if you have questions!